How can item personalization save time for sellers (and buyers too)?
If you're selling items that buyers can personalize - such as business cards, trophies, or engraved jewelry - then you know what a pain it is to request their personalized text over email. It takes time, delays the creation and shipping of the item, and leaves room for error if they don't follow the instructions in your item description.
You can avoid the headaches of getting the buyer's customized text, using Bonanza's "Item Personalization" feature. Item Personalization automatically asks the buyer for their custom text - right at the time of purchase, without your intervention, and to your exact specifications.
Item Personalization lets you set up any of your listings with the following information:
How many lines of custom text are allowed
How many characters (letters/numbers) are allowed in each line
Your custom label for each line (for example, "First name" or "Salutation")
Once you configure your custom fields for the item, Bonanza takes it from there. When a buyer adds the item to their cart, they'll be asked to fill in the personalized fields. Then the information will be sent to you, the seller, as part of the offer.
How can I set up item personalization for my listings?
There are three easy steps to set up item personalization.
Turn on Item Personalization in your Booth Appearance page. (Note that this is available to Gold members and higher).
Next time you edit your item, you'll see a Personalization area (just below the Shipping options area). Click in the checkbox to show the Personalization panel.
Click "Add line" to add each line of personalized text that you want to allow. Fill in the "label" and "maximum characters" depending on your needs for the item. (Remember to save the item when you're finished.)
That's all there is to it. Next time a buyer adds your item to their cart, they'll be asked to fill in the requested info. You'll see the buyer's requested personalization text in your offer page, so you won't have to contact them at all - just process the item based on what the buyer typed in, and ship it!
Take a look at the screen shots below for examples of what a personalized item might look like once you enable that feature for your booth.
"Enable Item Personalization" from your Booth Appearance page (membership feature)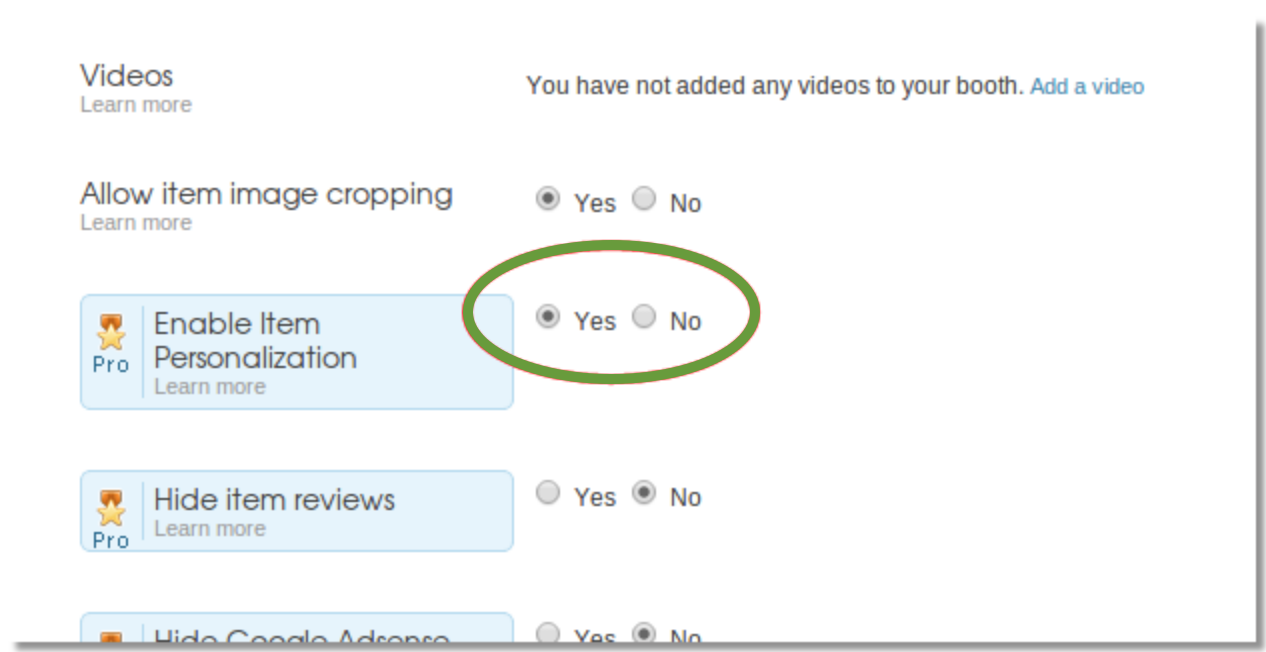 Configure your item's Personalization settings in the item editor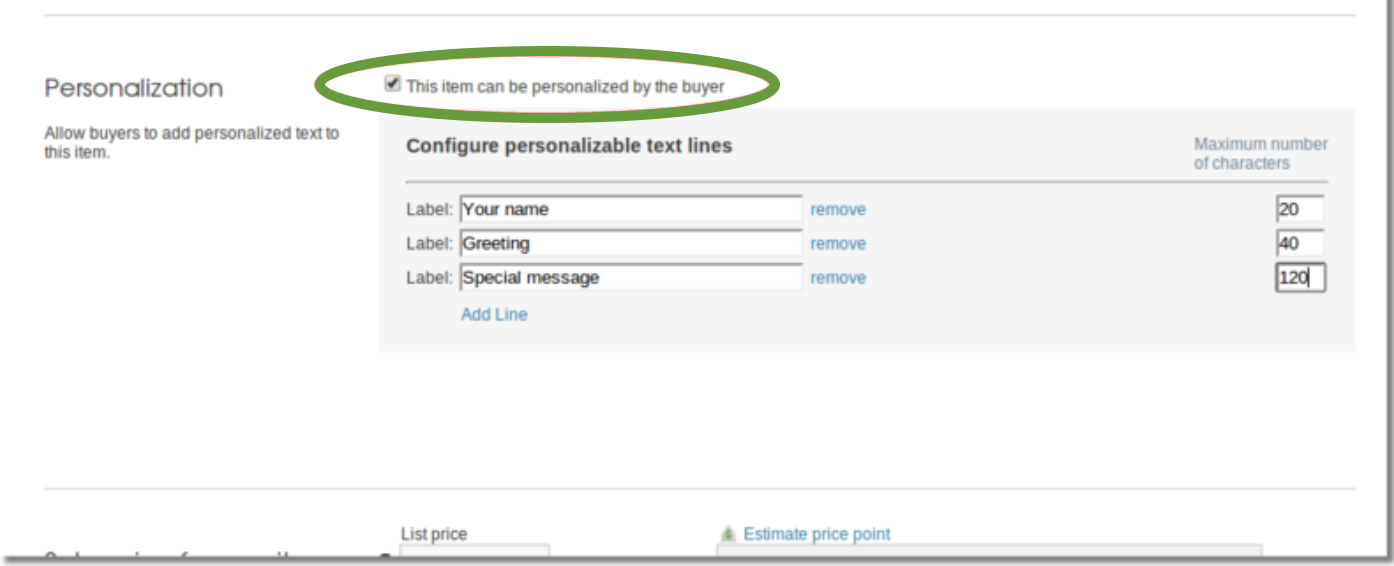 This is what the buyer might see when they view your personalized item, just before adding it to their cart.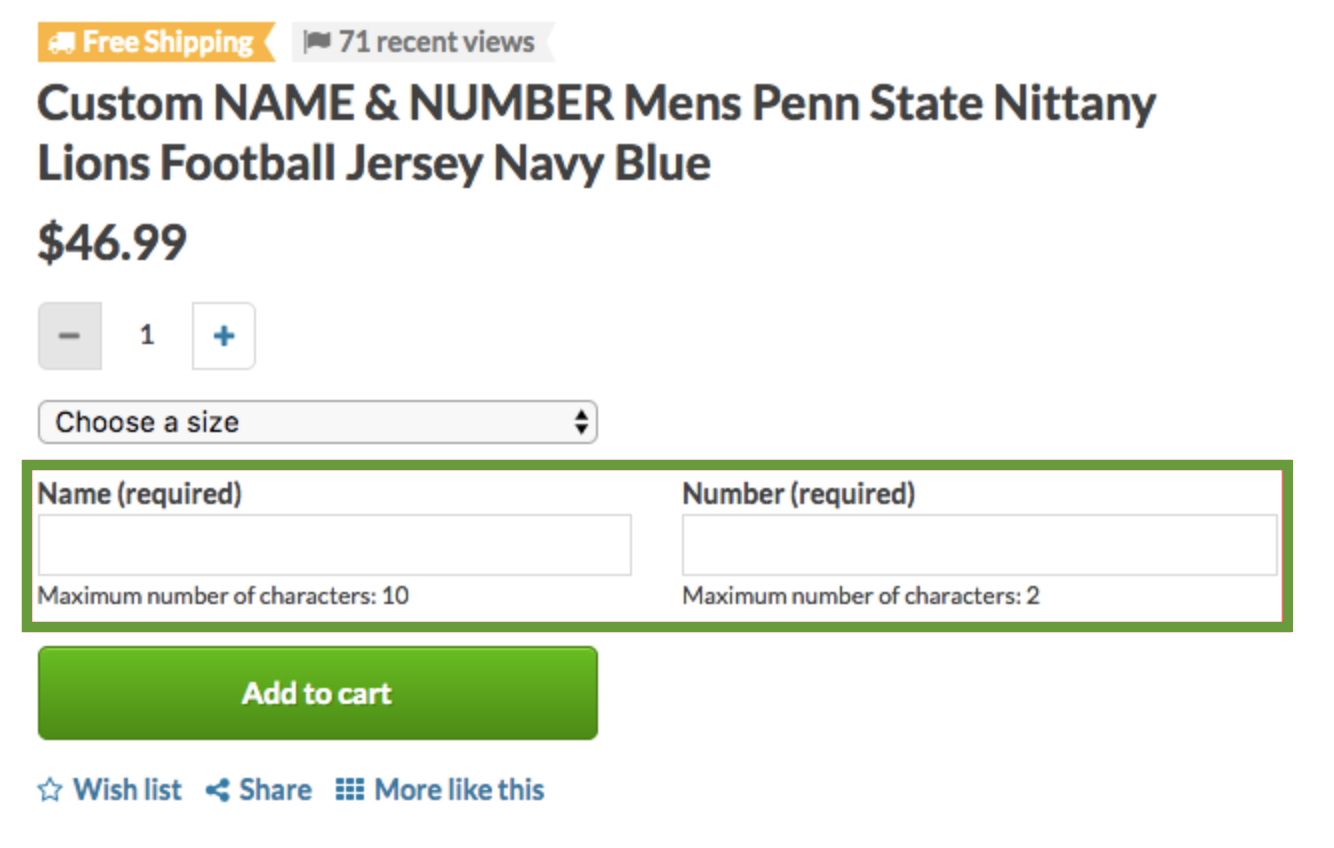 This is what a personalized order looks like when you view it in your "Items Sold" page.