Rockstar posters post most items in a minute or less. Here's some of the tricks to do it:
Use the "Save and Duplicate This Item" Button
Selling lots of similar items like baseball cards or t-shirts? Once you've set up the first listing you can click the "Save and duplicate this item" button to copy the listing category, traits, price and shipping information. This saves lots of time and prevents you from having to list items that are similar over and over again.

Create Shipping Profiles
A shipping profile is a way to streamline the process of entering shipping information by having Bonanza remember shipping defaults that you tend to use repeatedly. For example, if many of your items having optional shipping insurance for $5, and ship internationally for $10, you can create a shipping profile that remembers these pieces of information. Then, on either the New Item Form or in the Batch Editor, you can apply that shipping profile to your item to give you a good head start on populating the item with your usual shipping options. For instructions on using and setting up shipping profiles check out this page.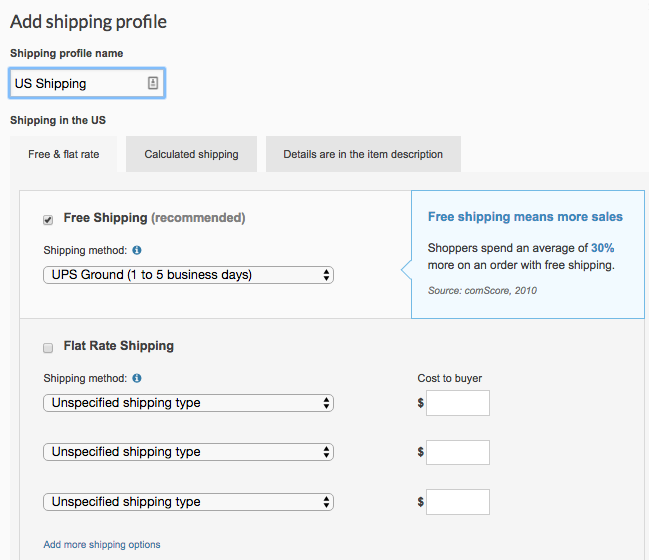 Use the Batch Editor to Make Changes to Your Items in Bulk
The booth batch editor ("Selling > Batch edit items") is your best friend for managing your inventory when you have more than a few items. It lets you operate on groups of items in bulk, rather than having to manually edit each item. Want to know more? Visit this page for instructions on using the batch editor.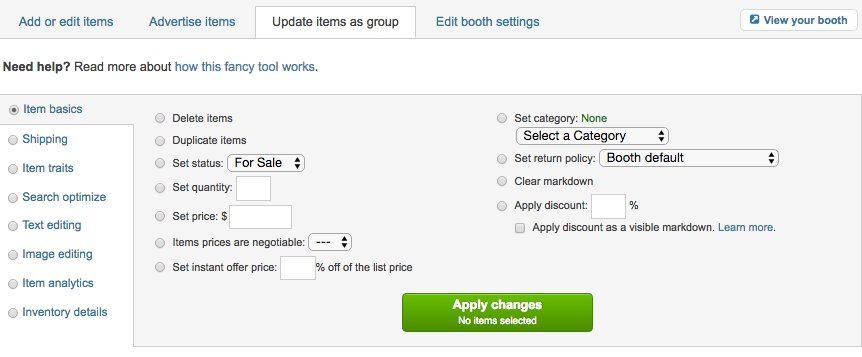 Import Your Items Into Your Bonanza Booth if You're Already Selling on Another Marketplace
There's no need to manually re-list each item you're already selling on eBay or a similar marketplace. Use one of our importers to bring your listings over! You can currently import items from eBay, Amazon, Etsy, Shopify and a CSV file.

Create Item Traits Profiles to Specify a Collection of Item Traits in a Group
Doing this allows you to create group of traits that can quickly be applied to other items in the same category. ITPs have much in common with "Shipping Profiles," not only in that they both end in the word "Profile," but that they both provide a quick way for you to create ad hoc groups of properties that you apply to an item, so you don't have to specify the same item traits (or shipping characteristics) repeatedly when you list new items. A complete guide to creating and using ITPs can be found here.