2. Select the picture you want to upload from your device files.
3. Voila! The upload will start as soon as your picture is selected. Wait until you see your picture before you save your item.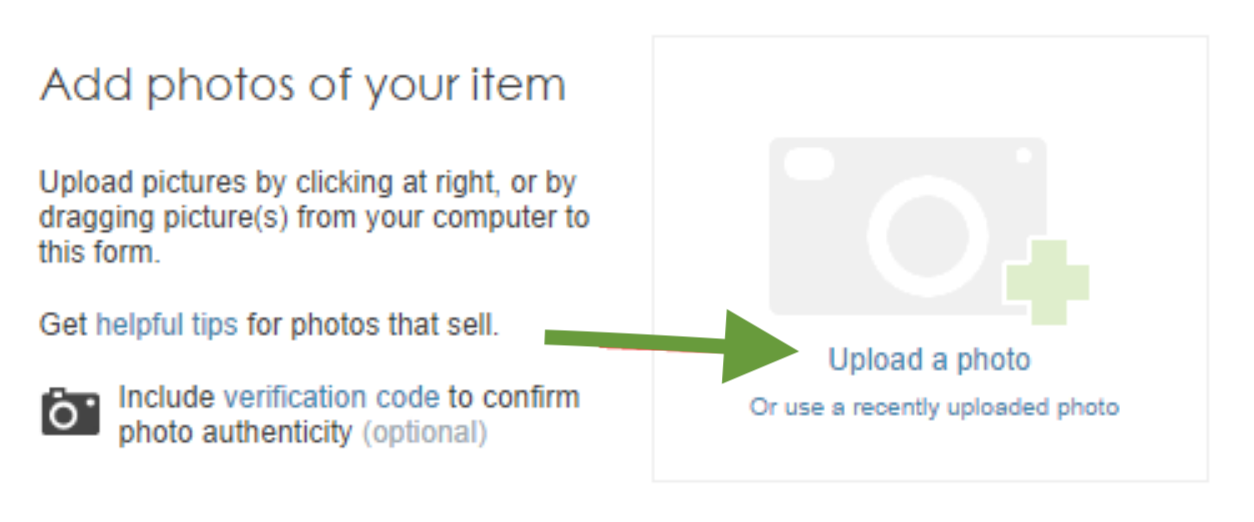 Looking for ways to crop or edit your images? Keep on reading!
Cropping and Editing Pictures
Cropping and editing your image allows you to adjust the subject, style and image size to meet your listing's needs, enticing buyers to purchase your awesome goods.
You can crop your uploaded pictures as follows:
Upload a new image to your listing via the instructions above.
Select the Crop/rotate button directly below the image you want to edit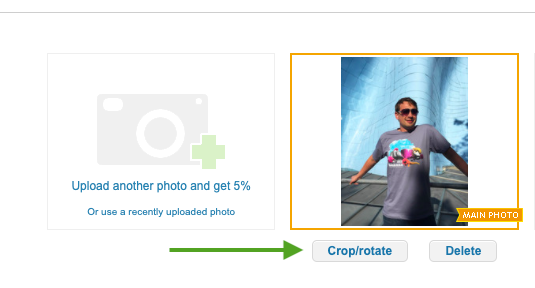 You'll see a beautiful options menu like the one below, allowing you to crop, rotate, resize and jazz up how your image looks.
If you want to crop an image, you're simply going to select the "Crop" option from the bar at the top. It'll take you to a page like the one below. In order to remove James' pretty face from this image, we're simply going to want to use the white buttons to control what we want cropped.
Click the "Apply" button when you're satisfied.
Can I change the shape of the crop from a rectangle to something else?
Yes! As long as the "Lock Dimensions" checkbox isn't enabled, you can change the shape of the crop you're doing. However, as a warning, images are displayed in rectangles when buyers look at them, so be mindful of what it will ultimately look like to your buyers before getting too creative.
What about all these other features?
There certainly are a lot of them, aren't there? Don't worry, they're pretty straight forward.
Rotating can only be done at 90 degree angels.
Enhancements are filters you apply to your entire image, to get it looking super spiffy.
Brightness, contrast and saturation are all sliders that let you change how the image looks, play around with them!
Resizing is as simple as putting in the dimensions you want for the image, and letting our image suite do all the hard work for you.
What Limitations Are There on the Pictures I Can Upload?
Size: 4 megs or less

Format: jpg, gif, or png

Duh: nothing naughty
Pictures will automatically be lowered in resolution to be shown in smaller formats (so they don't take forever to load when there's a group of them shown). The largest size available for buyers to see is 1600x1200.
What Will the Main Picture for my Item Be (AKA: What is an Image Slot)?
A picture "slot" is the name we give to each of the places where you can upload pictures. Whatever picture is in the first slot will be the "main photo," it will be what people see when they are browsing through your booth. If you want to change the main picture for your item, drag an image from another slot into its location in the item editing page (you may need to upload a second picture, first!)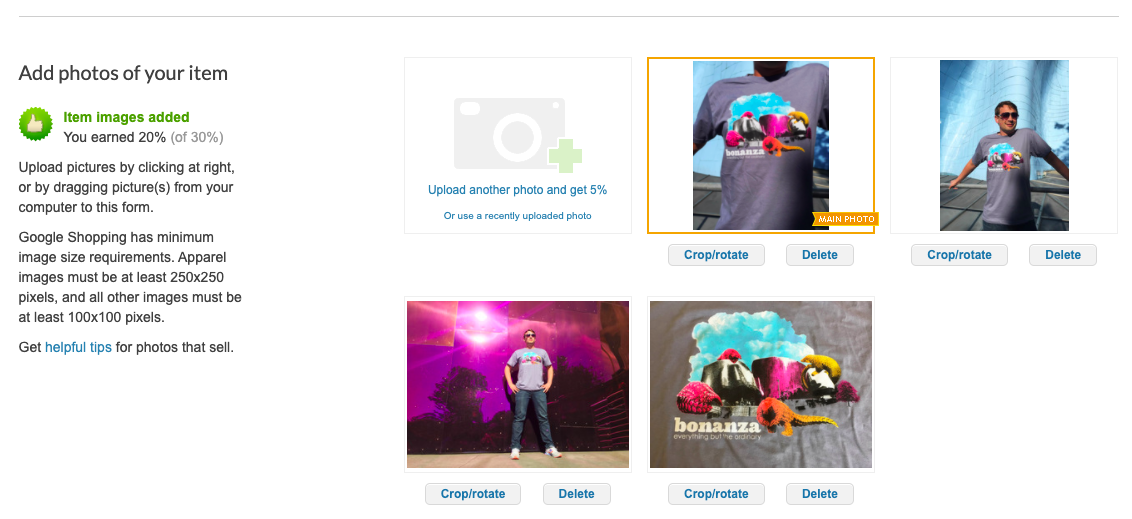 Give your buyers up to 15 eye popping pictures. All the images can be arranged by drag and drop.
Cleaning Up the Background
Buyers are also more likely to buy your products if they have a clean, white background. Case studies show that removing the background using tools like Remove.bg, TouchRetouch, or Background Eraser can increase sales conversion by 300%. Giving your images a crisp, white background will also give a professional and uniform look to your booth.
Looking for more tips on how to perfect your item images? Check out our Holiday Workshop article on the topic.