What is it?
A hand picked list (henceforth, "HPL") is a group of at least 15 items (or at least 25 items, if the list is to be considered for the home page) that a user can create to showcase a theme of their choosing. For example, you might create an HPL called "Owl Love You," and add 20 Bonanza items involving owls to your list. We keep an index of all HPLs that were recently created here
, so other Bonanzlers can see and appreciate your creation. Also, the three most recent hand picked lists you've created are shown on your profile page.
How do I make one?
Easy! Log into Bonanza, and point your mouse over the "Account" link located in the upper left-hand corner of any page. Choose "Hand-picked lists" from the drop-down. This page will show the Hand-picked lists you've created. Click the green "Create a new list." button to start a new HPL. Pick a title and theme for your list, and save it.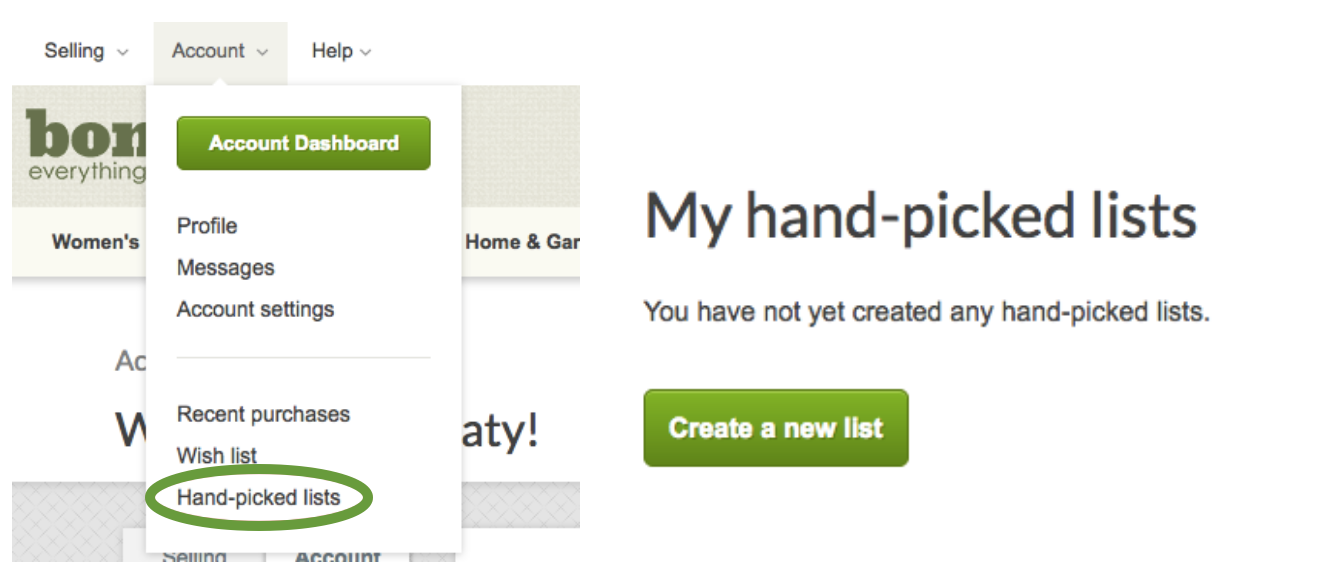 Once you have saved a list, you can add items by viewing an item listing page. In the listing details, there is an "Add to hand picked list" drop-down menu that will list all of your HPLs. Select the list you'd like to add the item to.
You must add a minimum of 15 items for your hand picked list to be visible. If you want your list to be eligible to be shown on the home page, you need to add 25 items. Sellers may only add one item from their own booth to each HPL.
How long will my HPL last?
Your HPL will show up in our index of HPLs for a week after it has been been published (it is considered "published" as soon as it has 15 items in it), unless it has been marked as a draft. After a week, the list will still show up in your profile, and in item search results, for an additional three weeks.
How do the home page HPLs get chosen?
There are three factors we consider in choosing lists for the home page. Here are the three factors, with the rough weight we give each:
All item pictures in list are crisp and interesting - 60%. Putting blurry, dark, discolored, overcropped, or uninteresting pictures on the home page is something we avoid. Most all lists that end up on the home page are comprised of items with good pictures.
Interesting or relevant theme - 30%. Lists that are applicable to upcoming holidays or national events have a leg up on general lists. Lists that are organized into a clear and interesting theme (e.g., "Prom," "Owls," "Helicopters") are more likely to get chosen than those that don't.
Catchy title - 10%. We're suckers for a list with a catchy title. Like the list someone created called "Change we can believe in" that was made up of collector's nickels and dimes for sale. Hah!

What if my HPL is featured on the home page?
Congrats! Home page HPLs are eligible for 50 tokens, which you can spend on all sorts of goodies. If your HPL is featured on the home page, contact us at support so we can make sure you receive your well-deserved reward!