Over the past 5 years, more than 50,000 independent sellers voted Bonanza the "Most Recommended Marketplace" over eBay, Amazon, and Etsy. Why do sellers love Bonanza? We're a marketplace built with you in mind; with a focus on simplicity, friendliness, and featuring the extraordinary. If you sell online and you're overwhelmed by all the fees on marketplaces like eBay, Bonanza invites you to join us. Listing is quick, painless, and always free. And our handy eBay importer makes it easy to carry over your inventory.
How Does Bonanza Compare to eBay?
More Control. Take charge of your sales. Reach millions of buyers on Google Shopping and market directly to your own customers.
Free Listings*. That's right--there are no listing insertion fees for each item posted on Bonanza. Listings never expire and you only pay transaction & final value fees after they sell.
Lower Fees. Tired of high costs? Our final value fees start at 3.5%. That's about a third of what you'd pay at eBay.
Easy Importing. Get started fast. Copy your items from eBay, Amazon, or Etsy and keep them synched across your stores. Read more about getting started in the following section.
Less Busy Work. We sweat the small stuff so you don't have to. Our suite of easy-to-use tools helps you run your business better.
Friendly Support. We've got your back. From award-winning support to seller-focused features, your success is our priority. Contact us at any time here or by emailing us directly at support@bonanza.com.
*New selling accounts are subject to a non-refundable$5 account set-up fee to cover the administrative costs associated with opening a selling account.
How Do I Get Started?
Bonanza makes it easy to import your listings from eBay, so you don't have to build them from scratch (who wants to do all that work twice?). To access the eBay importer, just hover over the "Sell on Bonanza" green button located in the upper-left corner of any page and click the "Import from eBay" link from the drop-down menu.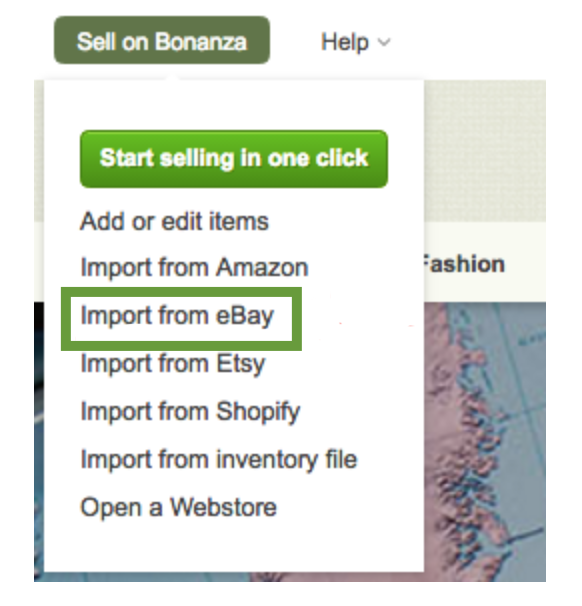 Here's additional information regarding how the importer works.
Recognized By Today's Top Organizations
This just in: Bonanza is a great place to sell online. But don't just take it from us. Here's what other companies have to say about us: