Your Brand Aesthetic
One of the biggest ways brick-and-mortar storefronts encourage buyers during the holiday season is by designing extravagant window displays to draw in passers-by. Certain companies are well-known for their window displays, especially around the holidays. Harrod's in London always goes above and beyond on their displays. In 2013, they created a "Christmas Express" and designed each window as a train car with a different theme. Take this Great Gatsby-inspired display, for example: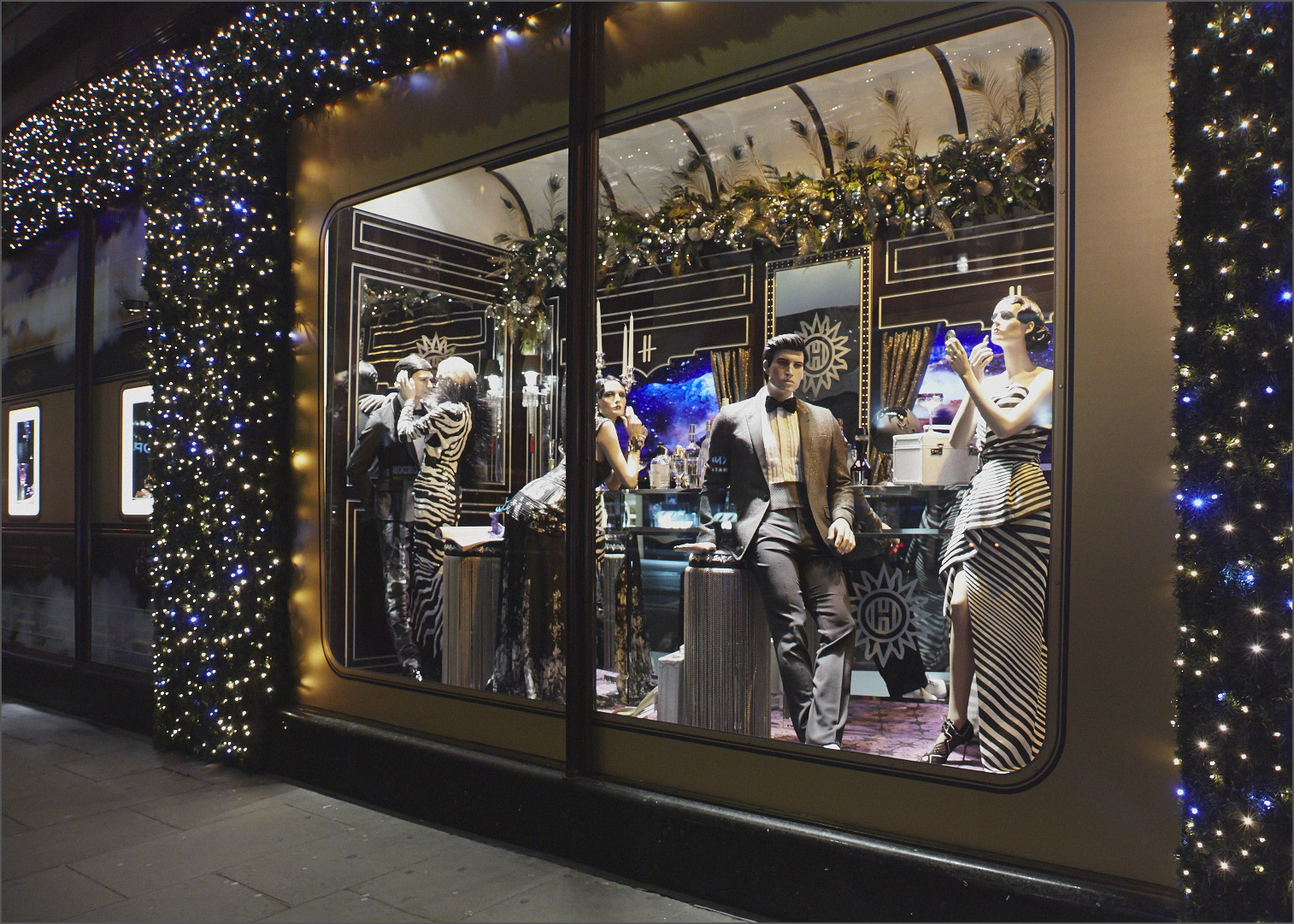 Window displays are important because they are a business's first impression on customers. This display not only does a wonderful job of showcasing many of the items for sale at Harrods, but it also provides something intangible - a feeling. Evoking a positive emotion is one of the most powerful ways to motivate buyers. This particular display captures the feeling of luxury, influence, nostalgia, and a bit of scandal, all of which get customers excited about the possibilities in store.
As an online merchant, however, you don't have a physical window in which to painstakingly pose your items. So, how do you elicit these feelings from online shoppers?
Building a Brand Online
Since customers are buying physical products from you without seeing them in person first, it's important to use every branding opportunity to highlight your business and convey those feelings with potential buyers. Just like the Harrods window display, you need to be able to evoke emotion with online shoppers.
Before you begin, think about how you want your brand to be perceived. Is your business playful and friendly, or sophisticated and elegant? Do you want to interact with buyers like they're your next-door neighbors, or would you prefer to keep conversations formal in tone? Look at your logo and the items you're selling and evaluate whether or not they align with your preferred brand experience.
Once you've decided what kind of aesthetic you'd like your online presence to have, it's time to make sure your brand is consistent. The first step toward doing this on Bonanza is by looking at your booth.
Utilizing your booth banner
Your booth banner is a perfect way to customize the look and feel of your booth to match your desired brand, but it's more than that. Your booth banner is prime real estate on your booth page that can also be used to share information with customers. Here's an example of a booth banner that's making the most of itself: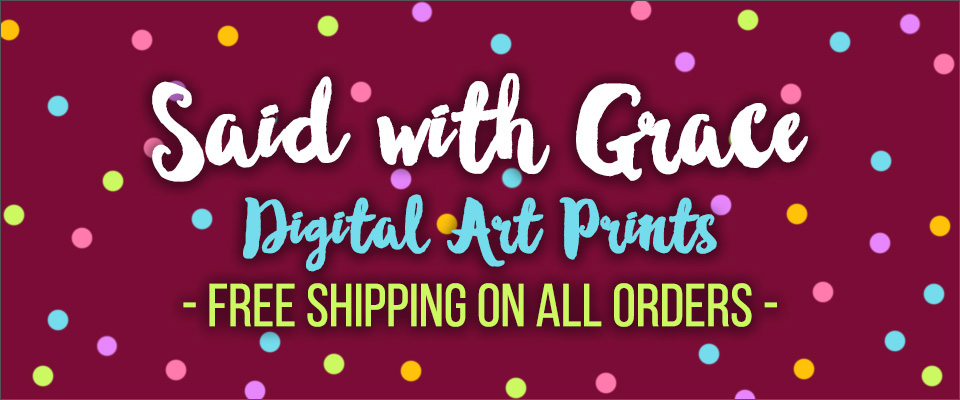 This banner is visually appealing and evokes feelings of joy and happiness. The deep magenta color has a regal feeling to it, while the polka dots add a bit of flair and youth to the banner. The bright font colors used are vibrant and easy to read. This banner includes the name of the booth (Said With Grace). It also states what type of item the booth carries (digital art prints). Finally, it uses this opportunity to highlight a booth trait that sets this seller apart from their competition (free shipping on all orders).
You can switch out your banner as often as you'd like to keep a fresh feeling to your booth. If you were running a specific promotion, you could use a custom booth banner to advertise that as well. A promotional booth banner might look something like this: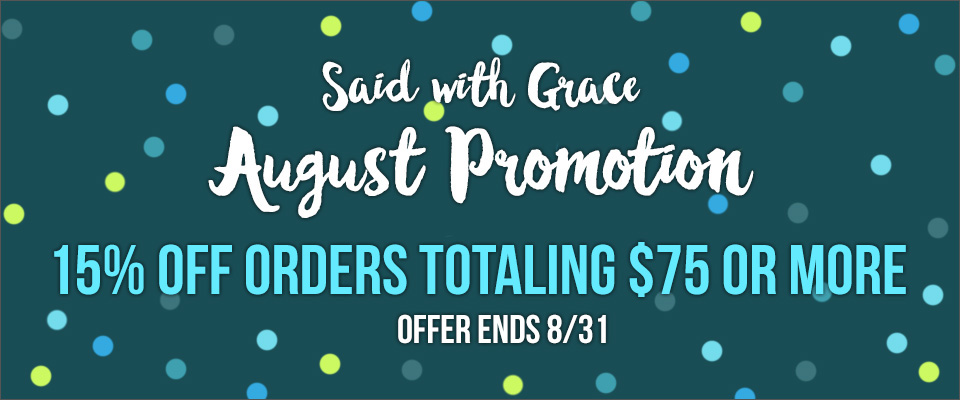 This banner matches the distinguished yet celebratory style and feel of the booth's everyday banner. However, this banner contains information about a booth-wide promotion (15% off orders totaling $75 or more). The banner also includes the date that the promotion ends, so that customers will know whether or not the promotion is still valid. Both of these banner images have a specific brand feel that is consistent.
To upload a custom banner, navigate to your booth appearance in your booth settings. There, you can select to upload a new booth banner.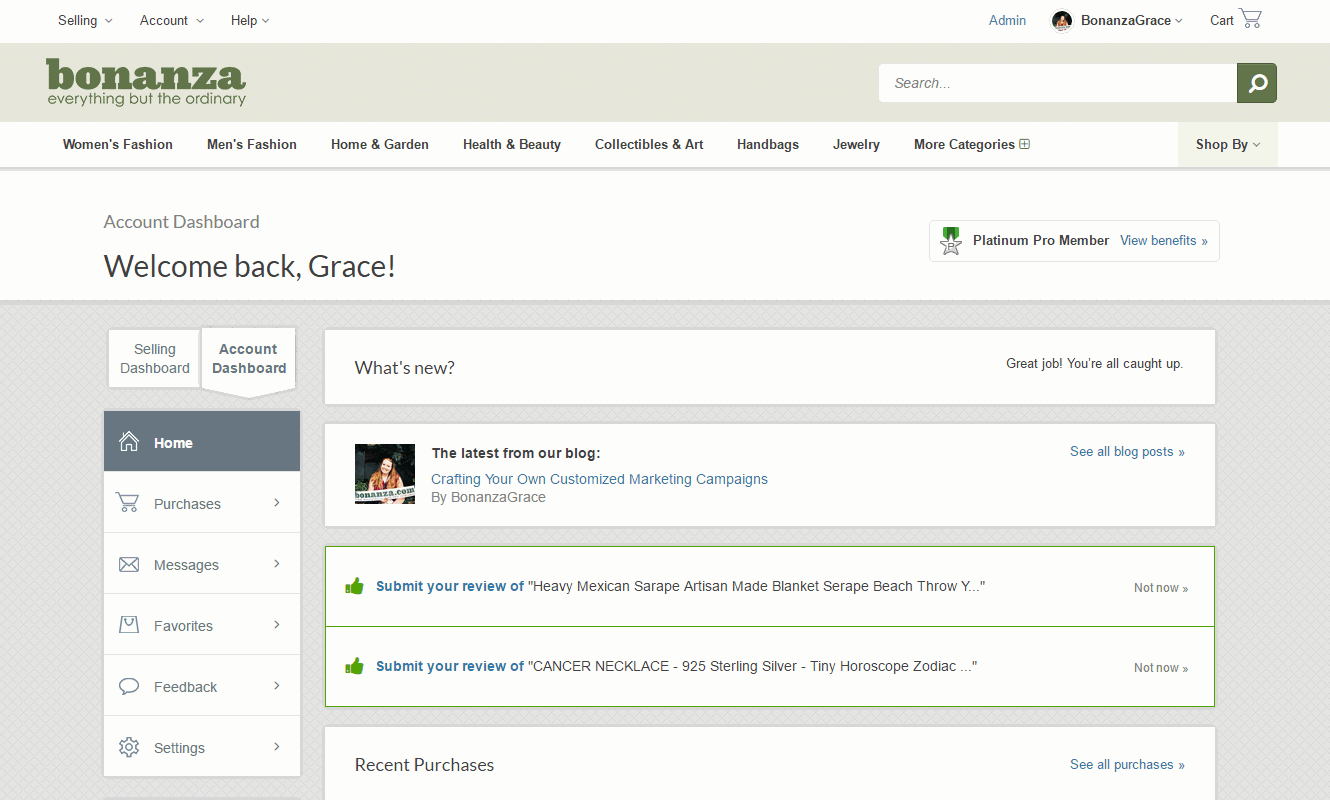 If you aren't running a marketing campaign or if you're not quite ready to upload a custom booth banner, you can use a banner from our curated banner gallery. Our new booth banner gallery images are vibrant, professional, and align well with our categories. This is a great way to find a photograph that fits the vibe of your online brand.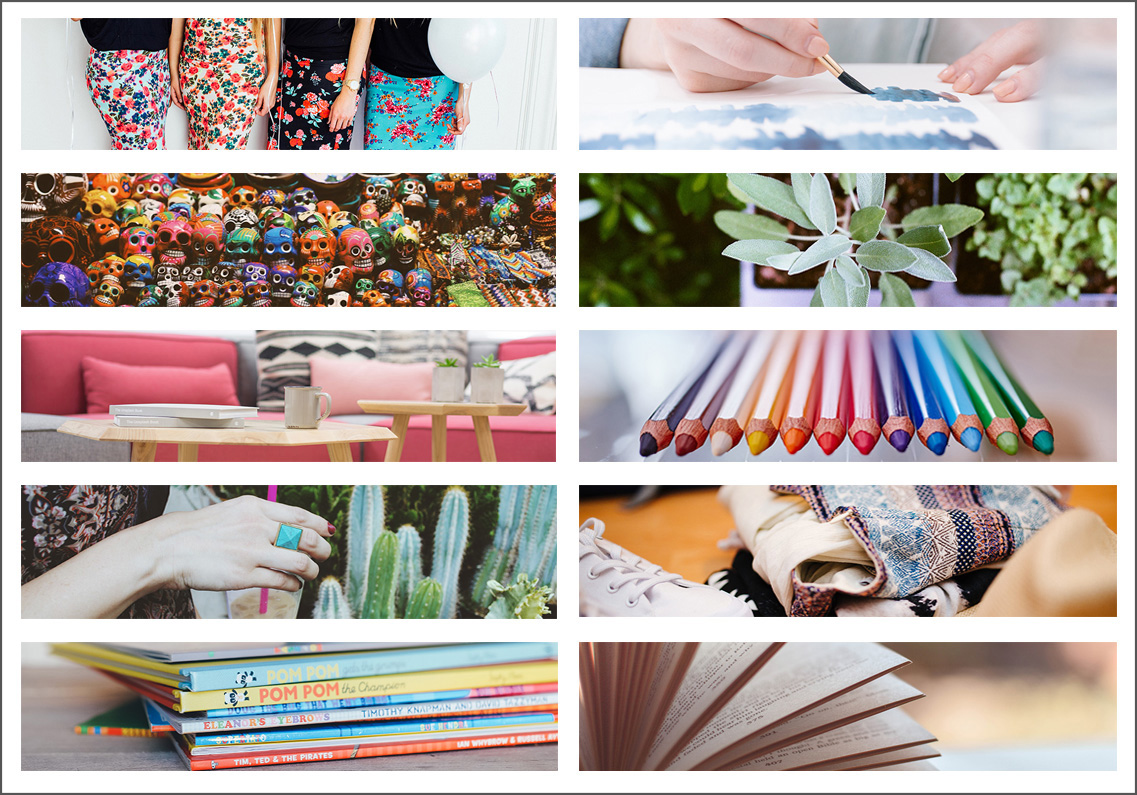 Customizing your profile
If buyers like what they see in your booth, they may view your profile to get a better sense of your business. This is a great opportunity to share information that doesn't pertain to specific items but is still important for customers to know. Company history, core values, and future goals are all possible items to discuss in your "About Me" section. These things appeal to potential customers and provide insight on how they fit into your story.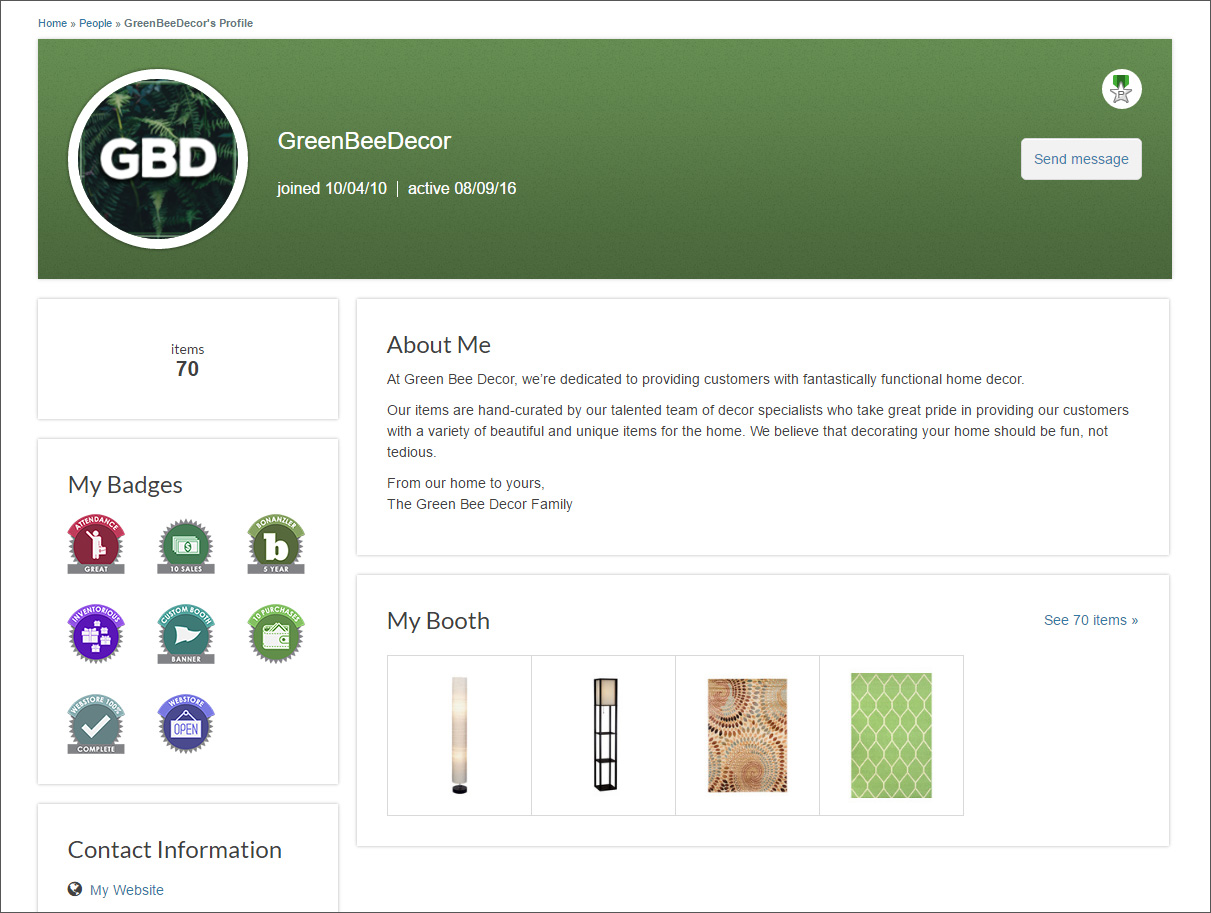 Be sure to take advantage of the profile photo as another place to promote your brand. You can use an abbreviated version of your logo, or a photo of yourself, if you'd like to put a face to the name of your company.
Choosing the language for your items
Another piece of the listing puzzle is crafting your listings to create a consistent brand presence, all while ensuring your listings are well-suited for comparison sites and third-party platforms such as Google Shopping. For tips on how to optimize your item listings for search engines and Google, stay tuned for the Holiday Workshop on Advertising.
The first thing to think about when you write item descriptions from a brand perspective is who you'll be talking to. Think about the persona your ideal customer would have: is she a young mom looking for items that make her life easier? Maybe he's recently retired and looking to pick up a new hobby. You'll want to use language that's engaging to them. Put yourself in the shoes of your optimal buyer and imagine how they'd like to be spoken to, and then make sure to use vernacular and phrases that would resonate well with your target demographic.
Once you have a grasp on how you'd like to talk to your customers, it's time to describe your items. Remember that your customers will be buying based on the images and descriptions you provide, so it's imperative that you describe your items wholly and concisely. You want to use as much description as possible, without overwhelming customers with a spout of words. Think about how you would feel about this item if you were going to purchase it without physically seeing it.
It can be helpful to make a list of positive features that your item has when deciding to write these descriptions. Think about why these features are positive and what benefits they would bring a buyer, and include those benefits in your descriptions. You can also include how your item avoids certain risks or hassles, as shoppers like to know that possible downsides have been considered and don't apply. Take a look at the list for this item, an Elephant-Shaped Watering Can. The features are in blue and the benefits are in orange.
Elephant Watering Can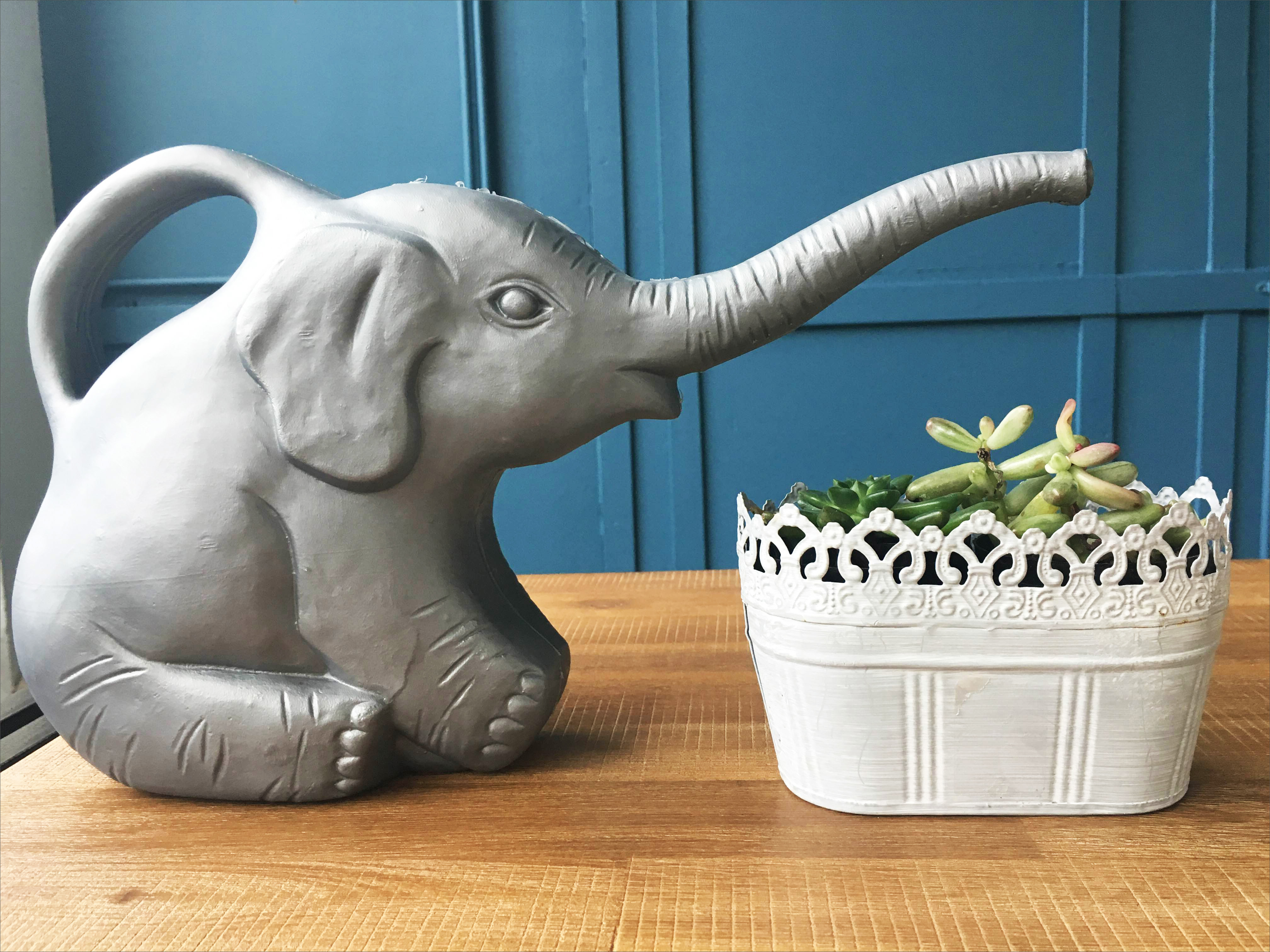 Item Description:
Lightweight watering can

that

doesn't get too heavy when full

Elongated spout

that

reaches even the tiniest places without top overflow

Wide handle

that

provides a sturdy grasp of watering can
As you can see, this list combines the key selling features of the item and attests to the benefits this item would bring to a buyer.
Webstore
If you'd like to explore even more ways to build your brand online beyond your booth, Bonanza offers standalone Webstores. This gives you a custom domain and a personalized website completely separate from Bonanza's marketplace. Your inventory will be tracked through Bonanza and your items will still appear in your booth and on the marketplace, but you will have your own website to drive traffic to and further establish your brand. The best part is that you pay no fees on sales made through your Webstore. Check this out for more information.
A Unified Brand
Once you've taken the time to characterize your business and its customers, you can use built-in tools on the site to express your brand to potential customers. Your customized booth, profile page, and item listings are ready-made opportunities to connect with your customers on a personal, emotional level. Perhaps most importantly, establishing a solid brand presence will help ensure those potential customers turn into long-term, repeat buyers who are loyal to your business.