Getting Exposure for your Business
Advertising is a hotly-debated topic among many small business owners. Some begrudgingly spend money toward advertising efforts, while others view advertising as an investment in their business. It's often difficult to measure results, since some customers may see an advertisement you've paid for but not complete checkout until 5 or 6 visits later. That purchase is hard to track back to the money you spent on that specific advertisement, which can be frustrating. But the exposure and benefits that advertising brings to your business is especially pertinent during the holiday season. Optimizing for seasonality to get your items as much exposure as possible should be a part of your advertising strategy.
Advertising Platform
Due to the vast amount of shopping that takes place during the holiday months, many sellers choose to bump their advertising commission level to get more eyes on their products.

Our advertising platform has several tiers, each unlocking additional platforms on which to display your products. You can choose what percentage you'd like to opt into and our computers will go to work making bids on your behalf to get your item in front of every possible buyer.
Each tier builds upon the last, unlocking new channels. For example, The basic tier includes all channels from economy and basic; the standard tier includes all channels from economy, basic, and standard, and so on. Here's a brief rundown on each tier:
Economy (3.5% max rate). This tier includes organic traffic - buyers who found your item due to your own advertising efforts, such as referral links or Customer Marketing Campaigns.
Basic (9% max rate). This tier unlocks Google Shopping, Bonanza Promotions, and Bonanza's Affiliate Program. We'll go into more depth about Google Shopping later in this article. With Bonanza Promotions, we will offer a discount for your items by using the final value fee you pay to cover the cost. We don't earn money, but you gain shoppers. Our Affiliate Program is a network of third-party bloggers who advertise items from Bonanza on their personal sites.
Standard (13% max rate). This tier unlocks eBay advertising, which publishes your items on eBay, and allows your Bonanza item to be competitive with the eBay version of the same item. If your item sells on eBay, you pay 1.5% to Bonanza and are also responsible for paying eBay's FVF. If someone buys your item on Bonanza after clicking it on eBay, that's when you would pay up to 13%.
Superior (19% max rate). This tier unlocks Bing Ads. Bing Ads is similar to Google Shopping.
Elite (30% max rate). This tier has the same features as the Superior rate, but the increase in commission rate allows us to bid on your items more aggressively, increasing your item exposure and hopefully driving more sales.
You won't be charged any fees until your item sells. Many smart sellers choose to build this advertising expense into the price of your item to avoid losing money in the process. Check out this example:
Your current sale price is $30.00. At the commission rate of 3.5%, you will pay the $0.25 transaction fee + $1.05 in final value fees. Your profit after fees will be $28.70.
If you increase your commission rate to 19%, we have to calculate what your new sale price should be in order to make the same profit - in this case, $28.70. We will follow this simple formula:

As you can see, the formula ensures that your increased advertising spend will not cut into your profits from a sale.
| | |
| --- | --- |
| Current Listing Price | $30.00 |
| 3.5% FVF ($30 x .035) | $1.05 |
| Profit ($30 - $1.05 - $0.25) | $28.70 |
| New Listing Price (from formula) | $35.75 |
| 19% New FVF ($35.75 x 0.19) | $6.79 |
| Profit ($35.75 - $6.79 - $0.25) | $28.71 |
Of course, you can also opt to keep your price listing the same and lower profit margin. Some sellers find that the increase in sales is more than the decrease in profit per sale, allowing them to keep the same listing price while opted into higher commission levels.
Other Advertising Methods
TurboTraffic
TurboTraffic is a specialized service that drives maximum buyer traffic to sellers who are enrolled as Platinum or Titan members, or for sellers who purchase a TurboTraffic Pack. TurboTraffic works together with Bonanza's advertising program, using the ad platforms you've selected to get maximum exposure for your store.
The impact of TurboTraffic will vary from merchant to merchant, depending on their price point and the type of merchandise sold. However, since 2014, we typically see an increase of over 300% in daily page-views for merchants receiving TurboTraffic. Here are some typical real-world results showing page-views before and during TurboTraffic: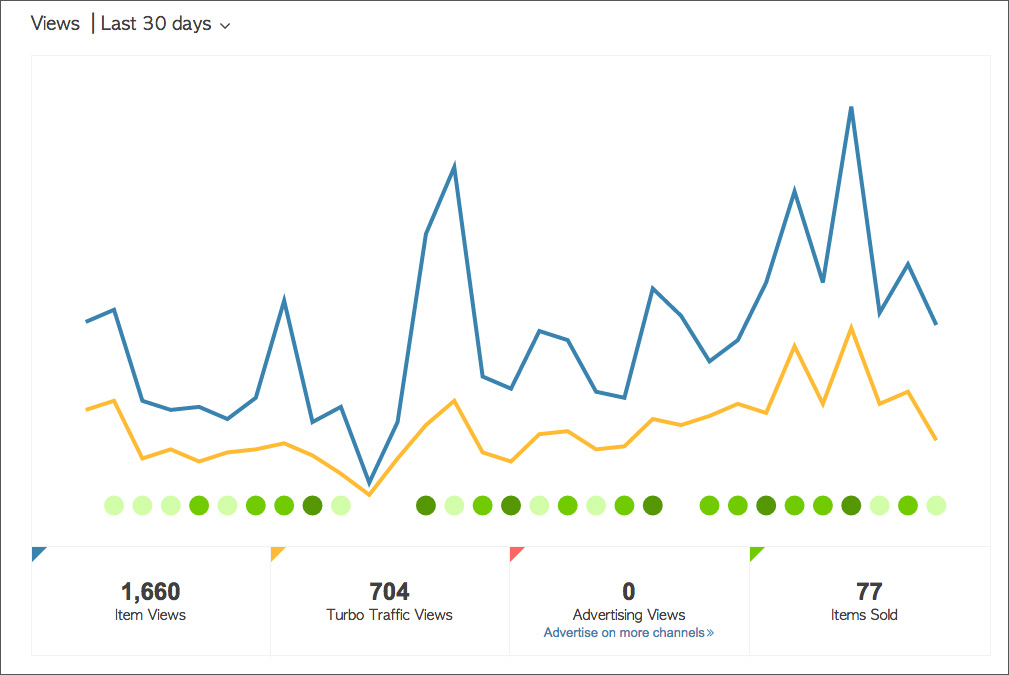 The frequency and length of TurboTraffic depends on a few factors:
Membership level. Platinum members can get up to 7 days per month of TurboTraffic, whereas Titan members can get up to 25 days/month.
Advertising commission level. The higher the advertising commission level, the longer we can send TurboTraffic to your booth.
Conversion rate. Stores with conversion rates above 1% will enjoy longer TurboTraffic runs.
Overall traffic volume. The more clicks you get, the more it costs us to acquire the traffic for you. So if your store is getting thousands of clicks per day, the TurboTraffic duration will often be shorter than a smaller store.
The Customer Marketing Tool
We've said it before, and we'll say it again: the Customer Marketing Tool was built for situations like these. Although gaining new customers is huge, it's also much harder than encouraging a repeat buyer. On average, you are 7 times more likely to sell to an existing customer than to acquire a new one. What better way to reach out to past customers and encourage them to shop with you during the holidays than by sending a customized coupon directly to their dashboard?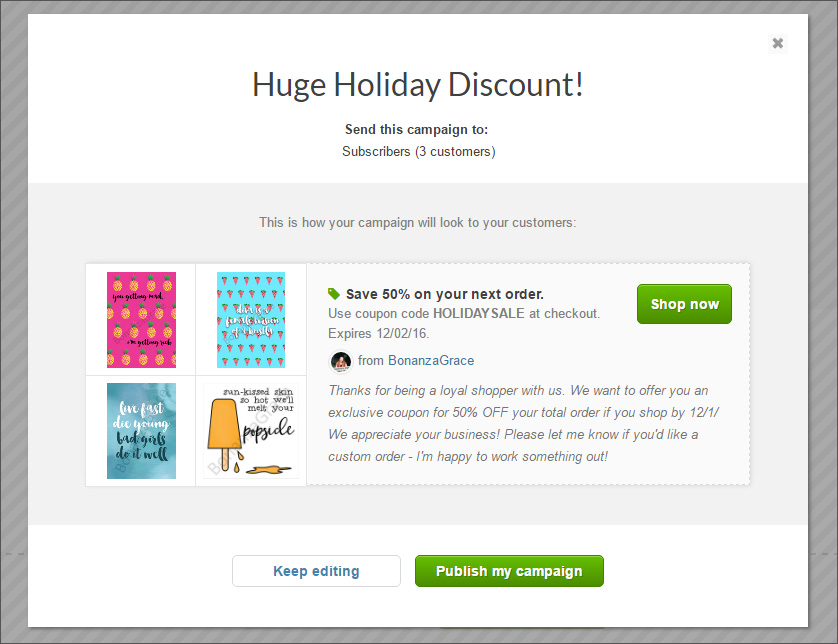 In this example, we offered a massive discount - 50% off the entire order. The coupon expires, so buyers will get a feeling of urgency when they realize the clock is ticking on this discount. We also left a personal note that tells your customers why they're receiving the discount. You can set up several campaigns at once and target specific past customers based on the characteristics you used to create custom lists.
Social Media Advertising
It's always important to have an active presence across all major social media platforms, but the busy holiday season might be a perfect time to take it one step further and test out some paid social media advertising. Facebook's ad manager lets you set very specific parameters for your audience. You can target by age, gender, location, device - the list goes on. This is great if you want to test out specific items geared towards a certain demographic.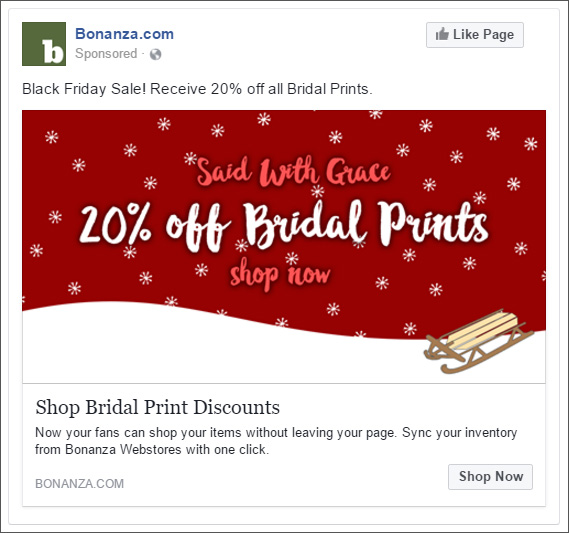 This is an example of the kind of advertisement you could run through Facebook for the holidays. The ad features a variety holiday themes and colors, letting buyers know that this is a seasonal offer that should be taken advantage of now. This ad is specifically targeted at brides who need to order prints, but it uses open-ended wording that lends a vagueness to what these "prints" consist of, piquing the buyer's interest. Finally, this ad uses a strong call to action that prompts buyers to shop now. For more information about Facebook ad guidelines, click here.
Google Shopping Best Practices
If you're not yet opted into Google Shopping, you should be - did you know that Google is the number 1 site in the world? I know you did. If you are opted into Google Shopping, there are several ways to optimize your listings to give them an even better chance of selling. Check out these best practices, straight from the horse's mouth.
Submit high quality images. The minimum image size is 250 x 250 pixels, but Google recommends 400 x 400 pixels or larger.
Adhere to the editorial guidelines. No promotional text such as "Free shipping" in descriptions. Do not use BLOCK CAPITALS, and do not include a description of your store in the item listing. That information is better suited for your profile.
Pay attention to your item description and title. You have limited characters for title and description before it is truncated. Be sure to include important information upfront. Don't use up characters with your brand name.
If you feel like your items would sell better by ignoring some of these guidelines, feel free to test out various titles and descriptions on Bonanza to see which one feels best. These are just guidelines for success on Google Shopping. You might find that different guidelines work better for your items to sell directly on Bonanza.
Start Spreading the News
Henry Ford once said, "The man who stops advertising to save money is the man who stops the clock to save time." You might view advertising as a necessary evil, or you might view it as a great opportunity to spread the news about your business. Either way you slice it, advertising is important to growing your small business. Thanks to the vast range of advertising options on Bonanza and beyond, you should be able to find a solution that works best for you.