What is Bonanza?
Thanks for asking! Bonanza is like an online shopping mall that connects buyers and sellers from all over the world to transact directly. But, unlike other e-commerce marketplaces, Bonanza is designed with sellers in mind. Our goal is to empower sellers to run a successful online business, and we provide a variety of tools to help your business grow. Below is a quick overview of how Bonanza works and what to expect so that you can succeed here.
Bonanza Booths
Advertising and Marketing
Bonanza Memberships
Best Practice Guidelines for Bonanza Sellers
Bonanza Resources
Bonanza Booths
What is a booth, anyway?
If Bonanza is an online shopping mall, then a booth is a seller's online store. All of a seller's listings are posted directly to their booth, where their items become searchable through Bonanza and any advertising channels they've opted into. This means that shoppers can arrive in a seller's booth looking for a specific item, but also browse all the other items that seller has available, just like when they visit a brick-and-mortar store.
Bonanza booths can be set up in a few simple steps. Sellers will need to have the following handy in order to complete booth setup:
A debit or credit card to keep on file for the payment of seller fees (as well as for identification purposes)
Payment option for receiving payments from buyers
Primary account contact details
After activating the booth, inventory can be imported from another selling platform (eBay, Amazon, Etsy or Shopify), uploaded from a CSV file, or manually added via our New Item Form. After you've activated your booth and uploaded your listings, click the green "Update booth" button to post your items for sale in your booth so that interested buyers can purchase them. Need more information on setting up a booth? We've put together a handy set of Help Pages regarding booth set-up here.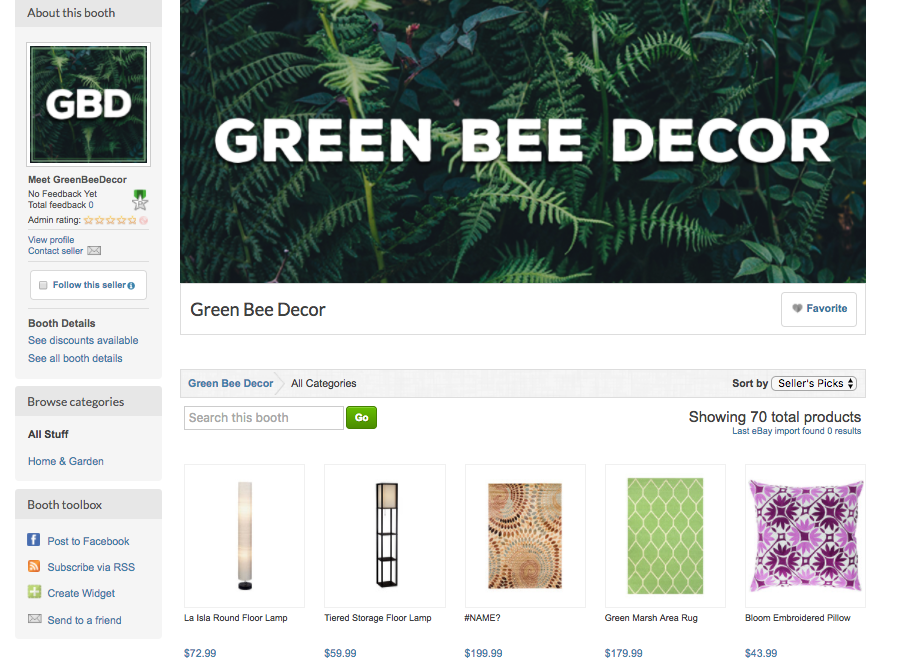 How can I personalize my booth to represent my brand?
Bonanza offers a variety of booth tools that allow each seller to build their booth, brand and sales. Shoppers want to know who they're doing business with, and they want to be reassured that they're going to receive excellent service and high-quality products. When a shopper enters your Bonanza booth, you have the same opportunity to connect with them and promote your products as you would if you had a brick-and-mortar store. Bonanza allows sellers to personalize the following features:
Your Profile & Contact Information
Booth Overview
Miscellaneous Details
Booth Banner
Customizable Booth Panels
Product Page Box
Real Time Chat Box
Oh, you wanted to read more details about all of these features and why they're important for building your brand? We'd recommend checking out this page on Using your Booth Features.
Advertising and Marketing
How does Bonanza advertise on behalf of sellers?
That's an important question, and we're glad you asked. One of Bonanza's most powerful sales-generating tools is our custom integration with advertising channels, such as Google Shopping. Once each seller has selected an advertising rate of 9% or higher, we cover the cost of bidding on their item placement in these channel's search results at that rate. You heard that right; sellers pay nothing up-front to advertise their listings on external platforms. Sellers only pay the $0.25 transaction fee and the Final Value Fee of their chosen advertising rate after a page view converts to a sale. You can read all about Bonanza's advertising here.
If you've opted into advertising, Bonanza will send your items to any advertising partners you've selected, but it's ultimately up to those platforms to determine whether your listings are compliant with their policies. The key to gaining item visibility is ensuring that listings adhere to Google Shopping's format requirements so that they will publish listings to their search results. You can read more about format requirements and suggestions here.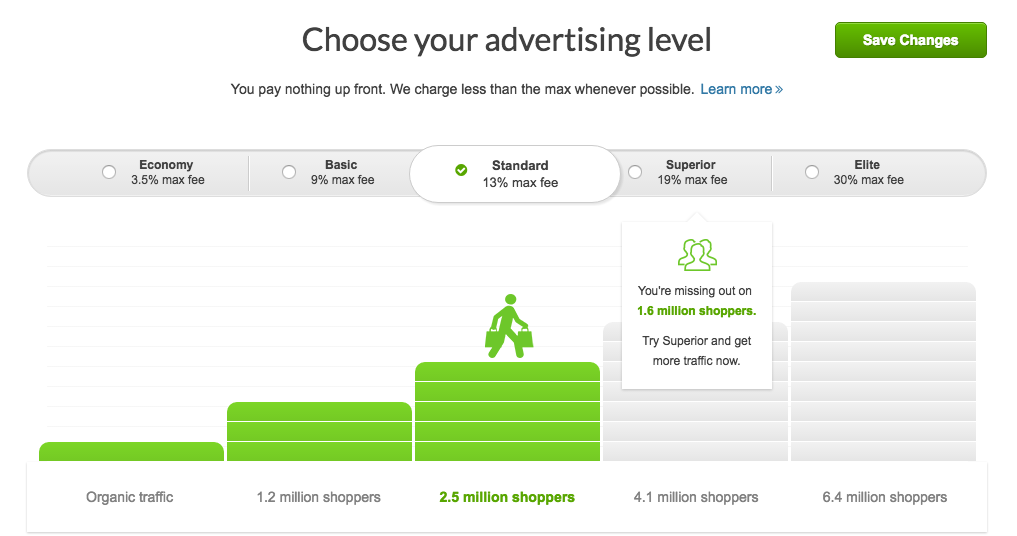 How can I have even more control over my buyer traffic?
You're quite the savvy seller. Sounds like TurboTraffic might be a good fit for you. TurboTraffic is a program Bonanza offers to drive maximum buyer traffic to sellers who are subscribed as Gold, Platinum or Titan members, or sellers who have purchased an individual TurboTraffic Pack. It works together with Bonanza's advertising program, using the ad platforms each seller has selected to get maximum exposure for their booth.

What other tools are available to help me market my booth?
We knew you'd want more. Fortunately, Bonanza offers many additional promotion opportunities to our sellers:
Looking for even more tools? Well, we've got 'em! Check out this article which delves into some of the other unique features available on Bonanza!
Bonanza Memberships
I thought it was free to list on Bonanza. Why do I keep seeing information regarding paid membership subscriptions?
You're 100% correct. Bonanza does not charge any listing fees or require users to subscribe to any paying membership subscriptions in order to sell on our platform. Sellers are only required to pay a $0.25 transaction fee and a small final value fee after their items sell, making Bonanza a risk-free marketplace to list goods on!
That being said, we realize that each seller's business needs are different, so we offer a variety of membership subscriptions which unlock access to even more features and benefits than you get with the basic (free) account. Bonanza offers five levels of membership subscriptions (Silver, Gold, Platinum, Titan, and Titan Ad). All membership levels include waived transaction fees, upgraded booth tools and advanced item stats.
Each subsequent membership level offers the same benefit as the memberships below it, plus more. Gold, Platinum, Titan and Titan Ad all included extra advertising benefits to help drive even more traffic to subscribing booths. Titan and Titan + Ad also have exclusive access to Facebook Remarketing and Cart Advertising to better target shoppers who are browsing for items similar to what you're offering.
None of this sounds right for you? That's ok- the memberships are completely optional.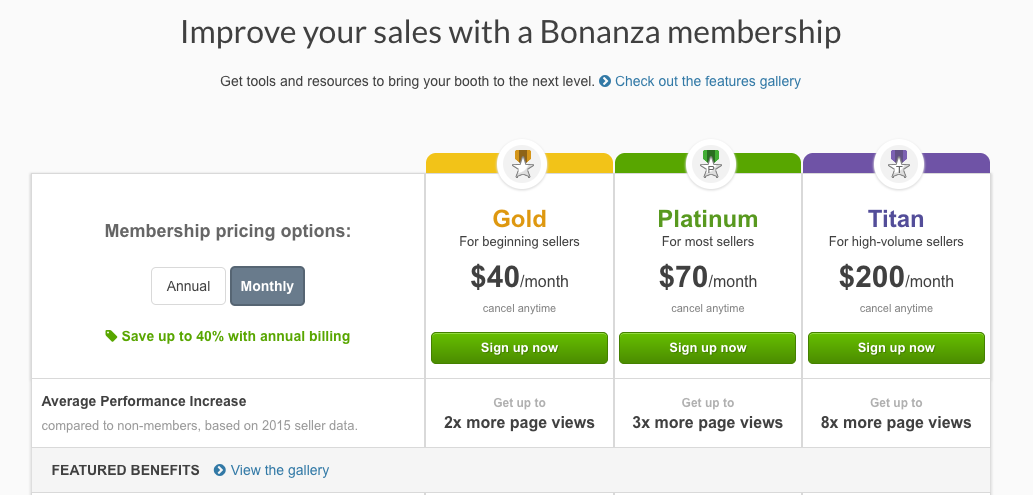 Best Practice Guidelines for Bonanza Sellers
Selling online can be tough, and sellers often need to build a reputation before buyers feel comfortable purchasing from an unknown vendor. We're here to guide you with tips on how to quickly establish credibility on Bonanza.
Communicate
Bonanza provides an internal messaging system (BMail) so that buyers and sellers can communicate with each other about their transaction. Buyers have high expectations and expect clear, consistent and timely communication. We request that sellers respond to buyer inquiries within 48 hours. Bonanza will send an email to the address on file in your account settings notifying you of when a buyer has contacted you via our internal messaging system so that you don't miss any important inquiries.
Details, Details, Details
Providing a detailed shipping and return policy, along with accurate shipping times, is highly recommended to provide clarity to buyers regarding their transaction. This prevents any unwanted surprises or frustration on the buyer end since they will know exactly what to expect prior to completing a purchase. Shipping and return policies can be set in your booth settings. You can read about the different options for setting up shipping here.
Positive Feedback
You can quickly establish your seller credibility by
importing your feedback
from another selling platform, such as Amazon or eBay. You'll have the option to import your feedback from these two platforms when you import your items. Maintaining a feedback score around 98% will help build a strong reputation and attract new buyers. A positive feedback score of at least 98% is also required to meet Bonanza's
Top Rated Seller status
.
Fine Print
To ensure your account remains in good standing (and to avoid any potential legal recourse), please take a moment to review Bonanza's policies regarding
Prohibited Items
and
Intellectual Property
.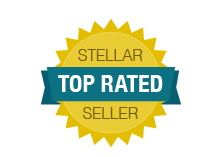 Bonanza Resources
So you've read the information above and still need some assistance. Fear not; Bonanza has a variety of resources to help answer any questions you may have:
Help Center: We have a vast array of self-service Help Pages chock full of How To's and information about our site to refer to, at your disposal 24/7.
Support Team: Our team of Happiness Producers are standing by to answer your questions.
Live chat: Available to Gold members and higher. Live chat is open Monday - Friday, 9:00 AM to 5:00 PM PST.
Looking for even more details about selling on Bonanza? Take a gander at our handy A-Z Guide.