Most sellers offer a direct checkout option, however occasionally your order will be submitted as an offer for the seller to approve. You can read about how that determination is made here.
Purchasing an item via direct checkout means that you can checkout immediately without having to await for approval from the seller.
Steps to checkout for "Buy it Now"
Steps to checkout for offers proposed
Why can't I edit the quantity or offer details?
Who pays for postage?
Troubleshooting common checkout issues
Direct Checkout
1. Add item(s) to your cart using the green 'Add Item To Cart' button

2. Click the payment option you wish to use (PayPal, Card, Amazon Pay)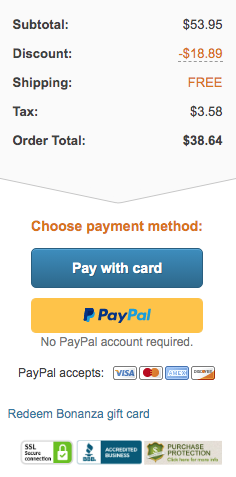 3. Enter shipping and payment information in the pop-up window
4. Click the green 'Complete your purchase' button to complete the transaction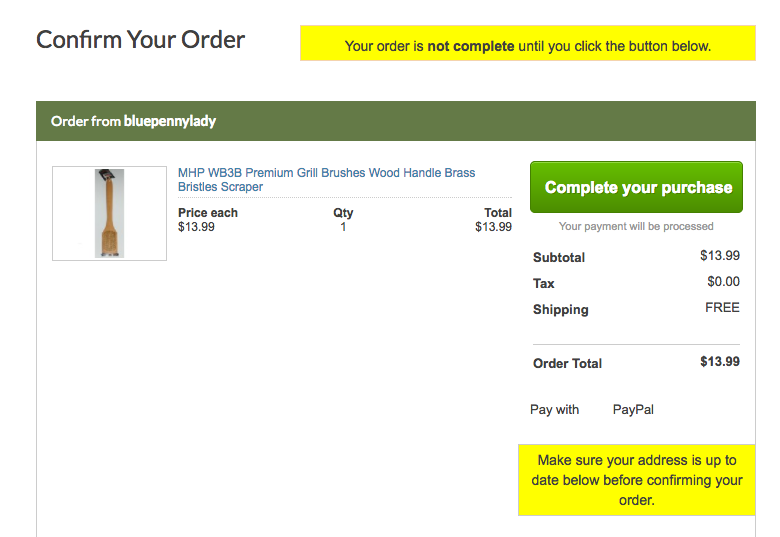 Checkout Complete!
Don't see the option to pay with a debit or credit card? Both PayPal and Amazon Pay accept Visa, Discover Card, MasterCard and American Express. You can use guest checkout on PayPal and enter a credit or debit card directly to complete your payment (no PayPal account required).
If you propose an offer for items, you must wait for the seller to see and respond to your offer before you will be able to pay for and receive the items.
See summary of items you've added to your cart from a given seller, modify offer options as desired
Agree to pay for the offer if the seller accepts it
Provide contact information such that seller can contact you about the offer (Only applicable if not yet registered for site)
Seller accepts offer, items in offer are marked as "Accepted, awaiting checkout"
Buyer pays for offer with PayPal or PayPal Credit, Amazon Pay or credit/debit card (depending on the seller's settings)
Payment verified with payment provider, items in offer are marked as "Sold"
Purchase complete!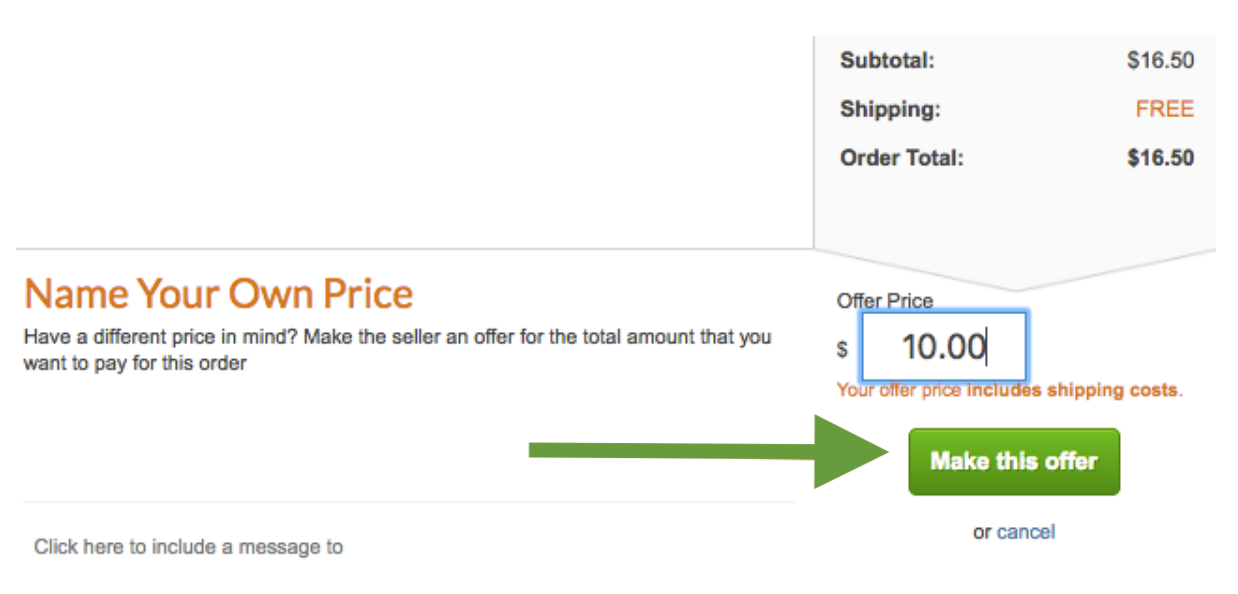 Why can't I edit the quantity or offer details?
You will be unable to edit your proposed offer details in the following situations:
Item Quantity. If there's only one of the item, no quantity edit option will show up.
Only certain Payment Types are offered. Only the payment types that have been set up by the seller may be used. Bonanza sellers can accept PayPal and PayPal Credit, Amazon Pay and Stripe.
Offer Price is not negotiable. If no items in the offer have been set as negotiable by the seller, you can not change the offer price.
*You CAN always edit your notes to the seller.
Who pays for postage?
Postage all depends on what the seller specified. A seller can offer Free shipping, Flat rate or Calculated shipping to their buyer. Some sellers offer more than one choice while others offer only one shipping choice. If in doubt about shipping choices, ask your seller.
When the buyer checks out and submits payment for the item, the seller will then purchase the postage to ship the buyer's item.
The shipping costs are displayed on the listing page below the price. Always check the listing to see when the expected "Ships within" time frame will be.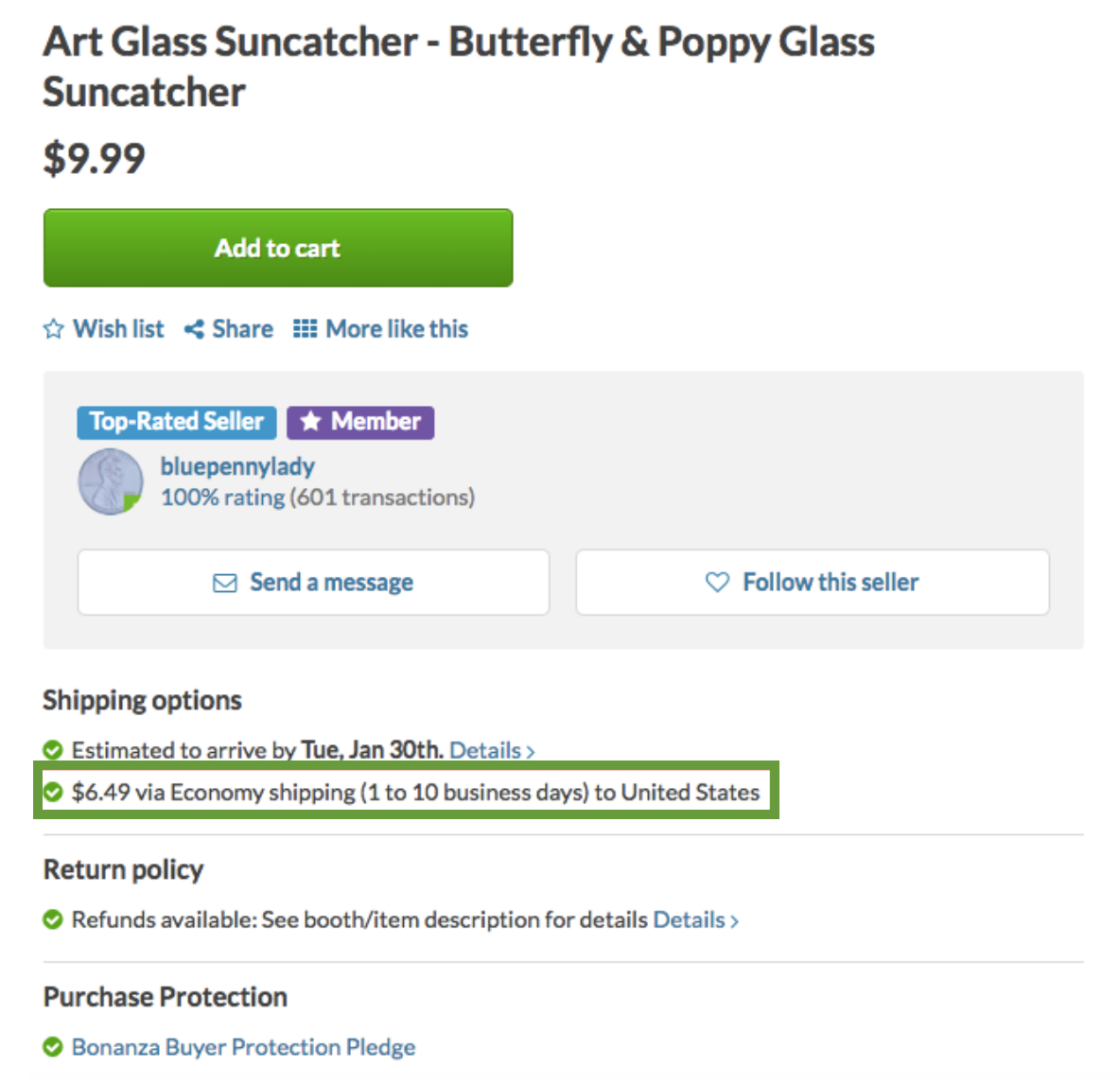 Troubleshooting Common Checkout Issues
Trouble checking out? We want to help! Here are a few common checkout issues and how to fix them.
Won't accept my payment. Sellers are able to process payments through PayPal and PayPal Credit, Amazon Pay and Stripe (depending on their settings). You can checkout as a guest using PayPal without creating an account using your credit/debit card. With Amazon Pay, you'll need to create an account first and register your credit/debit card with them to proceed with checkout. If the seller accepts Stripe, use the "Pay with card" button then input your credit/debit card directly. Once you've decided on which payment processor to use, you should be able to complete your transaction seamlessly through either of these providers. If you've entered all of your payment information and the payment processor isn't allowing the order to complete, it might be due to the information you have entered being wrong. See the next section for what could be causing this.
Invalid shipping address. The system may be returning this error if your shipping address on Bonanza and the shipping address you've entered on the payment processor are not the same. Be sure to double check that both addresses match up (this is especially important on PayPal).
For more information on address accuracy check out this page.
Try clearing your cache, cookies and browser history. Make sure you're using the most up-to-date version of your browser, or try a different browser or device if your default one isn't working.
Other errors/checkout not completing. If you feel like you've exhausted every effort and none of the above steps have worked for you, contact our support team with the steps you're taking, the browser that you're using, where the error occurs and any error message you're receiving.
Not sure if you completed your order? Take a look at this page for instructions on how to double-check.