If you're not sure whether you've completed an order, chances are something went wrong. Just to make sure, here are the steps that you'll normally need to go through to complete the checkout process:
Add item to cart, click on the payment button (Amazon Pay, Stripe or PayPal, depending on the seller's settings).
Go to Amazon Pay or PayPal, log in and enter your payment information or complete checkout as a guest,* or enter your credit/debit card directly using Stripe.
After you have entered your payment information, you are directed back to Bonanza to confirm the order.
After you have confirmed the order on Bonanza, the payment is submitted and the item is purchased.
*Guest checkout only available for PayPal. Amazon Pay requires users to log into an Amazon account in order to use their payment processing service.
If you missed any of the above steps, then the purchase was not completed. You would need to start anew.
If you did complete those steps then you've completed the purchase. You should have received an email from Bonanza confirming your order.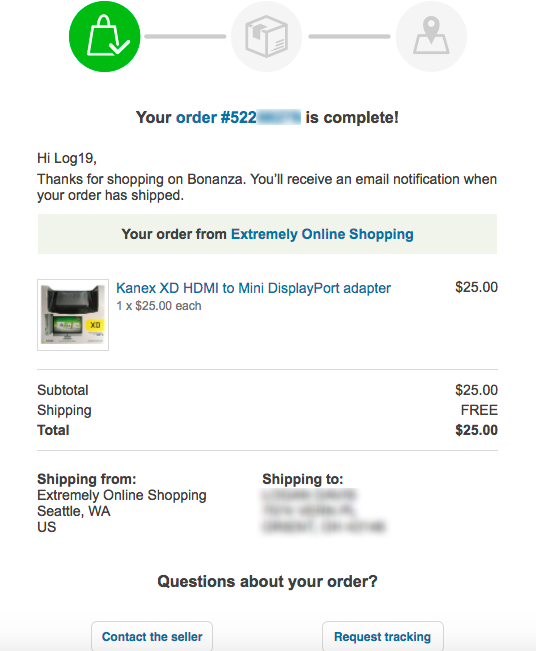 If you have questions about your order status or expected delivery timeline, you'll want to log into your Bonanza account to contact the seller directly. If you don't remember the password you entered when creating your Bonanza account, you can request that a new one be sent to your registered email address (Hint: If you didn't receive an email, be sure to check your spam folder).
Once you are logged in, point your mouse over the "Account" link in the upper left-hand corner of any page and select "Recent purchases" from the drop-down. This will take you to the page where you will be able to view your transactions.
Locate the order, then click the "Send them a message" link under the seller's username to send them an email and inquire about shipping, etc. If the seller happens to be online you can click on their username and visit their booth to use their "Live Booth Chat" window to communicate in real time.