Bonanza is an online marketplace that connects buyers and sellers to transact directly. If Bonanza is an online shopping mall, each seller on Bonanza is an individual store within the mall. If you've completed a "Buy it Now" purchase or submitted payment for an accepted offer, congratulations! You're on your way to getting the item of your dreams!
How do I know if my order is complete?
When will I receive my order?
What if I need to contact the seller?
How can I leave feedback regarding my experience?
I was charged but did not receive an order confirmation from Bonanza
I had a problem with my order, what are the next steps?
---
How do I know if my order is complete?
Bonanza sellers can set up their payment options to allow buyers to "Buy it Now" or submit an offer for price negotiation. If you've submitted an offer to a seller, the seller must accept your proposed price before you can complete checkout. "Buy it Now" purchases can be completed immediately; you do not need to wait for seller approval in order to complete a "Buy it Now" purchase.
Normally our checkout process is as follows:
Add item to cart, click on the payment button (Amazon Pay, PayPal & PayPal Credit, or credit/debit card, depending on the seller's settings).
Go to Amazon Pay or PayPal, log in and enter your payment information or complete payment using PayPal's guest checkout, or use the "Pay with card" button to enter your debit/credit card directly (if available).
After you have entered your payment information, you are directed back to Bonanza to confirm the order.
Once you confirm the order on Bonanza, your payment is submitted and the item is purchased.
After payment has been submitted, your order status will update to "Payment complete," indicating the seller has received your funds and the item is now able to be shipped.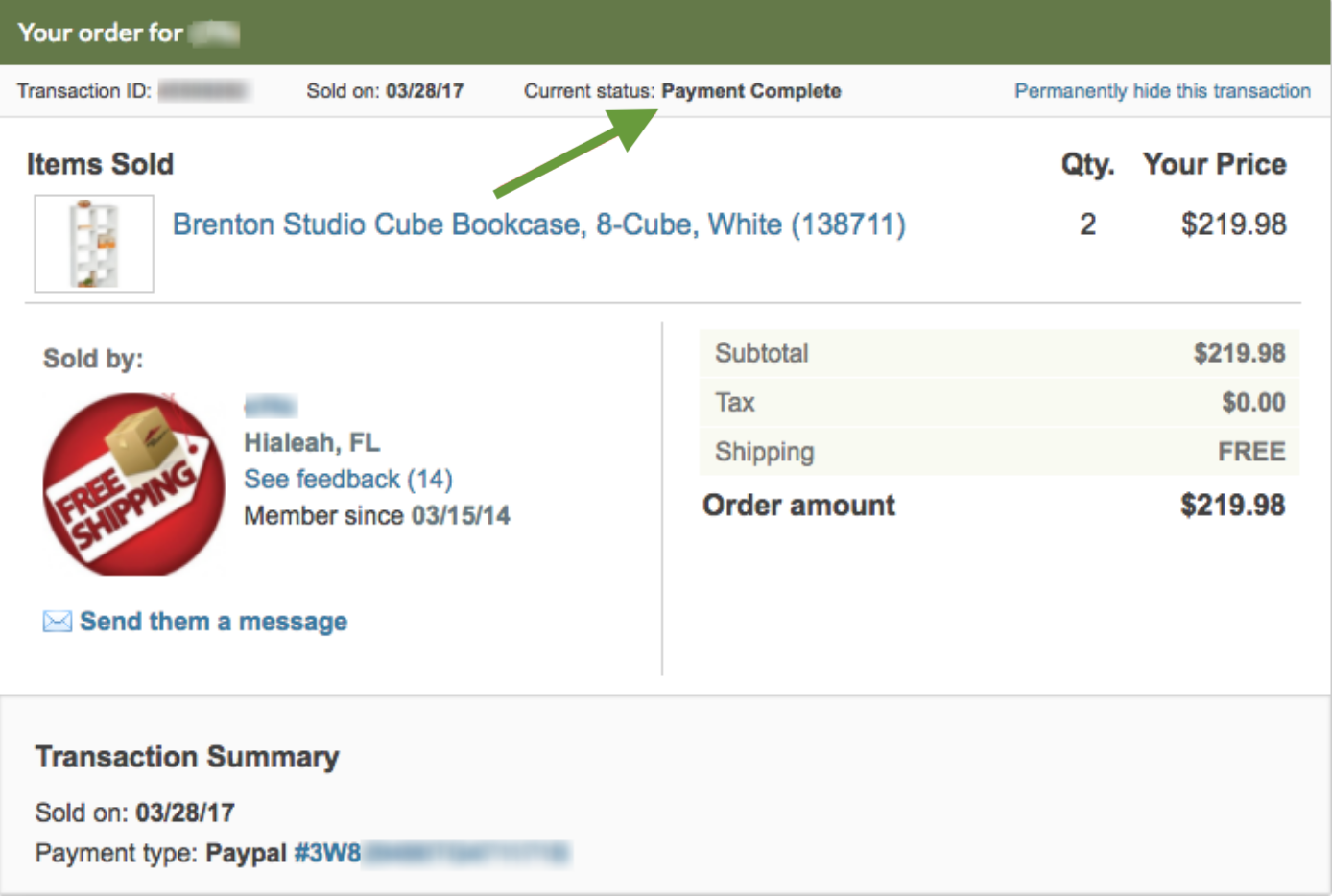 Bonanza will also send a confirmation email to the address you entered during checkout indicating your order is complete.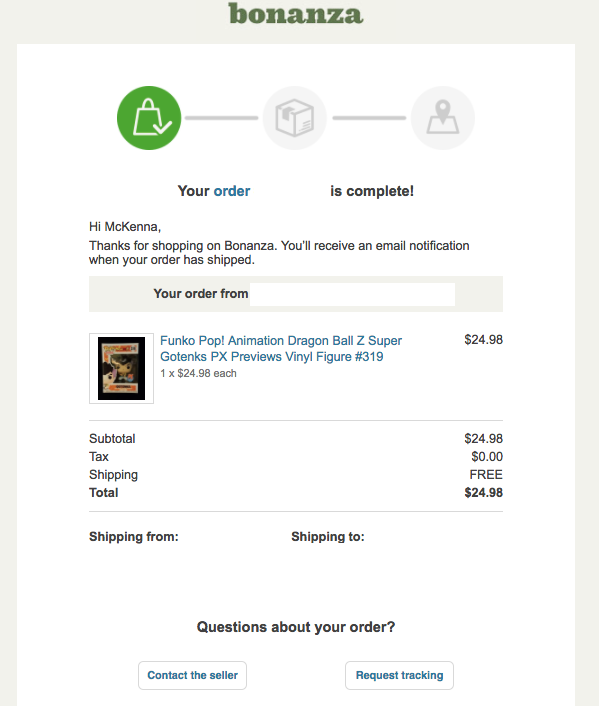 When will I receive my order?
Each seller on Bonanza sets their own shipping speeds and handling timelines. Visit the item listing page by clicking the link in your order summary or confirmation email to view the seller's stated shipping speeds and handling timelines. Click the "Details" link for even more details.
Please note that any estimated arrival information is just that; an estimate. The estimated delivery date is determined by the shipping speed the seller indicated on the listing and the seller's handling time (the amount of time it takes to leave the seller's warehouse after payment is received). Bonanza does not house or ship any items on behalf of a seller and cannot guarantee a delivery date.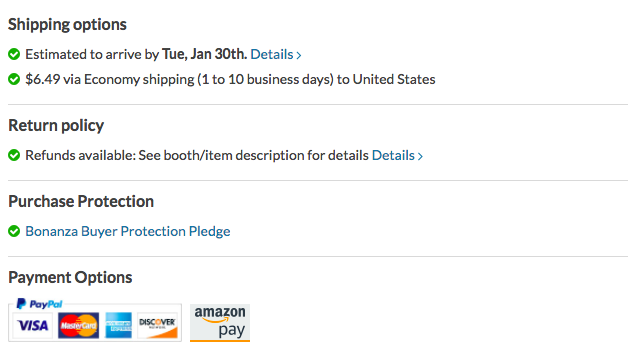 Once the seller has marked your order as shipped, you will receive an email from Bonanza notifying you that your package is on its way. You can view any tracking information provided by the seller at the bottom of your order summary in your "Account > Recent purchases" page to view progress to your destination.

If you haven't received tracking information and your item has not arrived by the estimated delivery date, you can use the "Where's my package?" link under your order summary to contact the seller for more information regarding the status of your order.
Log into your Bonanza account and point your mouse over the "Account" link in the upper left-hand corner of any page, then select "Recent purchases" from the drop-down. Locate the order in question and click the "Where's my package?" link under the order summary. This link can also be accessed from your confirmation email. This link can only be clicked one time.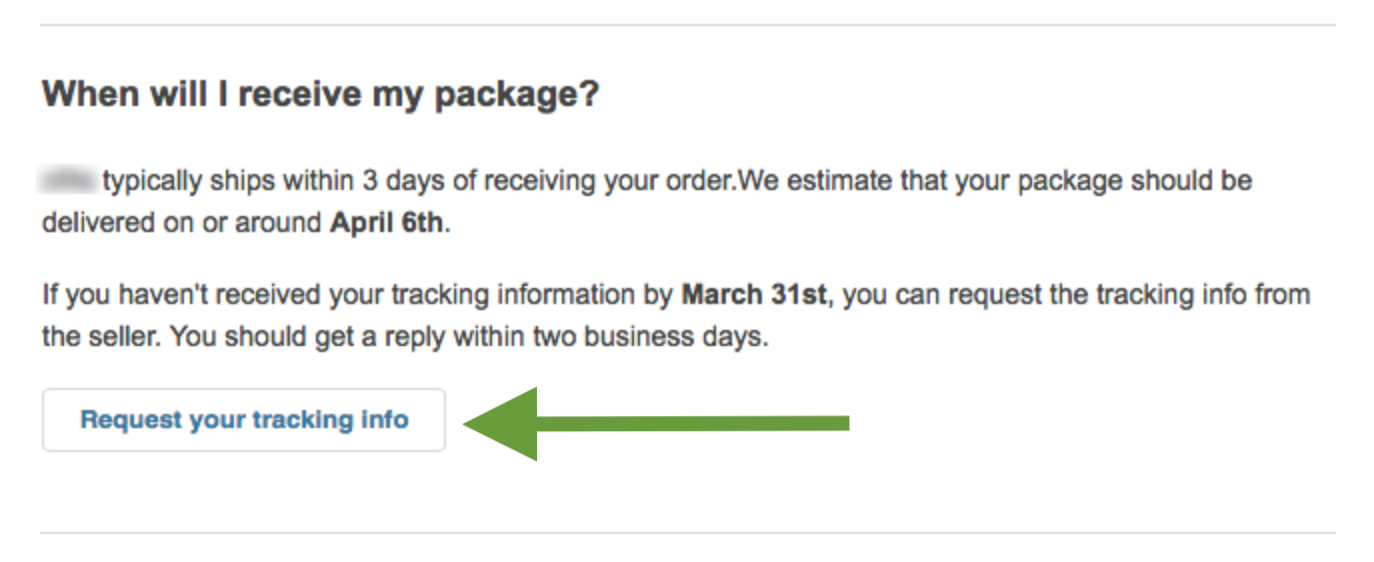 If you're looking for even more information regarding a seller's shipping policies, scroll to the "Listing Details" section on the item listing page, where you will see a link to the seller's booth, shipping and return policy information.

What if I need to contact the seller?
Bonanza has created tools to allow you to seamlessly contact a seller regarding your purchase. You can easily do so from your order summary ("Account > Recent purchases") by clicking either the "Send them a message" or "Contact Seller" links. Keep in mind that sellers span a wide range of time zones and business hours. Sellers will typically respond in 24-48 hours.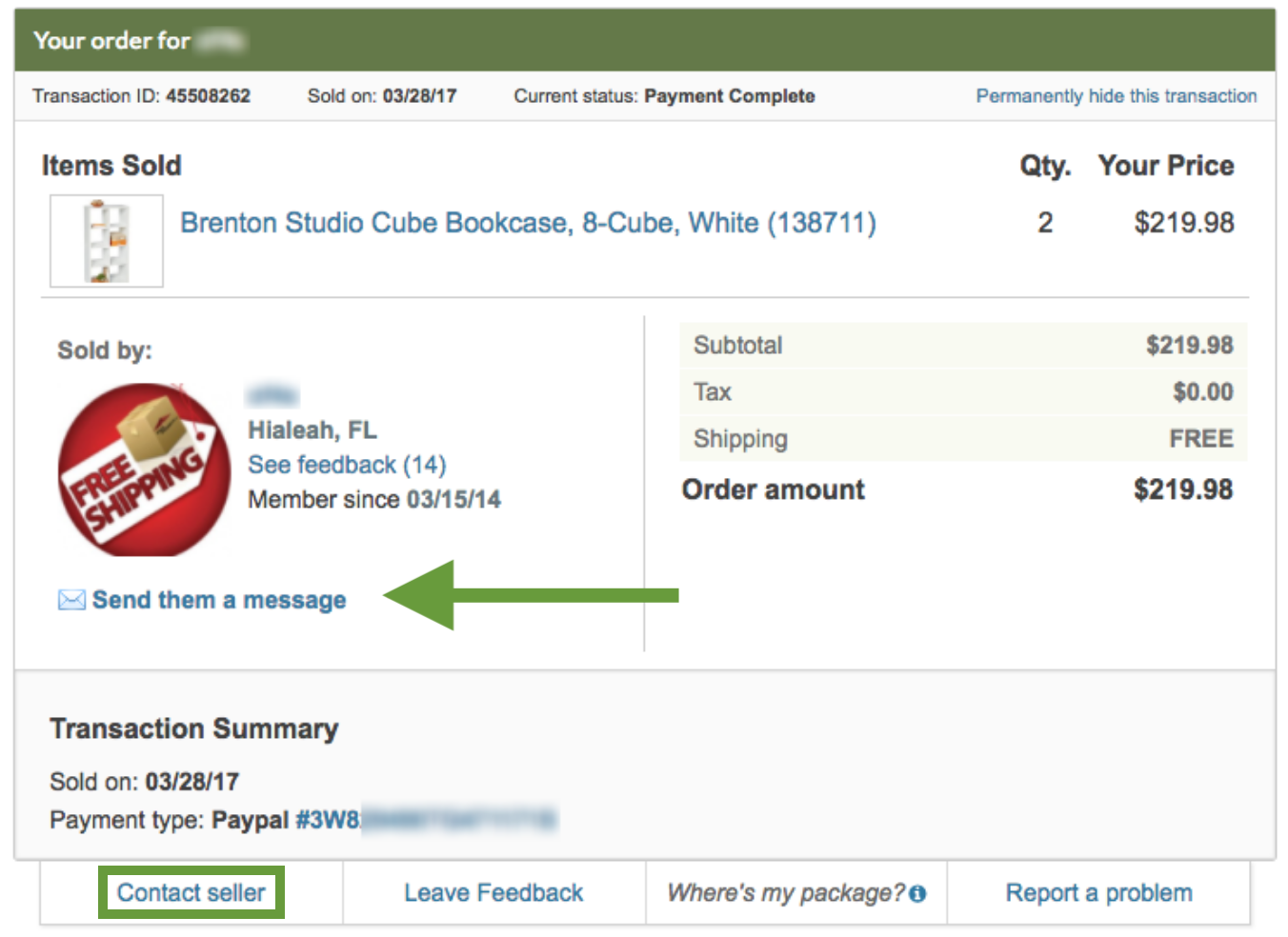 Your confirmation email from Bonanza also includes a button allowing you to easily contact the seller.

How can I leave feedback regarding my experience?
Sellers depend on feedback from customers like you to help them improve their business. Buyers can leave feedback regarding their purchasing experience from 3-60 days after their purchase is complete. When viewing your "Account" dashboard, you will see a notification indicating there is feedback that needs to be left for your purchase.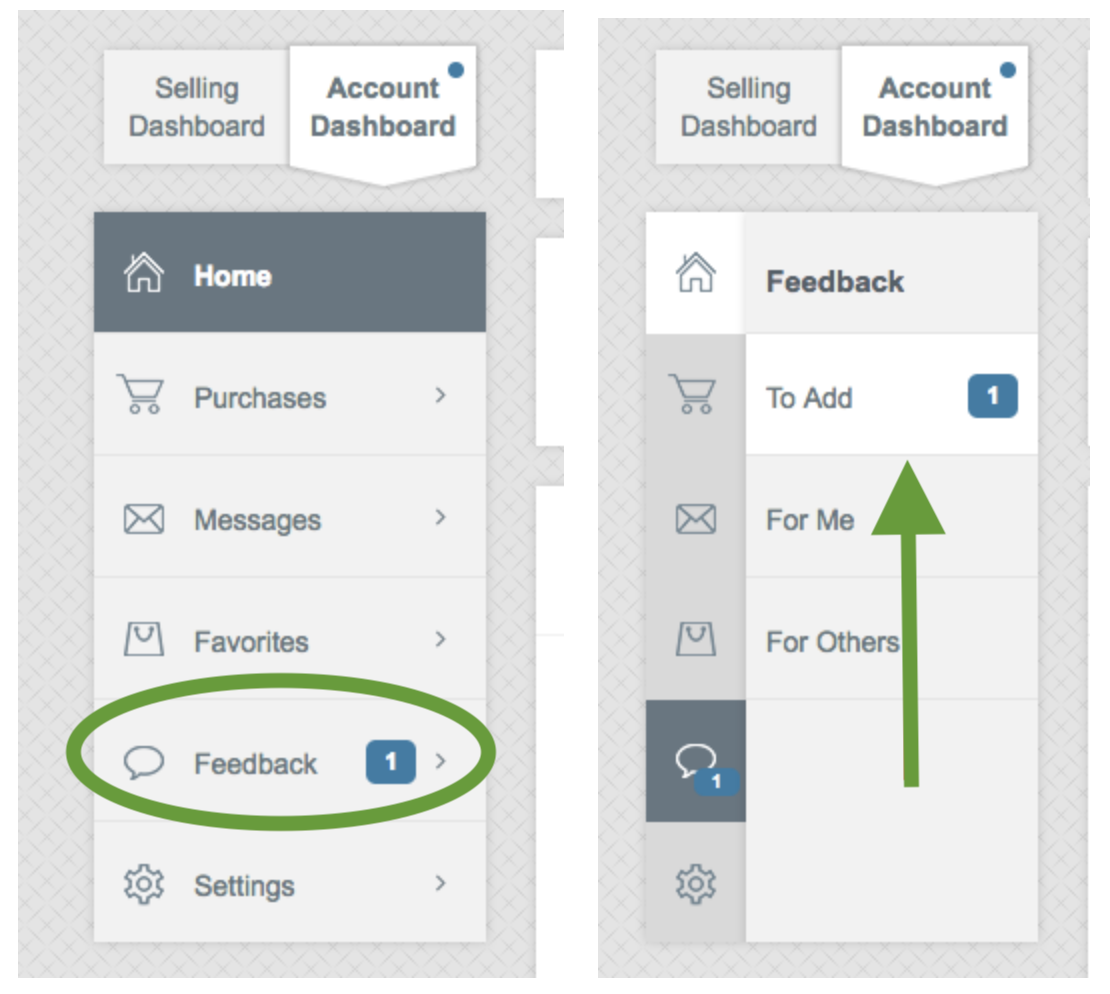 If you haven't left feedback for your order within 30 days of your purchase date, Bonanza will send you an email to leave one-click feedback. Read more about leaving and editing feedback.
I was charged but did not receive an order confirmation from Bonanza
If you were charged for your purchase but didn't receive a confirmation from Bonanza, this means that your order could be in "Awaiting payment verification" status.
When orders are "Awaiting payment verification," the seller must manually accept the payment in their PayPal account before the order is considered "Complete" on Bonanza. If the seller doesn't accept the payment within a short time after your payment is completed, we'd recommend contacting them directly to request that they accept the payment. You can always contact us with any other questions or concerns; Bonanza will be happy to reach out to the seller on your behalf.
I had a problem with my order, what are the next steps?
If your transaction didn't work out as expected or you have an issue with your order, fear not! Your issue can be resolved in a few easy steps.
Contact the seller
If you had a not-so-great buying experience, the first step is to contact the seller directly using our internal messaging system so that they are notified of your issue and have a chance to make it right. Most of the time (like, 99.9% of the time), sellers on Bonanza will work with you to resolve your issue. We recommend keeping all communication within Bonanza's messaging system (BMail). The seller will automatically receive an email to their personal email address when you reach out via BMail. Sellers are more likely to view email notifications from Bonanza than from an unknown email address, which they may inadvertently dismiss as spam, delaying your resolution timeline.
Report the seller to Bonanza
If you've attempted to contact the seller via our internal messaging system and they are not being responsive or you are unable to reach a resolution, please let Bonanza know by clicking the "Report a problem" link under the order summary in your "Account > Recent purchases" page. The "Report a problem" link appears under your transaction summary 14 days after the order date. Reporting the seller via this channel allows Bonanza to keep a record of reports against a single seller. When you click the "Report a problem" link and submit details regarding your report, Bonanza will notify the seller of your issue.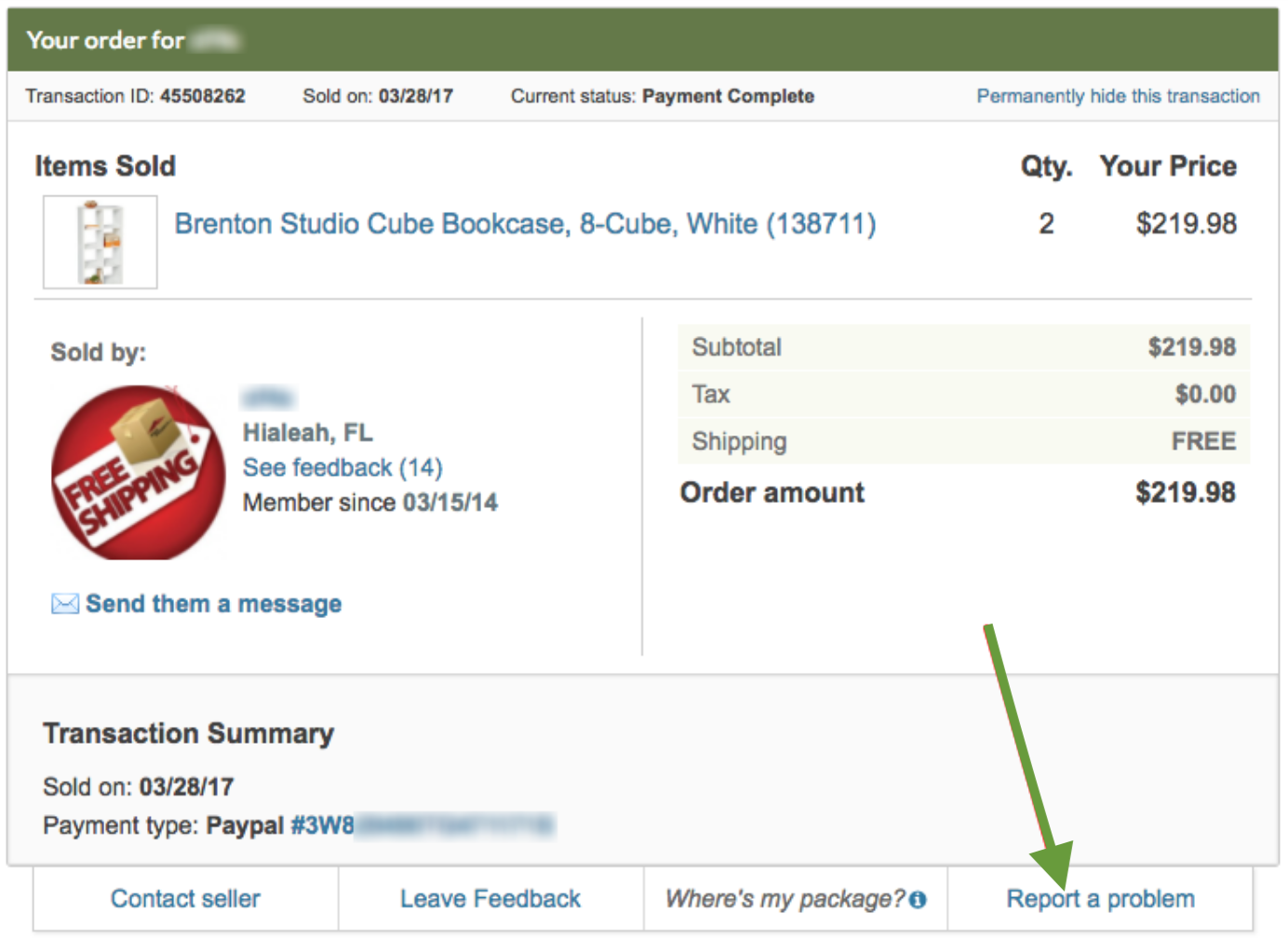 File a dispute with your payment processor
One of the reasons Bonanza requires sellers to accept PayPal and Amazon Pay as payment options is that these two payment processors offer buyer protection for items not received or items significantly not as described. Bonanza does not accept payment for items and therefore cannot issue refunds. If you are unable to reach a resolution directly with the seller, we recommend contacting your payment processor to file a dispute. Filing a dispute with the payment processor often forces the seller to act in order to avoid additional action being taken against their account.
PayPal
PayPal Buyer Protection rules, guidelines and instructions
PayPal requires that you file a dispute within 180 days of your purchase
Buyers who logged into an existing PayPal account can use the Bonanza Order Resolution Center to file a dispute with PayPal.
If you completed your purchase as a guest on PayPal without logging into an account, you are still eligible for buyer protection, however you must file your claim by phone.