If you've received a gift card from Bonanza, lucky you! You can use the gift card to pay for all or a portion of your Bonanza order.
Using a Bonanza Gift Card to pay for your purchase
Add the item(s) to your cart. When viewing your cart, click the "Redeem Bonanza gift card" link under the payment summary and payment methods.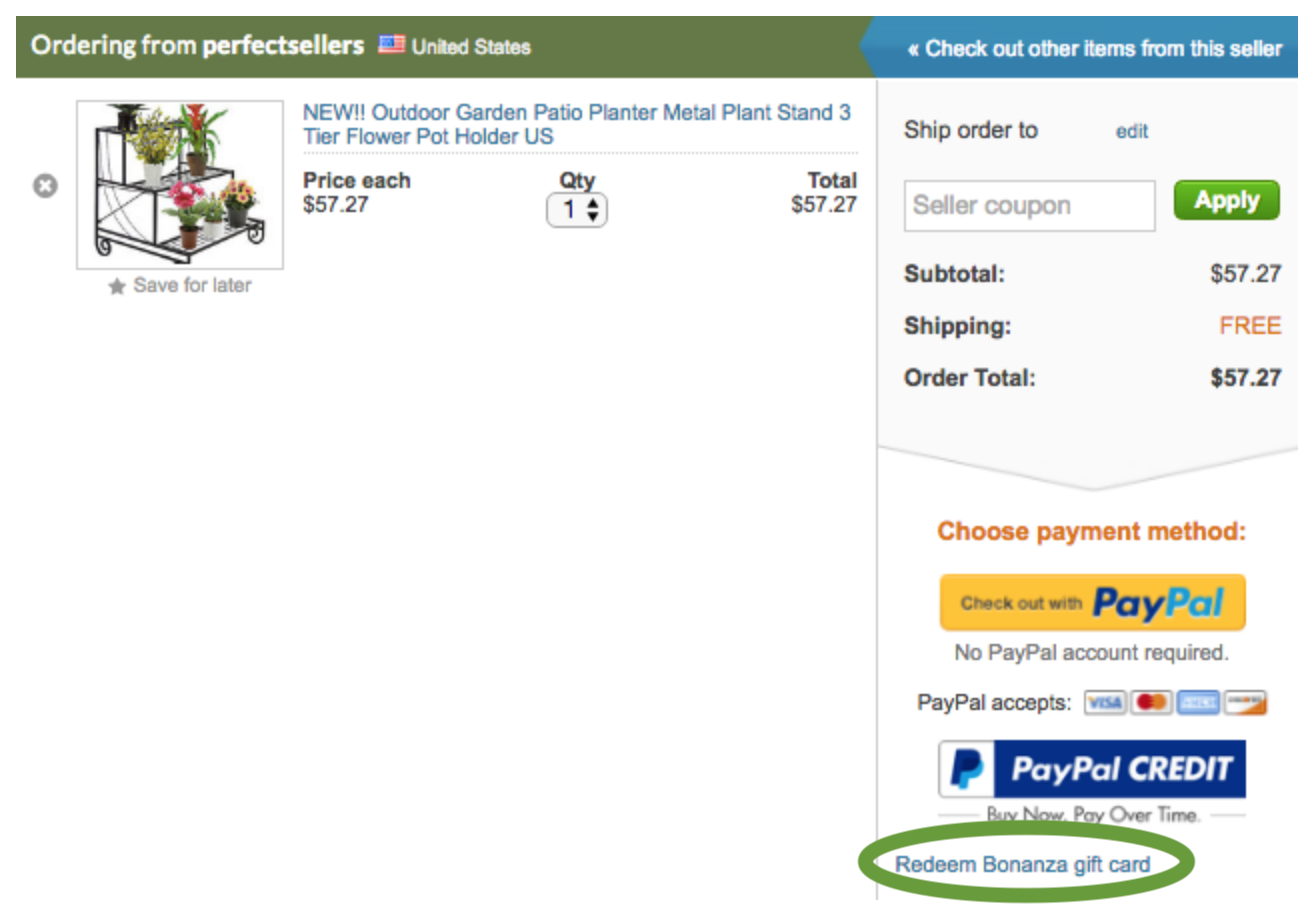 A field will appear where you can enter your gift card code. Enter your 12 character alpha-numeric gift card code, then click the green "Apply" button.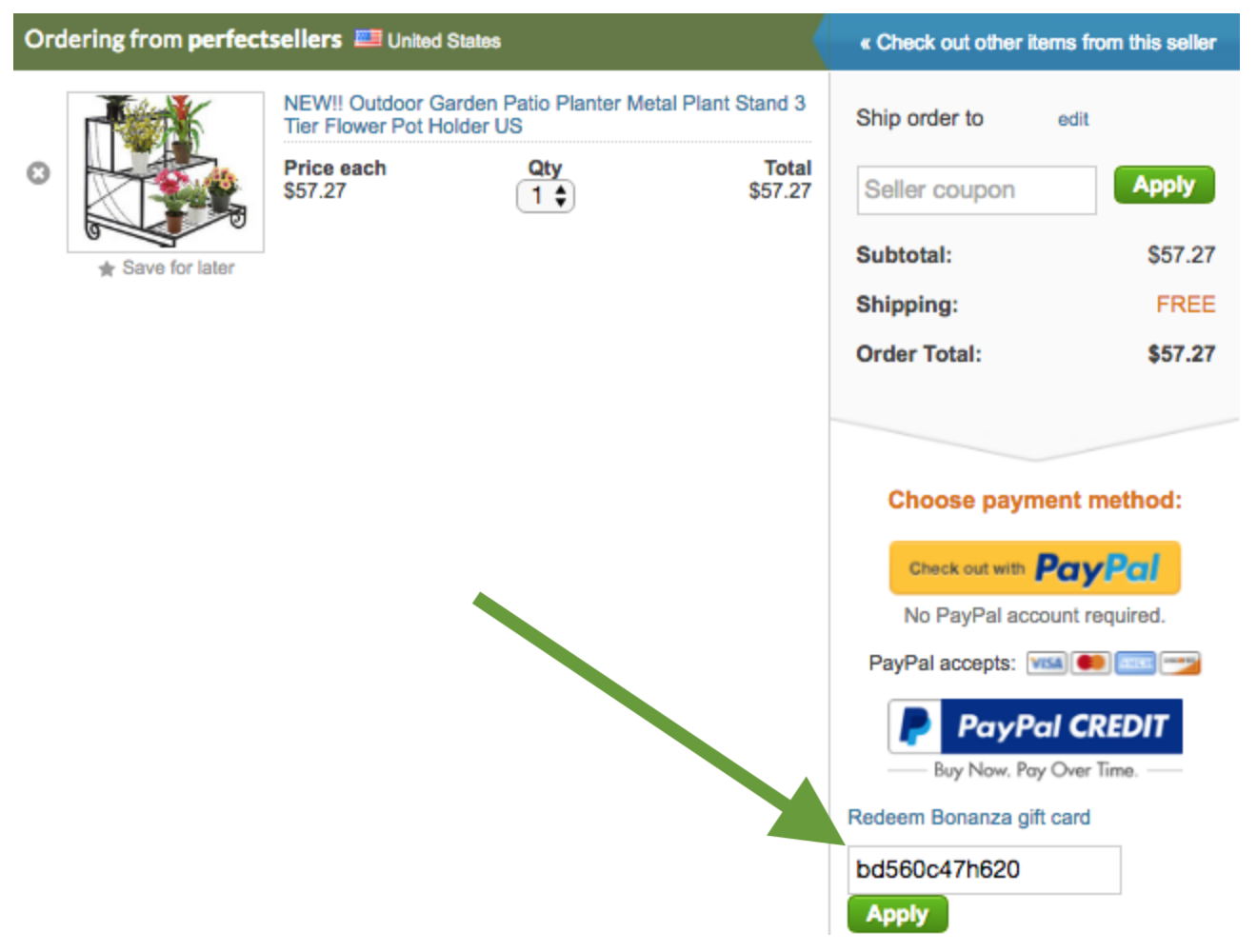 Review your order total to see the gift card applied. The amount available on the gift card will be deducted from your order total. If you have a remaining balance on your order, you can use any of the seller's available payment options to pay for the remainder of the balance, or add another gift card. Any remaining balance on your gift card can be used on future purchases by entering with the same code.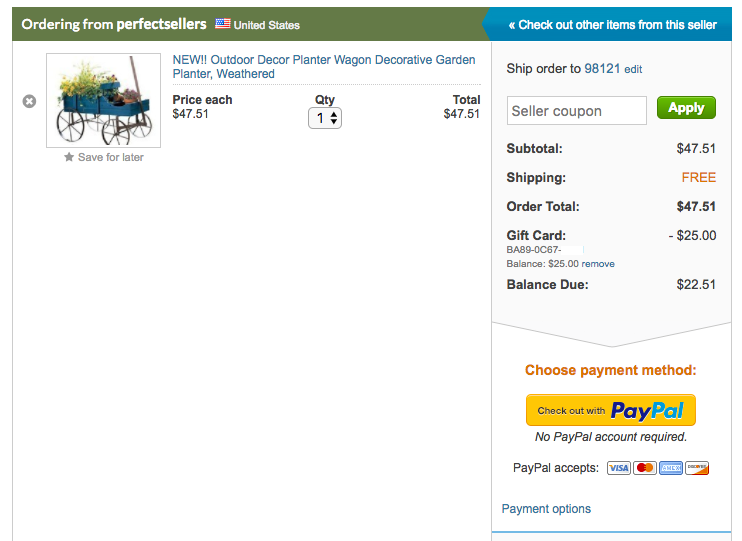 To remove any applied gift cards from an order prior to completing checkout, click the "Remove" link next to the gift card balance. Once the purchase is complete, the gift card payment cannot be removed from the order.
You've completed your purchase, congrats! Check out this page on what to expect next.
Looking to cancel an order? You can find detailed instructions here.
I'm a seller who received a gift card payment for my item
Great! Gift card payments will be sent to your connected PayPal account. Note that this transfer is not instantaneous and may take a few hours to appear in your account. If the buyer used a gift card to cover the entire order cost, the buyer's address will not be reflected in your PayPal account. Instead, use the address located in the order summary in your Bonanza account. You can view the full address by clicking on the city/state under the buyer's username in the order summary, or by viewing the packing slip.