As an online marketplace, the most important thing Bonanza can do is provide a safe environment for both buyers and sellers. Sometimes it's hard to know who you can trust and who you can't when shopping online. Here's what we're doing to try and ensure a positive experience for everyone.
1. Checking seller reputation
The starting point for trust is reputation. What has the seller done in the past to prove they can be trusted? If they're new to Bonanza and don't have a long selling history, what credentials can they present to supplement that lack of history?
Every seller can import their feedback from other reputable marketplaces- like eBay and Amazon- so if a seller has 5000 transactions elsewhere and 4999 of them were positive experiences, that's a powerful endorsement.
Bonanza requires all sellers to put a credit card on file. Credit card companies do powerful identity verification, so proving that a seller has a valid credit card is an important step toward reducing fraud.
Additionally, we have sophisticated systems for detecting users that log in from systems or locations that have a history of fraud or are more likely to engage in fraudulent behavior. When our system detects a potentially fraudulent user, we make it a priority to get more details about the seller and verify the authenticity of their offerings.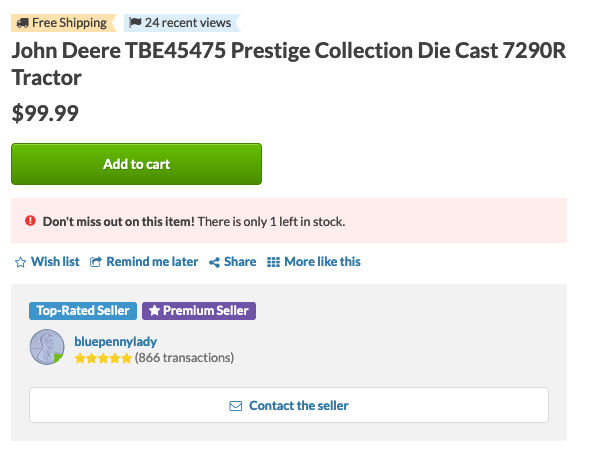 2. Helping you evaluate our sellers
A seller's feedback rating is the first place to get a sense of whether the seller has a history of satisfied customers. But there are a few other ways you can evaluate a seller using this eight-point trustworthiness scale, which includes stuff like:
Does the seller have a lot of positive feedback?
Has another user left a personal recommendation of the seller?
Has the seller taken the time to fill out their About Me section and booth details?
Has the seller logged in recently?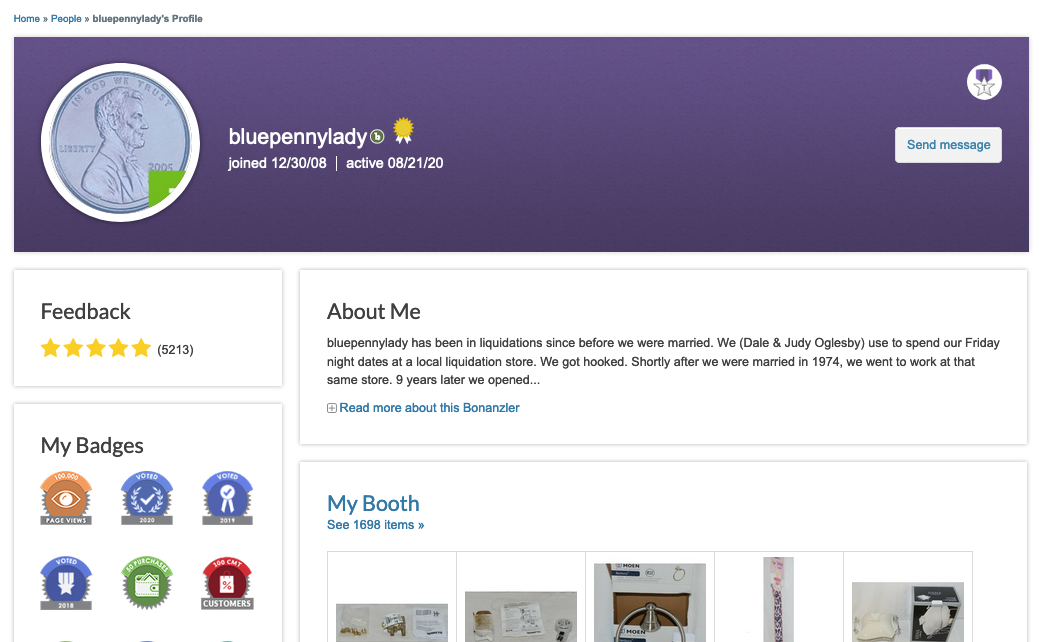 While none of these are absolute indications that a seller can be trusted, sellers that score six or more points are usually going to be trustworthy sellers.
3. Giving Scamsters our Support Team's Attention
In addition to making you happy, our support team also acts as our tireless defenders of good. Their first daily priority is to deal with reports of suspicious items on the site, and to either remove them, or to follow up with our sellers if there is doubt as to whether the items are authentic or the seller can be trusted.
Having dedicated members of our support team whose first priority is to make Bonanza safer reflects our genuine commitment to providing a safe environment in which to transact.
4. Listening to our users when they report suspicious activity
One of the easiest ways for us to spot unsavory sellers is from those who are using our site. You can spot suspicious trends in a seller immediately by checking the seller's feedback reputation and profile.
One other thing to keep an eye on is the items that the seller has listed for sale. If they sell electronics or other high priced goods at unusually low prices, it may be too good to be true. Some sellers may really know where to get great deals, but be wary of low-priced electronics/high-quality goods. This is a favorite way that fraudulent sellers lure in unsuspecting buyers into bad transactions.
5. Using Payment Providers that offer Buyer Protection
One of the reasons that Bonanza requires sellers to accept PayPal or Amazon Pay is that they both provide a level of buyer protection should something go wrong with your order. View details about our payment partners' Buyer Protection to learn more about what action will be taken by Bonanza and whichever payment processor you've used if something goes wrong with your transaction.

I've spotted a Suspicious Seller. How Do I Report It?
If they're only slightly suspicious, you might try sending them a BMail to vet them out. Ask for links to other places they sell online and get a sense for their style of communication.
If they are highly suspicious, you can flag their user account, which will alert us to their presence and/or lead to their possible suspension.
If the situation needs to be escalated, just contact our award-winning support team at any time here or by emailing us directly at support@bonanza.com.