Now that you've set up your Webstore Broadcaster, you can review and manage your ads via the Webstore Broadcaster Dashboard. Please note that your advertising stats will not be available until your product feed has been reviewed and published by Google Shopping.
Summary
The summary chart at the top of the Webstore Broadcaster dashboard visualizes Ad Views, Clicks, Sales, Advertising Spend and Revenue. You can view stats from the last 7, 30 or 60 days. Use the drop down menu in the top right of the graph to select your preferred timeframe.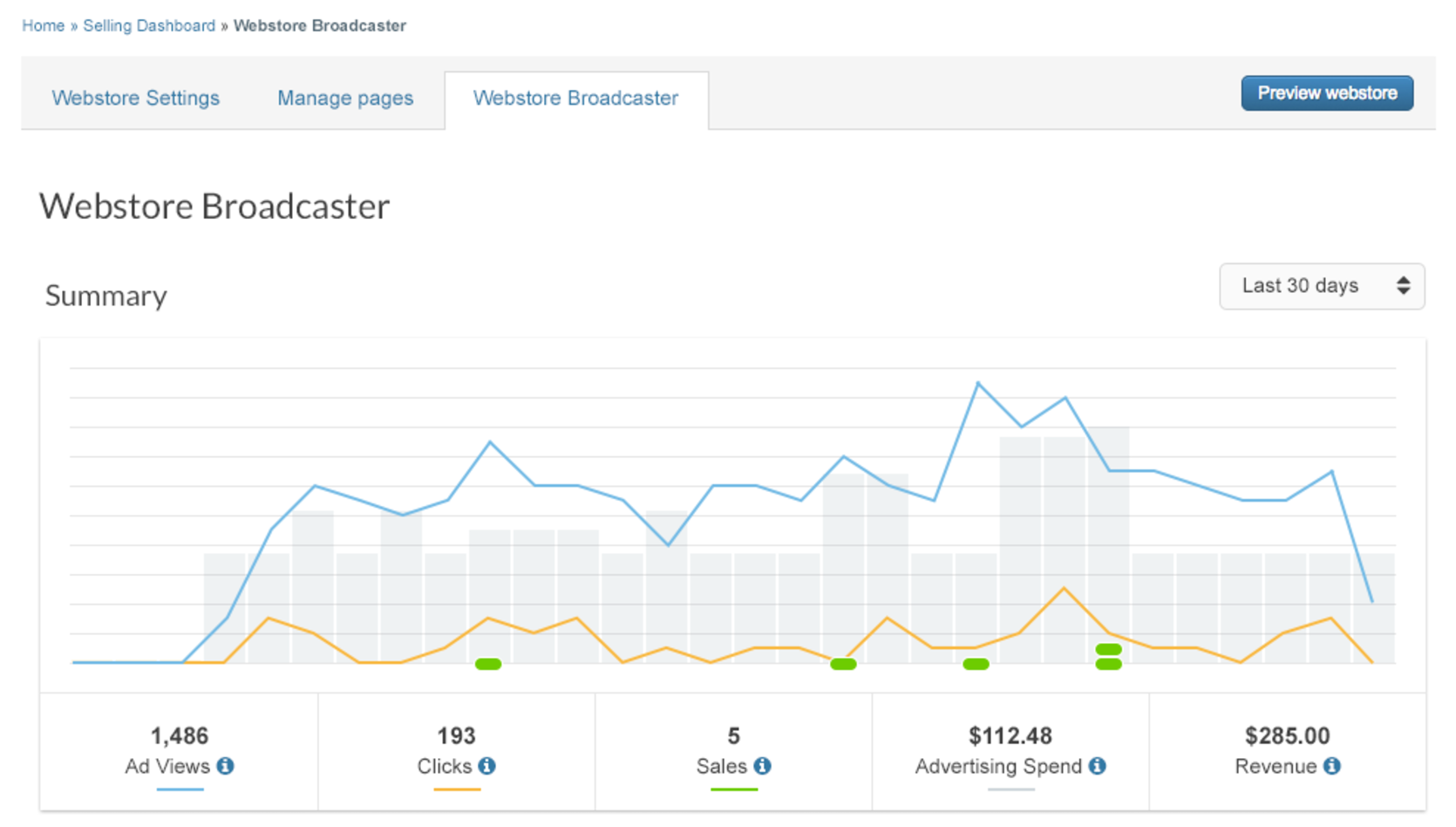 Ad views. This represents how many times your ad is shown on Google's Ad networks, such as in search results and Google's network of publisher websites and apps.
Clicks. This represents the number of times your ads were clicked on by users.
Sales. This represents the total number of sales you made via the Webstore Broadcaster for the specified period of time.
Advertising Spend. Advertising spend is only the amount of money actually spent on ads. This excludes Bonanza's management fees.
Revenue. This represents the total amount earned from sales via the Webstore Broadcaster. This does not account for advertising spend or other expenses.
Budget & Billing
The budget & billing section is where you can review and edit your current ad spend and payment settings.

Change budget. Click this button to access the slider where you can set your average daily spend and your maximum monthly budget.
Stop advertising. Click this button to stop advertising your Webstore listings on Google Shopping. You can always opt back into advertising at a later time.
Total spend this month. This represents the total amount you've spent this month on both advertising spend and Bonanza's management fees.
View Details. Click this button to view ad spend details on a daily basis, breaking out the ad spend (the amount of money spent on ads), account fee (the amount of money paid toward Bonanza fees), and a total cost per day (the total amount you spent each day on advertising fees and Bonanza's management fees).
Go to billing. Click this button to visit your billing statement.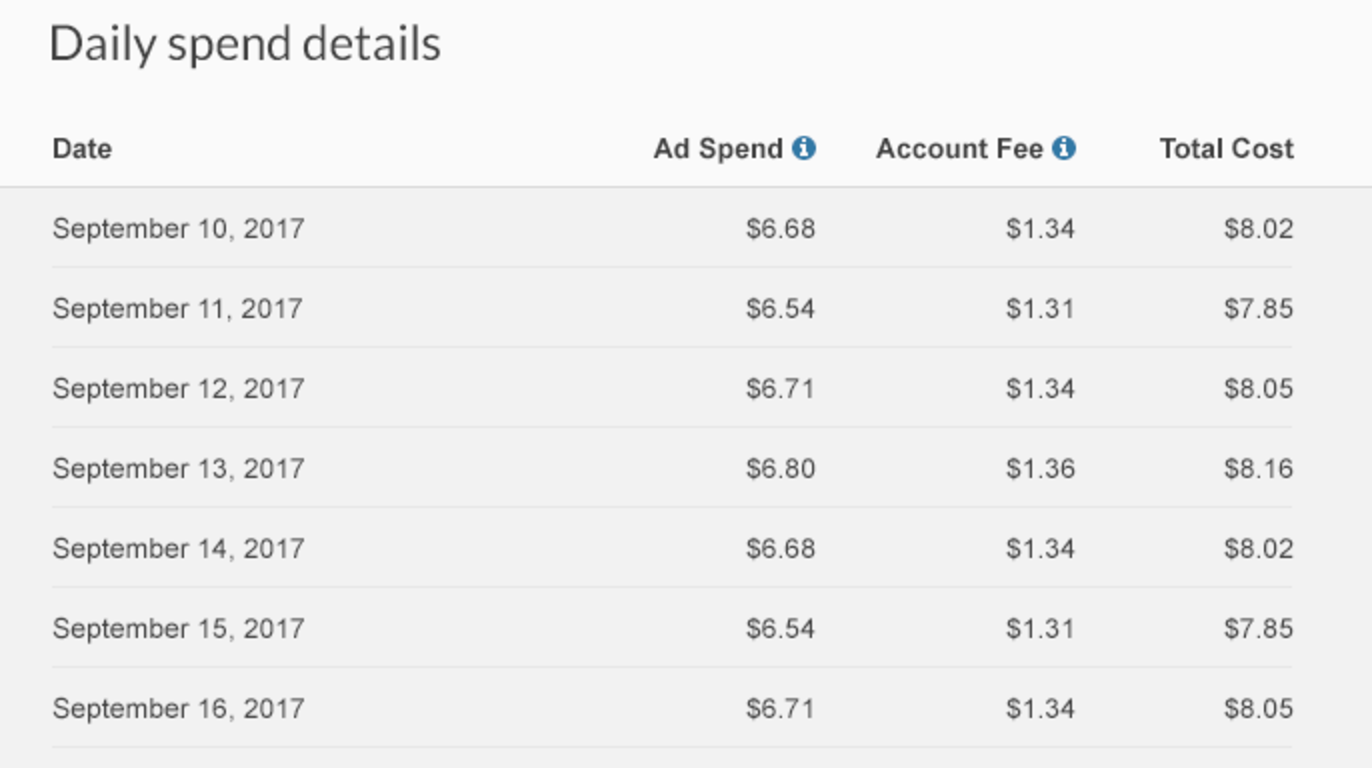 Product Ads
View and manage stats and ad status for your individual listings in the "Product Ads" section of your Webstore Dashboard. Here, you can enable or disable advertising for specific items. By default, all active listings posted in your Webstore will be displayed in this section. Use the filters or search bar to narrow down the listings displayed in this section. You can toggle the ad status on and off for individual listings, or use the check boxes to the left of the listings to select and manage multiple listings at a time.
Clicking the link where the listing title is displayed will bring you directly to the item listing page in your Webstore. To view any errors that may be preventing your listings from being published on Google Shopping's advertising platform, click the "View feed diagnostics" link in the top-right to visit your diagnostics page and troubleshoot potential feed issues.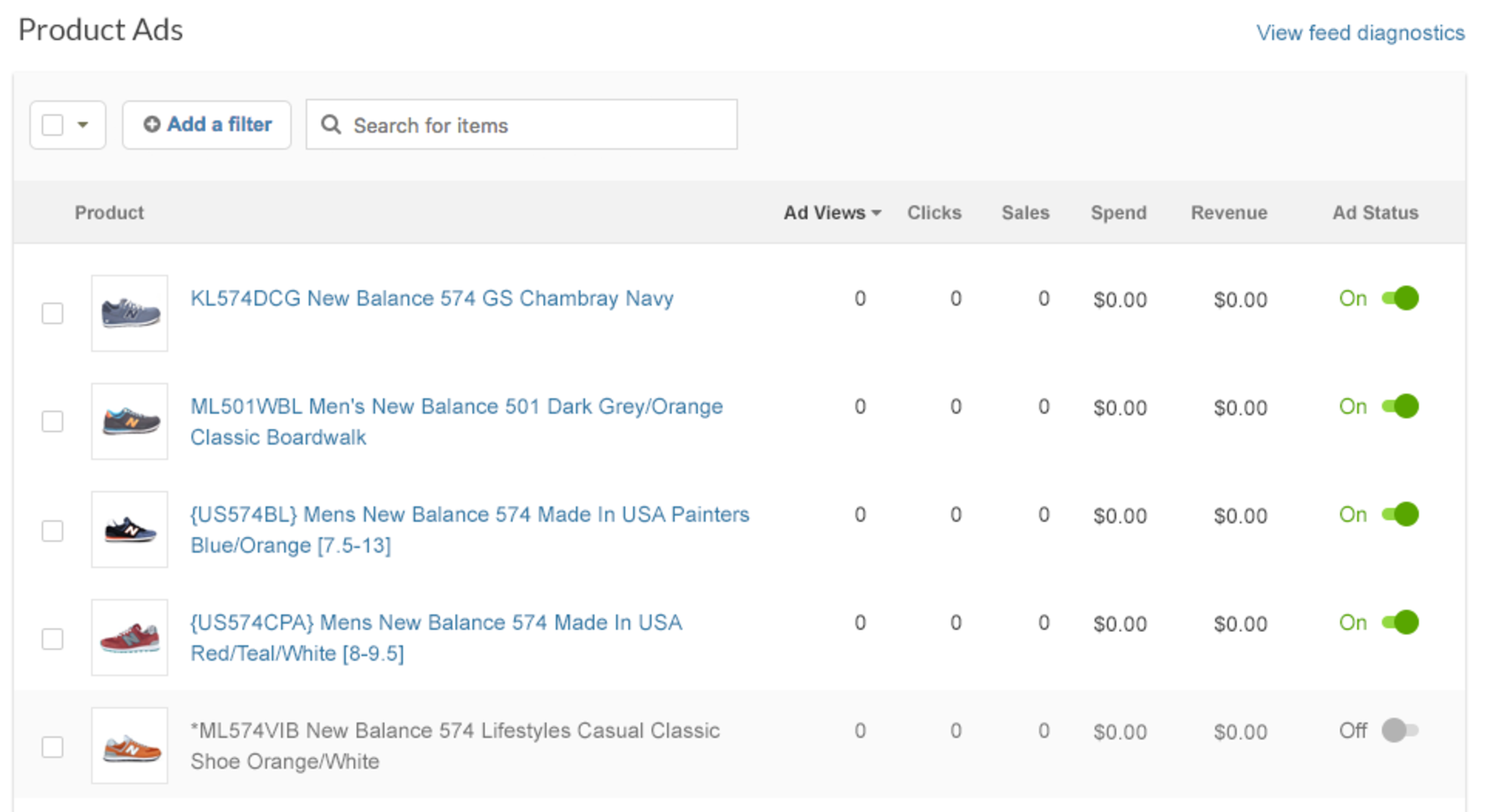 Looking for more information on how the Webstore Broadcaster works? Visit this handy help page for the full low-down on this nifty tool.
Campaign Performance
It can take up to 8 days for your ads to start appearing on Google Shopping. And even then, it might take a little while for you to start seeing sales as a new advertiser.
Although you can change your ad spend at any time, we recommend reviewing your ad spend after one week and continuing to monitor your campaign performance over the following 2-3 weeks before making changes. This will allow your ads and bids to become fully optimized on Google Shopping.
We know that waiting 3 weeks can seem like an eternity, which is why we've created incentives to help you get started and offset those initial costs!
If you're unhappy with your campaign performance after a few weeks, you may want to try the following:
Not getting many ad views or clicks? If your campaign is active but you're not getting very many ad views or clicks, try raising your daily budget. If you don't wish to change your daily budget, you can use the "Ad Status" button on your dashboard to toggle ads on and off for certain items, allowing us to concentrate your budget on your most valuable items.
Getting lots of ad views but few clicks? If you're getting lots of ad views but no clicks, this may mean that shoppers are seeing your ads but choosing not to visit your Webstore. We recommend looking at the competition. Are other advertisers promoting similar products at lower prices? Is there another issue that you can identify which might be drawing shoppers to other websites instead of yours? Use the batch editor to quickly update your listings based on your findings.
Getting lots of clicks but no sales? This may mean that your ads are showing up in searches that aren't totally relevant. Try incrementally lowering your daily ad spend to balance out your budget. Or, consider freshening up your product listings or Webstore theme & navigation to help turn those browsers into buyers.