Singing the blues
It can be hard not to feel disappointed when you receive an email from a past customer who'd like to return an item. It might make you feel better to know that you're not alone. Item returns are a fairly common occurrence for e-commerce businesses — 30% of online purchases are returned.
Bonanza is home to over 40,000 sellers, each with unique business needs and individual policies. There's no "one size fits all" returns process at Bonanza because we want you to have the option to handle returns in a way that works best for your business. However, there are three major steps to processing a return on Bonanza, each customizable to your business model.
Step 1: Receiving the returned item

Your item has gone on a grand adventure, traveling far and wide across many magical lands, only to discover it must make the long journey home to return back to you.
Customers are often disappointed or frustrated when an item they bought doesn't work out, so keeping a calm demeanor during your interactions with these buyers will work in your favor. If you do not accept returns, be sure to communicate this quickly and politely to your customer. You can expand on your return policies or direct them to your Booth Policies page if necessary.
#protip: Be upfront about your return policy: set your booth return policy via the Shipping & Returns tab of your booth settings.
If you accept returns, the first step is to work with the buyer so they can send the item back to you. We don't currently have the capability to sell return shipping labels through Bonanza, but you can purchase a return shipping label through your preferred provider (Stamps.com, UPS, etc.) and send the label to the buyer directly. Simply contact the buyer via Bmail and request they provide their email address so you can email the shipping label to them. Paying for a return label upfront is a gesture of goodwill to your customer, and lets you control the shipping service your item will receive.
Alternatively, you may ask the buyer to purchase their own shipping label, and consider reimbursing them via a third-party payment processing company (like PayPal). Once you've received the returned item, you can go about refunding them.
Step 2: Refunding your customer

Many sellers wait to refund the order until they receive the item from the buyer. This helps protect your business against any potential purchase fraud.
If you do encounter any issues with the returned item, let us know about it; we have a dedicated fraud prevention team that is committed to protecting our sellers and minimizing fraudulent transactions.
Once you've successfully received the item, it's time to issue a refund. How you refund your buyer depends on how they paid. Here's how to handle a refund for a transaction made from our various payment methods:
PayPal. If the buyer used PayPal, refunds can be issued for up to 180 days. To find the most up-to-date information on how to issue a refund via PayPal, follow these simple instructions.
Amazon Pay. You can use the Manage Orders feature in your Amazon Seller Central to issue full or partial refunds. Follow these instructions for details on how to issue a refund via Amazon Pay.
Stripe. Refunds can be managed directly from your Stripe account dashboard.
Learn more about how to issue a refund with Stripe.
Step 3: Post-return processes
After you've received the item and refunded the buyer, there are a few final things to take care of:
Submitting a fee refund request
You have up to 180 days from the date of the transaction to request refunds on your final value fees. The buyer must be refunded before you may request a fee refund for the canceled transaction.
To request a fee refund, go to your "Billing statements" page and select the month in which the transaction took place. Next to the refunded order, click the red "x" and follow the prompts to request a fee refund for the transaction. We'll use the data given to us by the payment provider to confirm the refunded transaction.

If we're unable to confirm the refund, we'll request further information from you to ensure that the refund did take place. You'll be asked to include the following information:
Reason the transaction was refunded
Refund method (PayPal or Amazon Pay)
Refund transaction ID
Screenshot providing visual proof of the refund to the buyer
You can also include additional notes regarding your fee refund request if necessary. If the transaction occurred outside of the 180-day refund period, we will be unable to refund your final value fees. If you're only issuing a partial refund on an order, please email support for a fee refund on the refunded portion of the order.
Relist your item
To save time, you can relist the returned item. Visit your "Recent Sales" from the Selling drop-down menu in the upper left-hand corner. From there, locate the order in question and simply click "Relist items" under the transaction summary.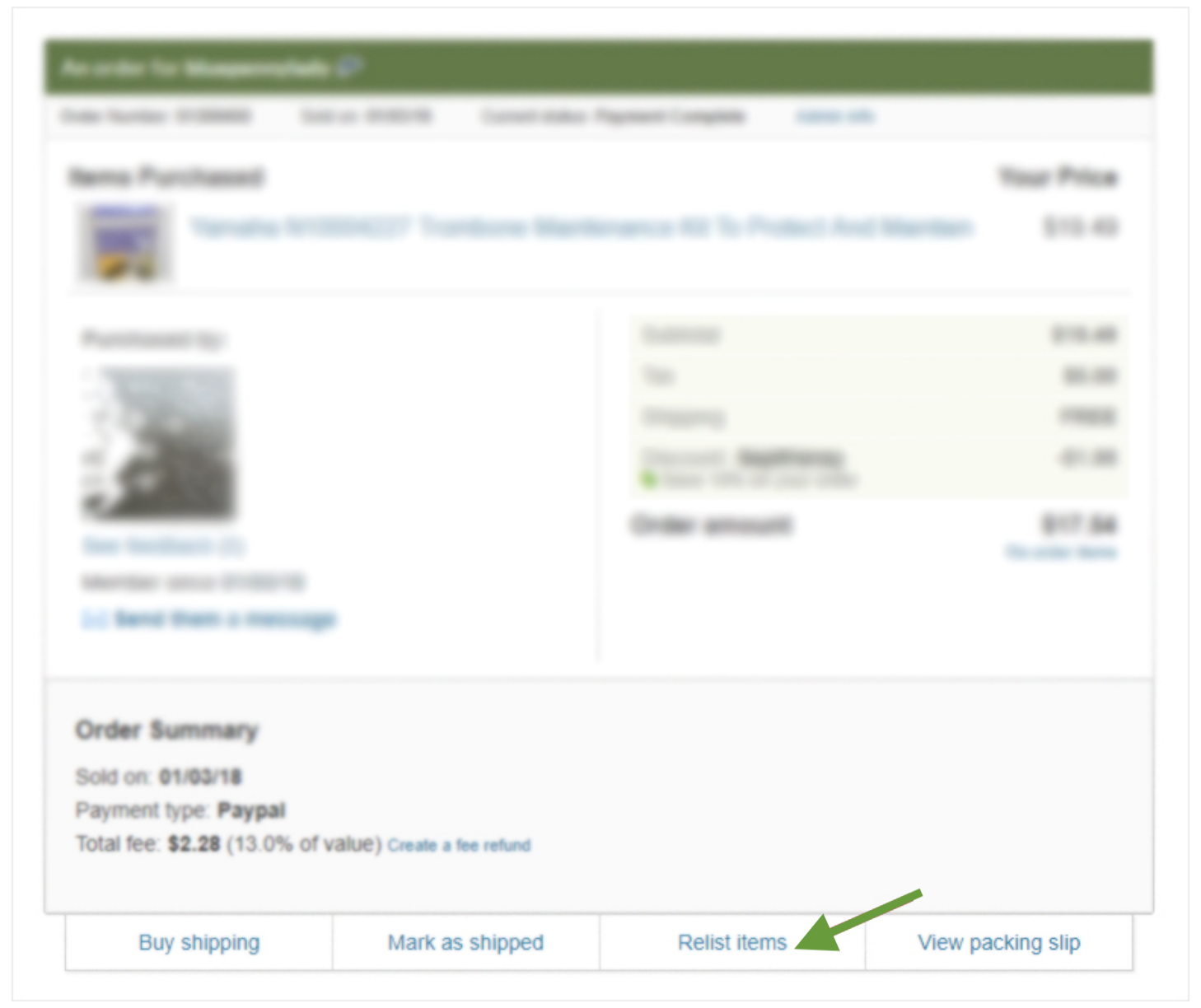 All items in the order will be set to "Items ready to post" status. This allows you to delete any items from the order that you don't wish to relist before you publish the items. Once you're ready to publish the relisted item, visit "Add or edit items" from the Selling drop-down menu and select "Update your booth."
Reach out to the buyer
Once your return is completely processed, it can be helpful to receive feedback from the buyer about why they returned the item. Usually the reason for a return is outside of your control, like "The item didn't fit." However, sometimes you can get helpful insights about ways to improve their buying experience. What's more, showing empathy and listening intently will let them know you care about fixing what went wrong.
Bonanza also offers tools that can be helpful in mediating a situation with an unhappy buyer. You can use the Customer Marketing Tool (CMT) to send a discount code to the buyer. If the return had nothing to do with you as a seller, sending a coupon could encourage them to shop with you again.
To create a coupon for a specific buyer, visit the "Customers" tab of your Selling Dashboard menu and select "Bonanza Customers." Select the checkbox to the left of the buyer's name (or find the buyer by name via the search box) and click "Save this list." Give the list a name and save.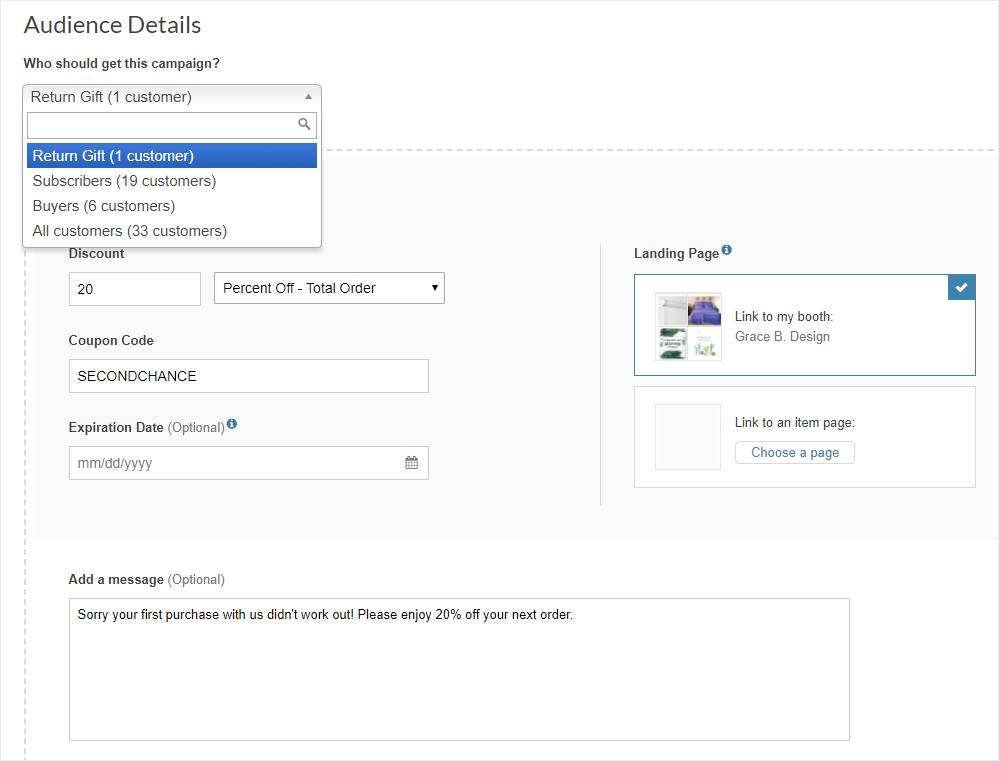 Next, click the green "Create a campaign" button. Create a new account and select your new list as the audience. Fill out the other details, and save your campaign. You can update this list at any time by clicking the "Saved Lists" tab of the CMT.
Turn that frown upside-down
Processing returns can be tedious, but are also a necessary part of the e-commerce cycle. Research shows that 92% of shoppers will purchase from a seller again if they provide a seamless returns process, so use this information to stay on top of returns and maybe generate some repeat customers in the process.