You've learned all about the benefits of the Webstore Broadcaster, and you're ready to use this awesome tool to direct buyers to your standalone Webstore. Excellent! This page includes all the information required by Google Shopping for you to start advertising with the Webstore Broadcaster. Note that you can save your progress at any point during the setup flow and come back later to complete it.
Setting your Advertising Budget
Setting Up your Custom Webstore Domain
Providing Contact Information for Customers
Describing your Return Policy
Billing Information
Reviewing and Managing your Webstore Broadcaster Dashboard
---
Setting your Advertising Budget
The first step to advertising with the Webstore Broadcaster is to select your advertising budget. Your budget is the average amount of money you're comfortable spending each day to reach your advertising goals. The budget slider makes it easy for you to select your average daily spend and set your maximum monthly budget (displayed below the budget slider). The minimum ad spend is $1 per day. Once your Webstore Broadcaster setup is complete, you will be able to change the daily budget or stop and start advertising at any time from the Webstore Broadcaster Dashboard.
Note that:
The budget must be set using whole dollar amounts
The daily budget will be used to determine your maximum monthly budget
Google may spend 20% more or less each day as they optimize your ads for sales; however, your spend will never exceed the maximum monthly budget
Your advertising budget includes a 20% management fee paid to Bonanza, which covers feed optimization, Google Ads account management, and data & tools used to set bids
Setting Up your Custom Webstore Domain
Sellers are required to have a custom domain name in order to advertise using the Webstore Broadcaster. Claiming a custom domain during the Webstore Broadcaster setup verifies ownership of the domain and authorizes Bonanza to manage and publish Google Shopping ads on the seller's behalf.
Sellers who have not yet purchased a custom domain name
If you do not already have a custom domain name for your standalone Webstore, you can search for available domains and claim one during the Webstore Broadcaster setup.

Sellers who already have a custom domain name
If you have already purchased a custom domain from a third-party Website (such as Namecheap or GoDaddy), you'll need to configure your domain settings in your third-party provider account to connect the domain to your Bonanza Webstore. Bonanza does not have access to your third-party account so we cannot complete this step for you, but you can read specific instructions for configuring your settings with popular domain providers here. Sellers who have previously purchased a custom domain via Bonanza have their domain settings configured automatically.
Once your settings are configured, enter the URL and claim the domain. After you claim the domain, you will no longer be able to make direct changes to your Google Merchant Center or Google Ads accounts (instead, Bonanza will take care of managing and publishing ads for you).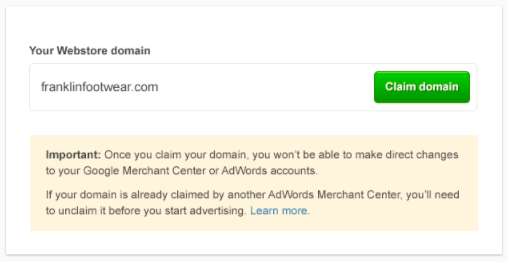 Sellers who have already claimed a custom domain in a Google Ads Merchant Center
If your domain is already claimed by another Google Ads Merchant Center, you must first unclaim the domain from that Merchant Center before you can move forward with the Webstore Broadcaster Setup under that domain. Once the domain is unclaimed, it may take up to 24 hours before the domain is released for reclaiming.
To unclaim your domain:
Log into your Google Ads Merchant Center account
Go to "About your business"
Go to "Delete website URL"
Click Save
Your domain will now be unclaimed
Once the domain is released and available to be reclaimed, click the "Claim Domain" button to try again.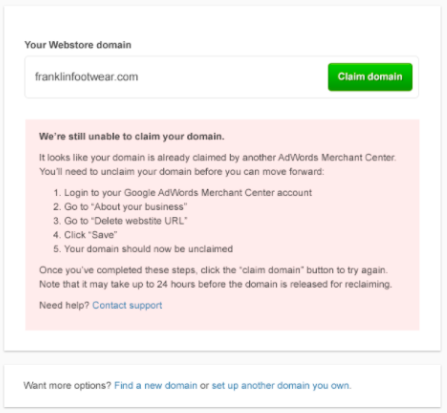 Your domain can only be claimed on one platform in order to advertise on Google Shopping. Claiming your domain on another platform such as Google Suite, Pinterest or Shopify will disconnect your Webstore Broadcaster Feed and Google AdWords.
Providing Contact Information for Customers
The standalone Webstore acts as your own, personal e-commerce website. Just like any other e-commerce website, your customers need to have a way to contact you. This adds credibility to the Webstore and builds shopper confidence, increasing your chances for conversion.
Google Shopping requires sellers to provide the following contact information:
Email Address
Mailing Address
Phone Number

If you don't want to use your own personal phone number, you can get a free phone number from Google Voice
Note that you're not required to add links to social media sites, however we do recommend including them if possible (so that buyers have other ways to learn about your business).
Any information entered in the Customer Contact Information fields will be displayed publicly at the footer of each Webstore page.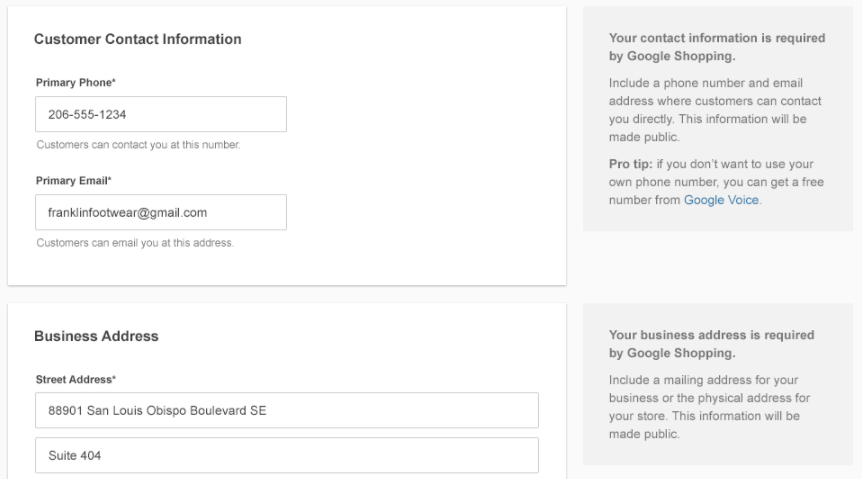 Describing your Return Policy
A return policy is a great way to build a relationship with customers. Setting expectations can reduce frustration among buyers and cut down on returns. Also, if you're advertising on Google Shopping, you're required to have a clearly stated return policy. Make sure that whatever return policy you create in your Webstore Broadcaster settings matches the information that is already included in your listings.
Return Policy FAQ
If you accept returns, use the FAQs to provide simple answers to important questions about your return policy:
Under what circumstances do you accept returns (any reason, incorrect size, damaged item, etc)?
What is your timeframe for returns (30 days, 60 days, 90 days, any time, other)?
What kind of refund do you offer (full refund, credit, exchange, etc)?
When can customers expect a refund (1-2 weeks, etc)?
How should customers ship returns (pre-paid label from seller, at buyer's own expense, etc)?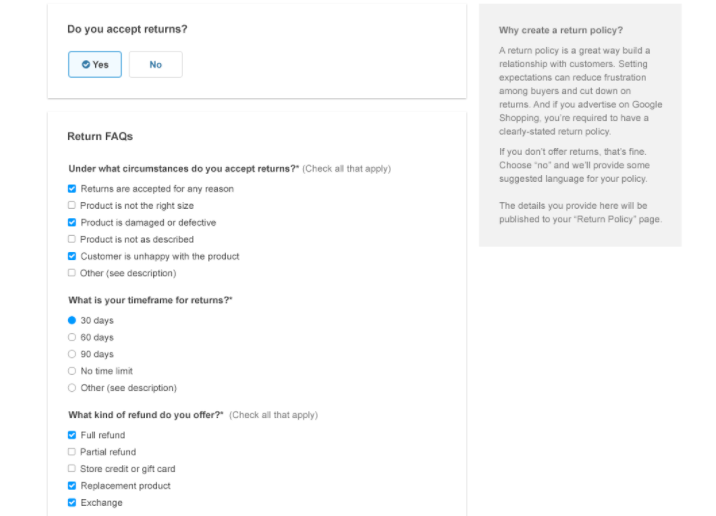 Return Policy Text Box
The Return Policy text box should thoroughly summarize your policy and provide directions for returns not already noted in the FAQ. To ensure your Webstore will be approved by Google Shopping for advertising on their platform, we recommend including as much detail as possible.
How should customers request a return or refund for a product? Send an email, or call the phone number in your contact information? What information should they provide?
If you require customers to ship returns back at their own expense, what address should they ship the package(s) to? Will they receive a refund for the return shipping? Is tracking required?
Do you charge any fees for returns, such as a restocking fee, or a fee for providing a return shipping label? Clearly state your policy surrounding any fees.
Are there special instructions for returning damaged or defective merchandise? Do you offer replacement products in lieu of returns?
Do you accept returns for buyer remorse? Are there special instructions in cases where buyers have simply changed their minds about purchasing an item?
What happens if a buyer returns an item outside of your policy's timeframe? Will you return the good(s) to the buyer? Will the buyer receive a partial refund or credit?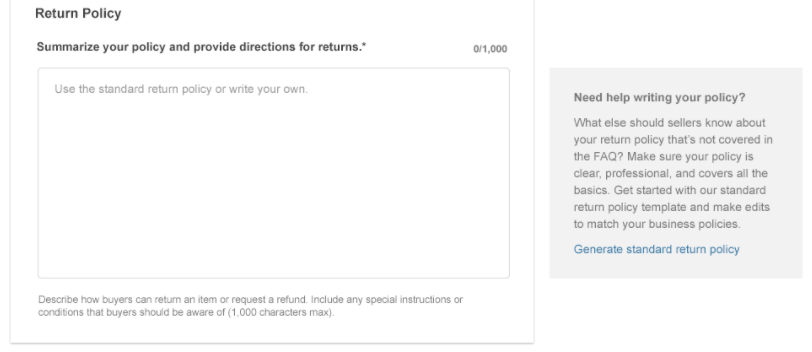 Do I have to accept returns?
If you don't accept returns, that's ok, too! Under the "Do you accept returns" section, select "No," and we'll provide some suggested language for your policy.

Google Shopping requires you to have a return policy specified in order to advertise using Google Ads. Your return policy page must be Published and visible to buyers in order to use the Webstore Broadcaster.
Editing and deleting your return policy
Once your return policy is created, you can edit or delete it by mousing over the page title on the "Selling Dashboard > Webstore > Manage pages" section. Please note that if you choose to delete your return policy, Google Shopping will no longer permit you to advertise your Webstore listings on their platform.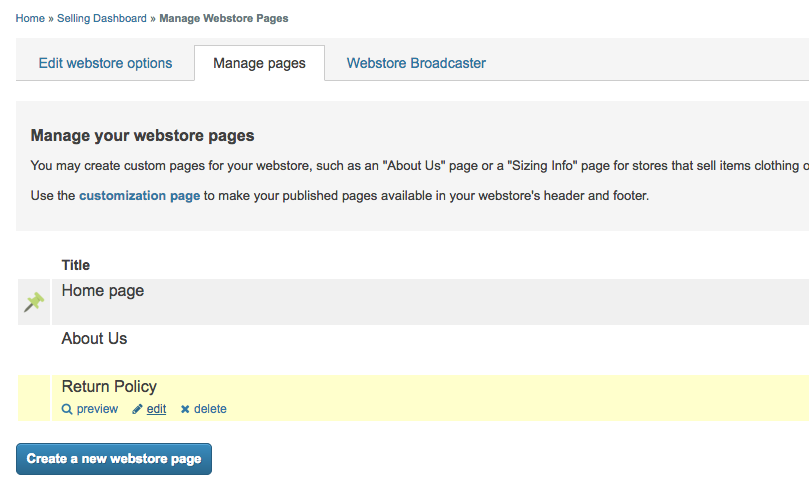 Billing Information
Here is where you can enter the credit or debit card you want your Webstore Broadcaster ads to be billed to. You'll be able to choose from any existing card(s) on file for your account, or enter a new credit/debit card. Bonanza will charge the card once per monthly for monthly budgets under $100. Monthly budgets over $100 will be billed each time your ad spend reaches $100 or more.
Webstore Broadcaster advertising spend is non-refundable.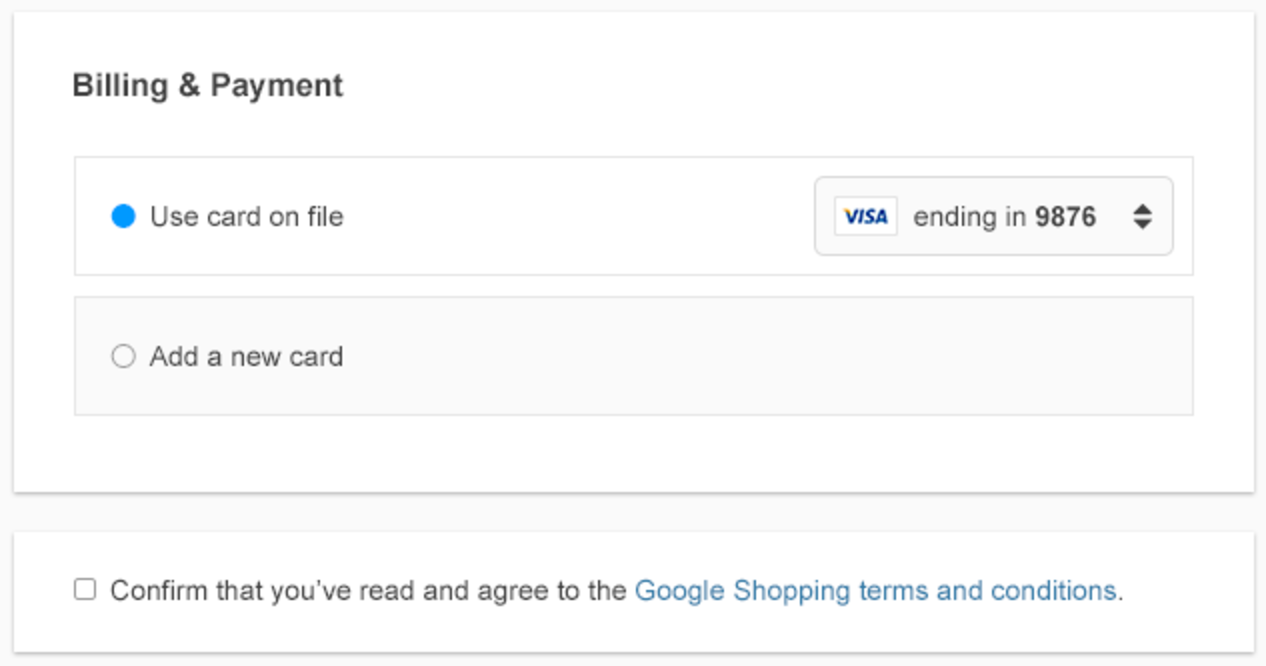 Once you have selected or entered the preferred billing method for your Webstore Broadcaster ads, you must read and agree to the Google Shopping terms & conditions.
Click the link to access the Google Shopping terms and conditions.
Under "Product," select "Google Ads"
Under "Billing Country" select "United States"
Under "Currency" select "US Dollar $"
Review the terms and conditions for the service, then confirm that you have done so in your Webstore Broadcaster setup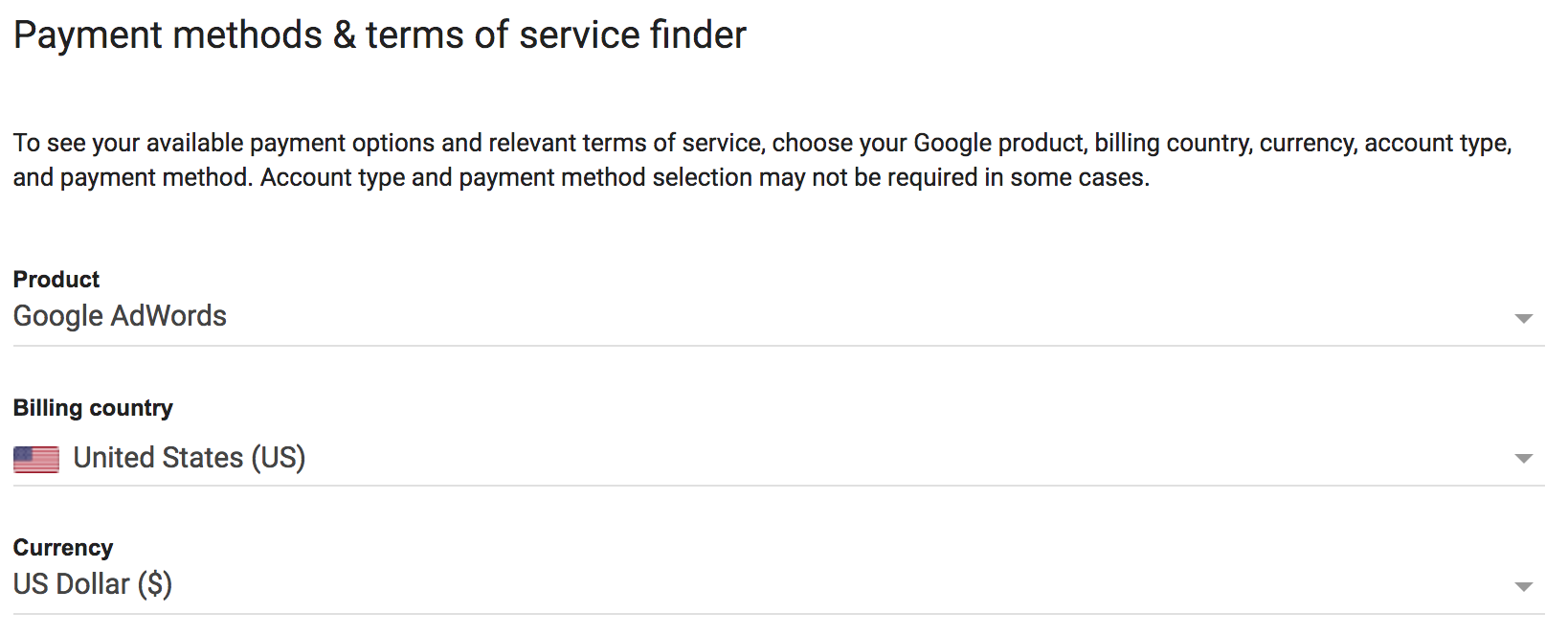 After your Webstore Broadcaster is activated, you will be able to view your billing details on the Webstore Broadcaster dashboard. You can also view payments made to Bonanza on your account billing statement ("Selling > Billing statements").

Reviewing and Managing your Webstore Broadcaster Dashboard
You've completed your Webstore Broadcaster setup in just a few easy steps; congrats! Now that the setup is complete, you'll be able to review and manage your ads via the Webstore Broadcaster Dashboard. Note that it may take 7-8 days before your items are published to Google Shopping and your ads are active.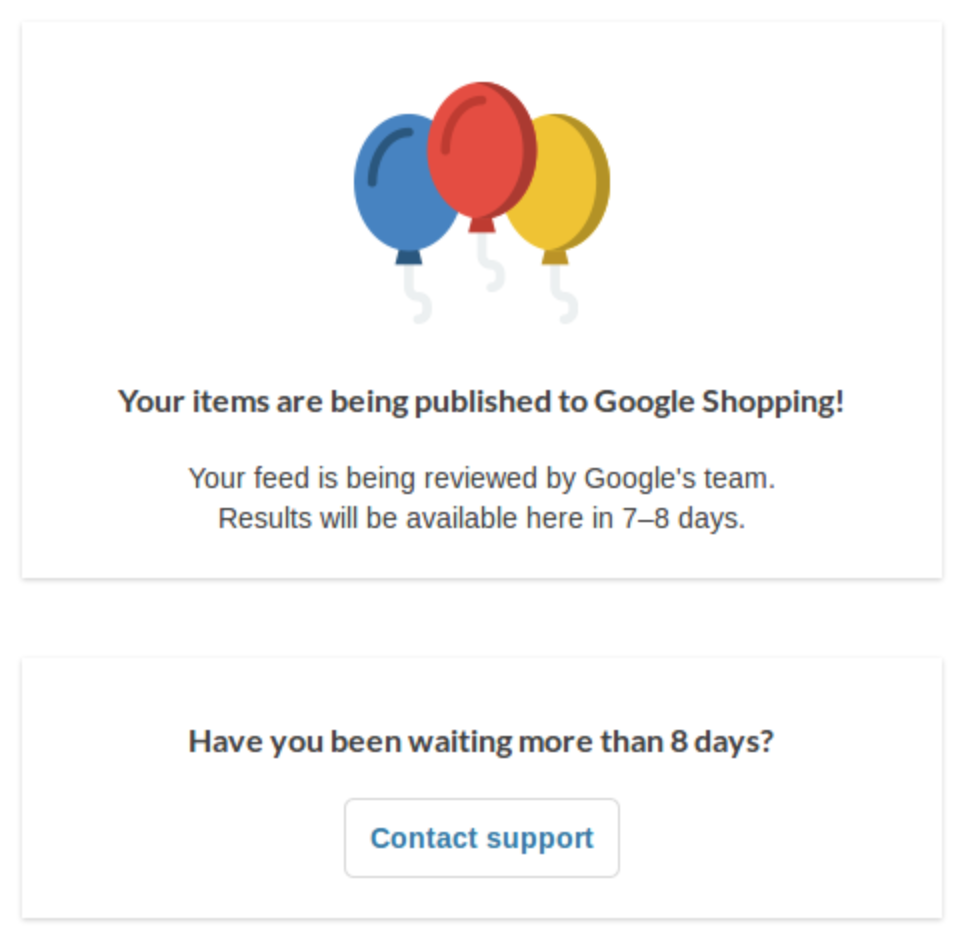 Been waiting more than 8 days, or getting a message that your ads can't be published? Contact our support team for assistance.