With a Bonanza Webstore, you can easily link your store's inventory to a new tab on your existing Facebook page. This helps you generate traffic and sales, and makes it easier to engage with your fans on social media.
Facebook connection is built directly into your Webstore, so there are no additional apps or plug-ins needed. It's easy to set up, and it's fast: you can do it in 5 minutes or less.
Connect your Webstore to your Facebook page
Start by connecting your Webstore to your Facebook page, using the settings found on the "Selling" page (linked in the upper left-hand corner of any Bonanza page) under Webstore > Basic Settings. Just click the button labeled "Open my Facebook store."
Next, click "Okay" to allow the "My Bonanza Store" app to link with the Facebook page you've selected from the drop-down. (You may first be asked to login to Facebook, if you aren't logged in already.)
Once you've completed the steps above, you're good to go! Your Facebook page will now have a new "My Bonanza Store" tab available so your Facebook fans can view your Webstore inventory from your Facebook page. You can view your new tab by going to your Facebook page directly in your browser, or by using the "Check out my Facebook store" button in the Webstore Options page.
Depending on your preferences, you may wish to customize the appearance of your My Bonanza Store tab.
Customize your Facebook tab sort order (optional)
If you already have several tabs on your Facebook page, your new My Bonanza Store tab might be tucked away under the "See More" menu on the left-hand side of the page. That's not very easy for your visitors to find. You can move it out of the See More menu to a place where it's easier to find, using Facebook's "Edit Page" tool.
Click on the "Settings" tab in the top-right corner of the page.
Visit the "Edit page" section, then scroll down to "Tabs." Drag the "My Bonanza Store" widget to change the order of the tabs as desired. We recommend placing it second from the top, just below the "Home" tab.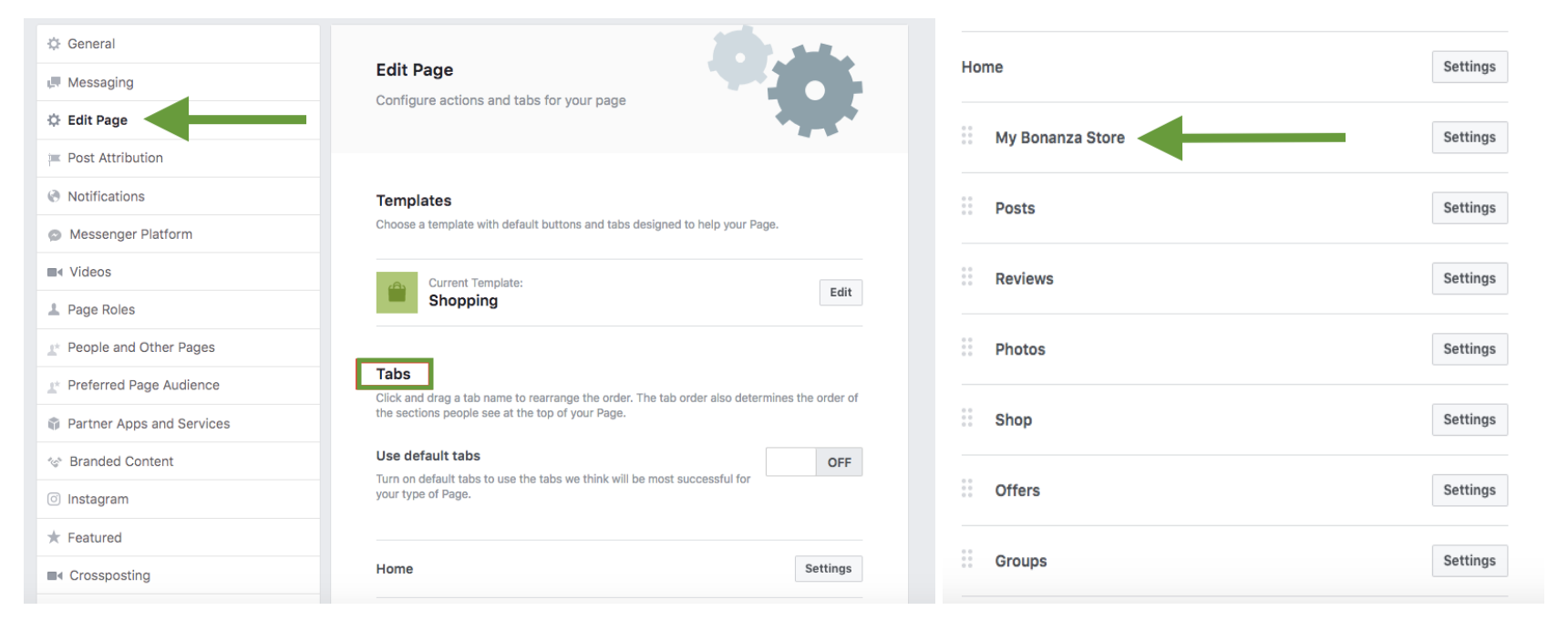 Now your "My Bonanza Store" tab will be easy to find for everyone who visits your Facebook page.
Customize the label of your My Bonanza Store tab (optional)
You can enhance the branding of your Facebook page by changing the name of the My Bonanza Store tab. For example, you may prefer a label such as "My Store," "Online Store," or "Awesome Stuff." It's up to you - use your imagination!
Start by clicking Facebook's "Settings" menu, and then choose "Edit page." Locate the "My Bonanza Store" tab and click the "Settings" button, then the "Edit settings."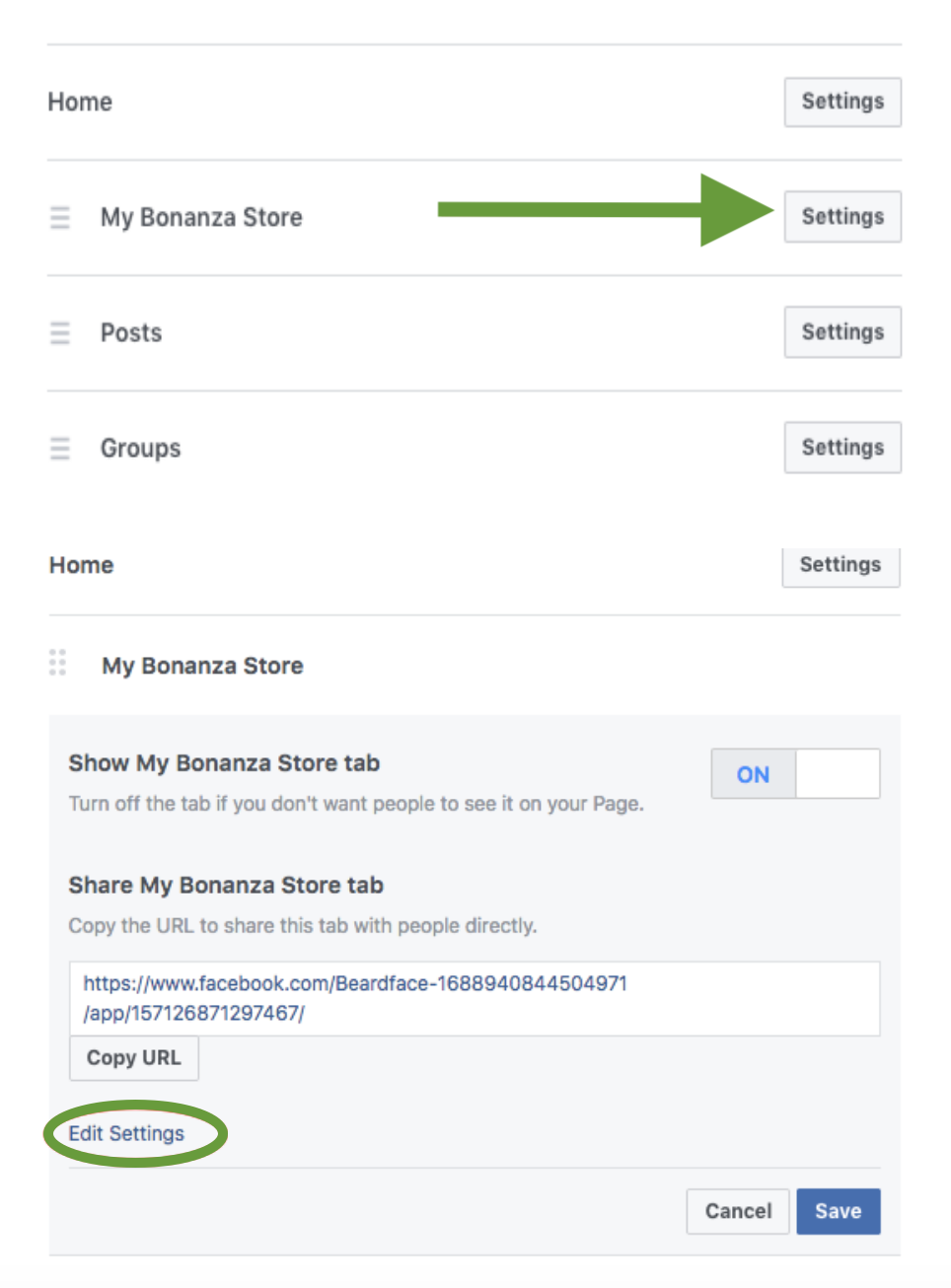 In the My Bonanza Store settings box, type whatever name you want to use for the label of your store's tab. Then click Save, and OK. (Be sure to click Save first!)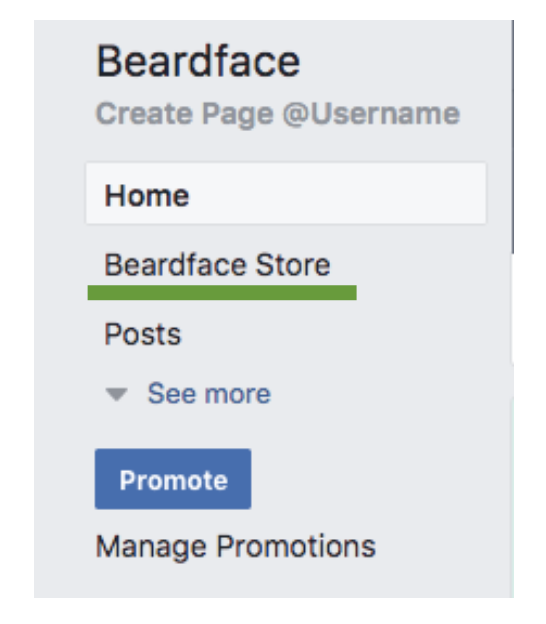 Open your Facebook store today
That's all it takes to connect your Bonanza Webstore to your Facebook page. All in all, it should take you less than 5 minutes. What are you waiting for?
If you don't have a Bonanza Webstore, sign up today and get everything you need to start a profitable, beautiful, branded online store - no coding required.
Looking for information on how to disconnect the My Bonanza Store app from your Facebook page? Check out this helpful article.