So you've decided to open up a standalone Webstore. You make such great choices! As you know, Bonanza Webstores give you a beautiful, professional-looking online store. With a standalone Webstore, you have the control to build your own branded, online e-commerce presence, separate from the Bonanza marketplace.
But how do you attract buyers to your Webstore, you may be asking yourself? With the Webstore Broadcaster!

What is the Webstore Broadcaster?
Here at Bonanza, we value relentless simplicity. Creating Google Ads campaigns and deciding on the right bids for your items is confusing and frustrating work (the exact opposite of relentless simplicity). Enter: the Webstore Broadcaster!
As a Google Partner, we've built a tool that allows you to easily create Google Shopping ads for your Webstore products, without needing to have an in-depth knowledge of Google's advertising platform.
Why should I use the Webstore Broadcaster?
Bonanza sellers with standalone Webstores can use the Webstore Broadcaster to publish their listings on Google Ad's Google Shopping advertising platform, without the fuss of building complex product feeds and setting bids. Using conversion data from millions of Bonanza marketplace sales, we help you choose the best bids and manage account optimizations, requiring little (like, almost zero) effort from sellers. There's that relentless simplicity again.
Benefits to using the Webstore Broadcaster include:
Easy setup. You control your budget and can start or stop advertising at any time.
Saving time. No technical or advertising expertise required. We do the work for you, with special incentives that help you get started.
Performance data. Simple reporting makes it easy to understand your ad performance at-a-glance.

How does it work?
The Webstore Broadcaster takes your active Webstore listings and sends them to Google in a way they can understand. Google then takes that information and turns it into product listing ads that buyers can locate on Google Shopping.
When you tell us how much you want to spend on ads, we use your budget plus data from millions of Bonanza marketplace sales to help us select the best bids for your Webstore item.
When a shopper searches for an item, Google uses those search terms plus ad bids to determine which ads are displayed. You're only charged when a shopper clicks on your ad and visits your Webstore.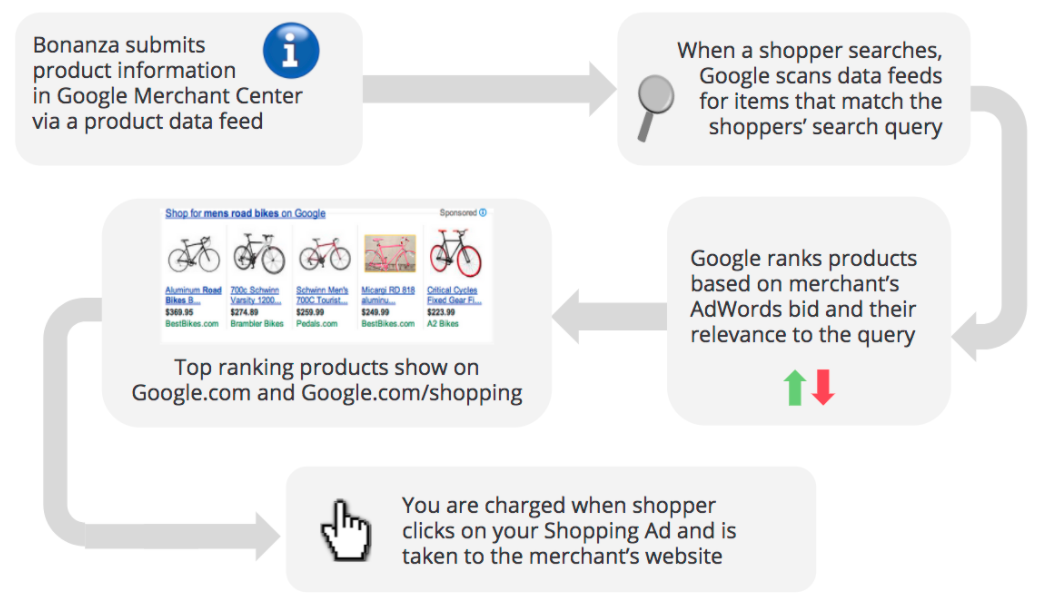 Learn more about how Google Ads works.
Are there any limitations when using the Webstore Broadcaster?
The Webstore Broadcaster can only be used by sellers who have an active Webstore. If you're interested in advertising your marketplace booth, you'll want to utilize the marketplace broadcaster.
At this time, the Webstore Broadcaster only publishes items to Google Shopping feeds for the United States.
How can I get started with the Webstore Broadcaster on my Webstore?
Wow, you're eager! We've outlined the steps for setting up the Webstore Broadcaster on this help page.