Imagine a marketplace that puts you, the seller, in control of managing and marketing to your own customers. Fortunately for you, Bonanza has created the tools that allow you to make this dream a reality. Acquiring new customers is vital to your business, but encouraging one-time customers to buy again is equally as important. A one-time customer has a 32% chance of returning to your store and making a purchase for a second time; and, if you can get that conversion, the likelihood of multiple future purchases increases significantly. Customer Marketing Coupons empower sellers to build their business and create memorable customer experiences in a variety of ways, such as:
Offering a discount to buyers who have left negative feedback in an attempt to turn their experience into a positive one.
Offering targeted discounts on specific items to buyers who have bought similar items in the past.
Designing and creating your own customer loyalty program.
Creating a Customer Marketing Coupon
To get started, go to your Selling Dashboard and select your "Customers" tab, then click on "Marketing Coupons"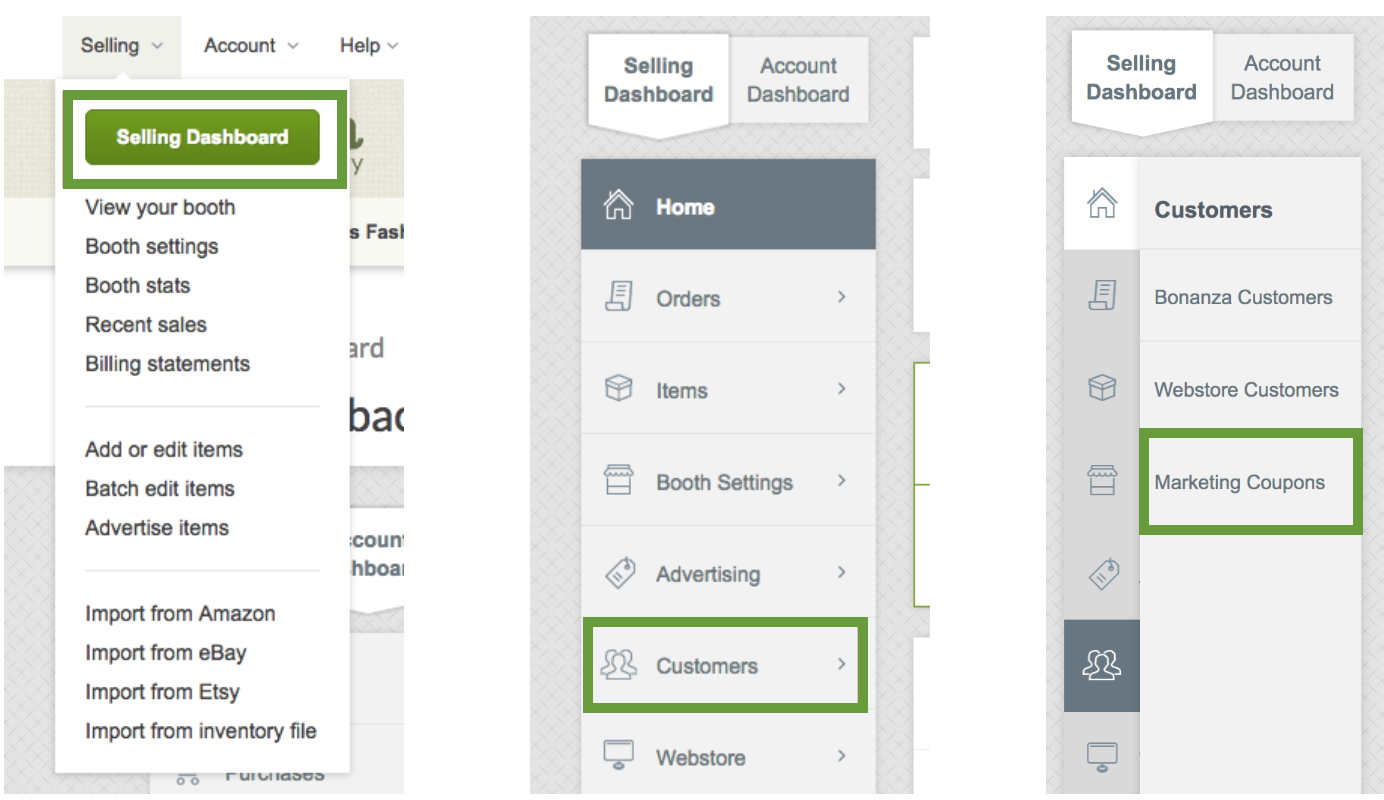 Click the shiny, green button to "Create a new coupon"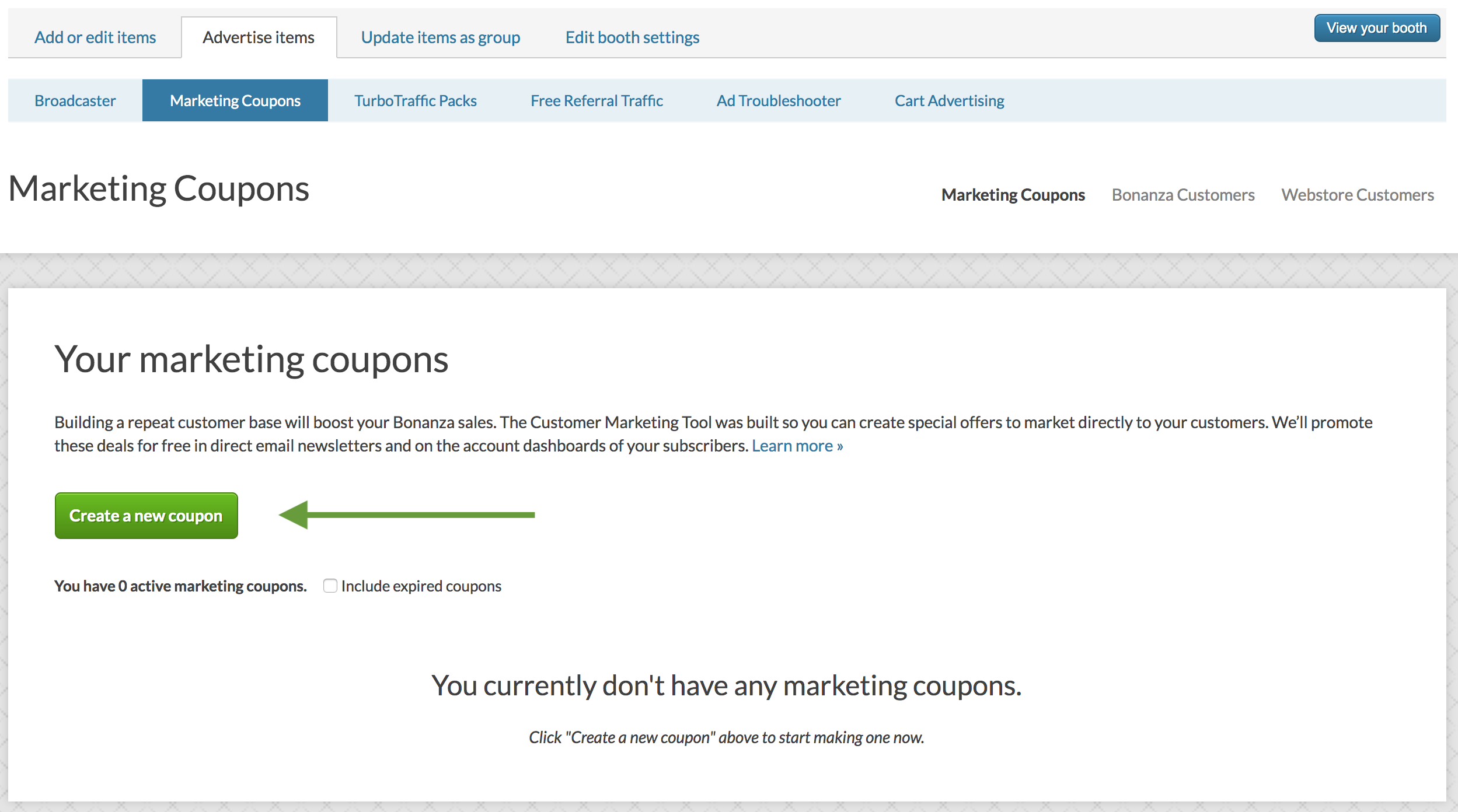 From here, you can select from a template or build a custom coupon.
Customer Marketing Coupon Templates
In an effort to reduce busywork for sellers, we created Customer Marketing Coupon templates for common discounts. When you navigate to your marketing coupons, you'll see a few templates to choose from.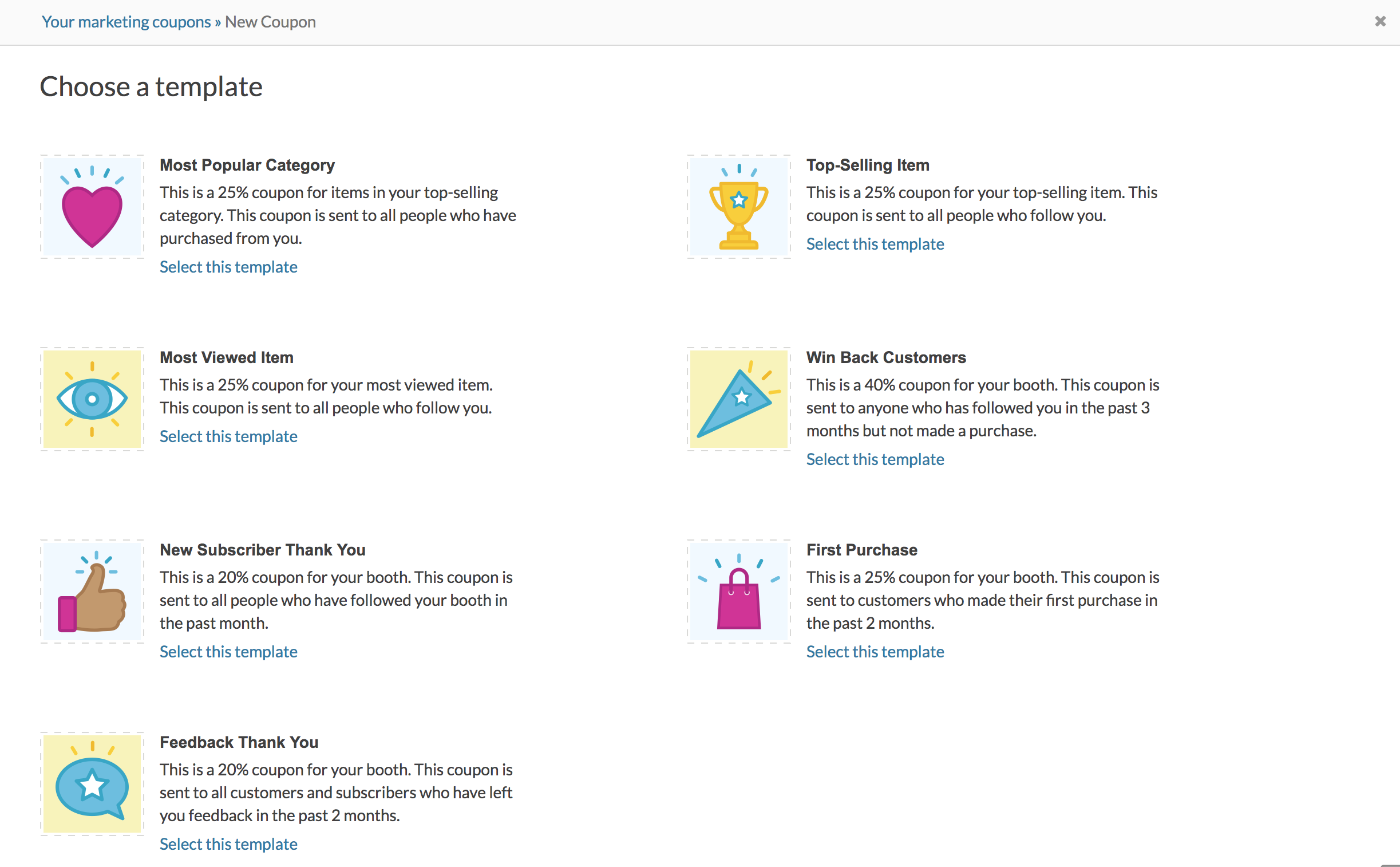 Select your preferred template and we will automatically populate the coupon details. You can choose to publish the coupon as-is or edit the coupon details before publishing
.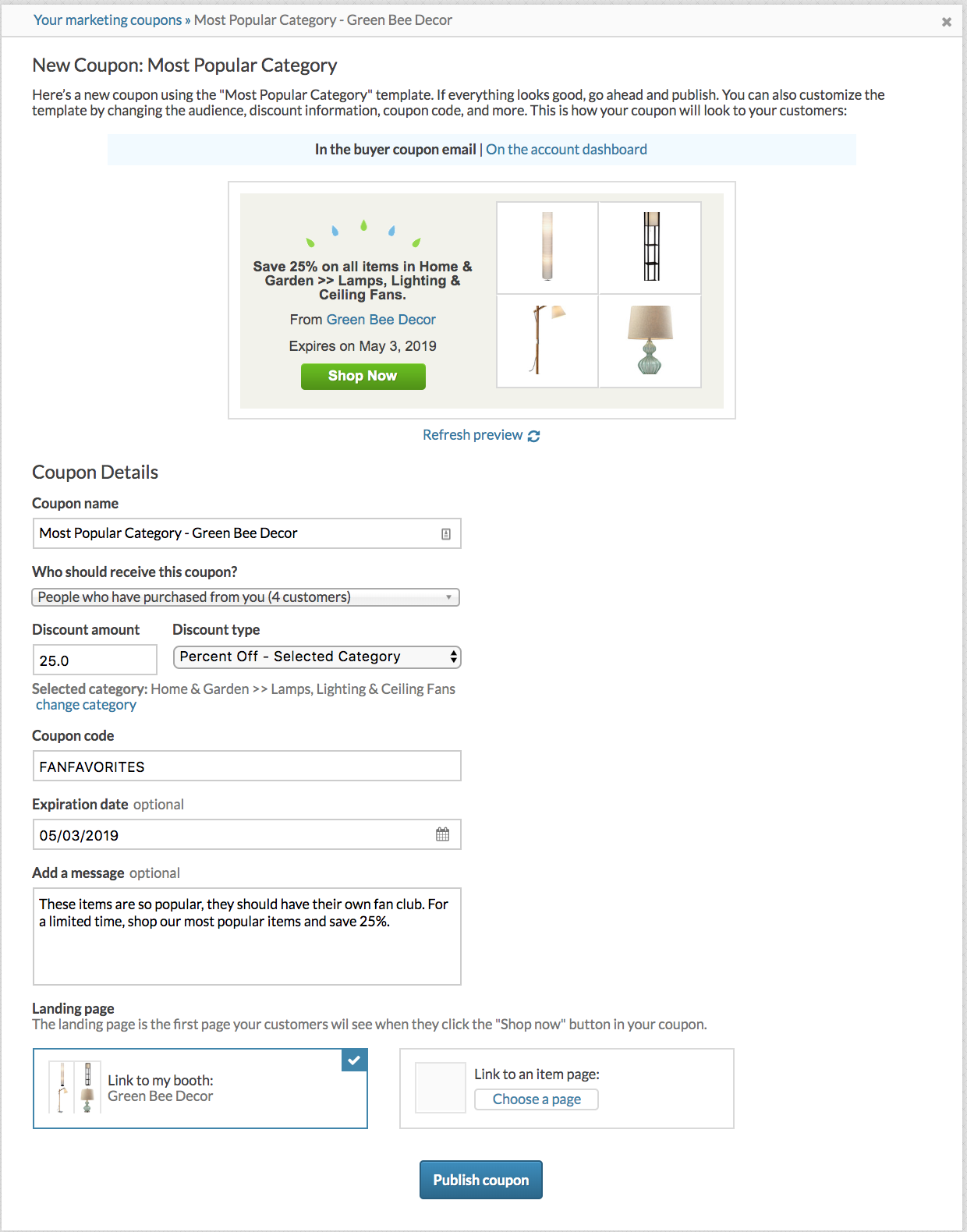 Creating a custom coupon
To create a custom coupon, scroll down to the bottom of the template list and click the blue "Get started" link in the "Create your own coupon" banner.

We've created a form to guide you through the creation process in 7 super simple steps:
Give your Customer Marketing Coupon a title
Select the customers you want to target for this Customer Marketing Coupon from the drop down. You can choose from the following:

People who have followed you
People who have purchased from you
All customers

Set your discount amount. This can be a certain percentage or dollar amount off of the full order, an individual item, or a specific category.
Enter a special coupon code for buyers to use at checkout in order to activate the discount (e.g, SPRING20).
Set your expiration date (optional). If you choose to set an expiration date, your Customer Marketing Coupon will no longer be available to buyers after that date.
Add a message (optional)
Choose your landing page (the first page your customer will see when they click the "Shop Now" button in your coupon). You can select your booth homepage or a specific item page.
It's as easy as that! Here's a quick peek at a completed form: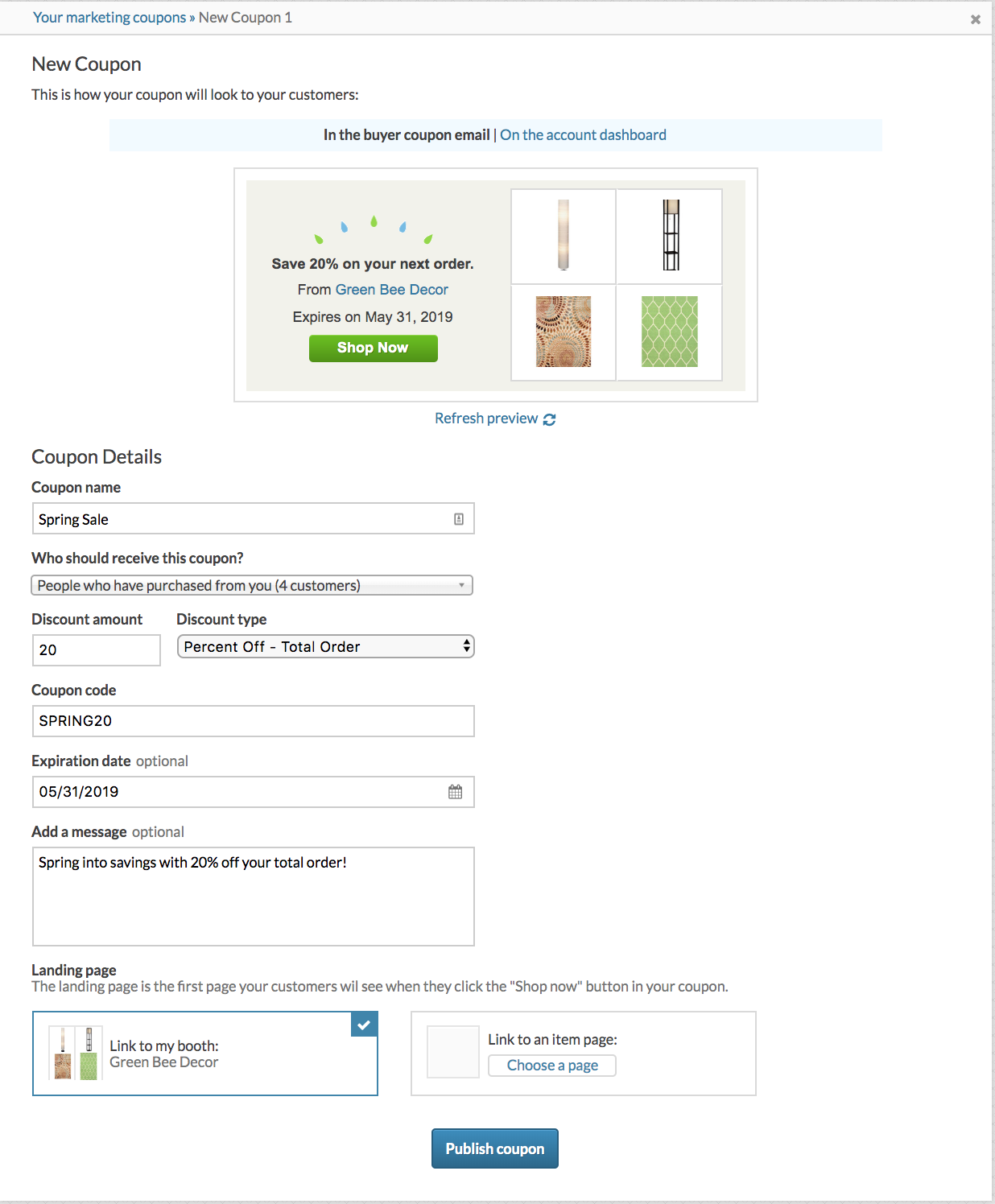 Once you have filled out your Customer Marketing Coupon form, you can preview how it will appear to buyers by clicking the "Refresh preview" link at the top of the form. Use the links at the top of the coupon preview to toggle between the buyer email view and the account dashboard view.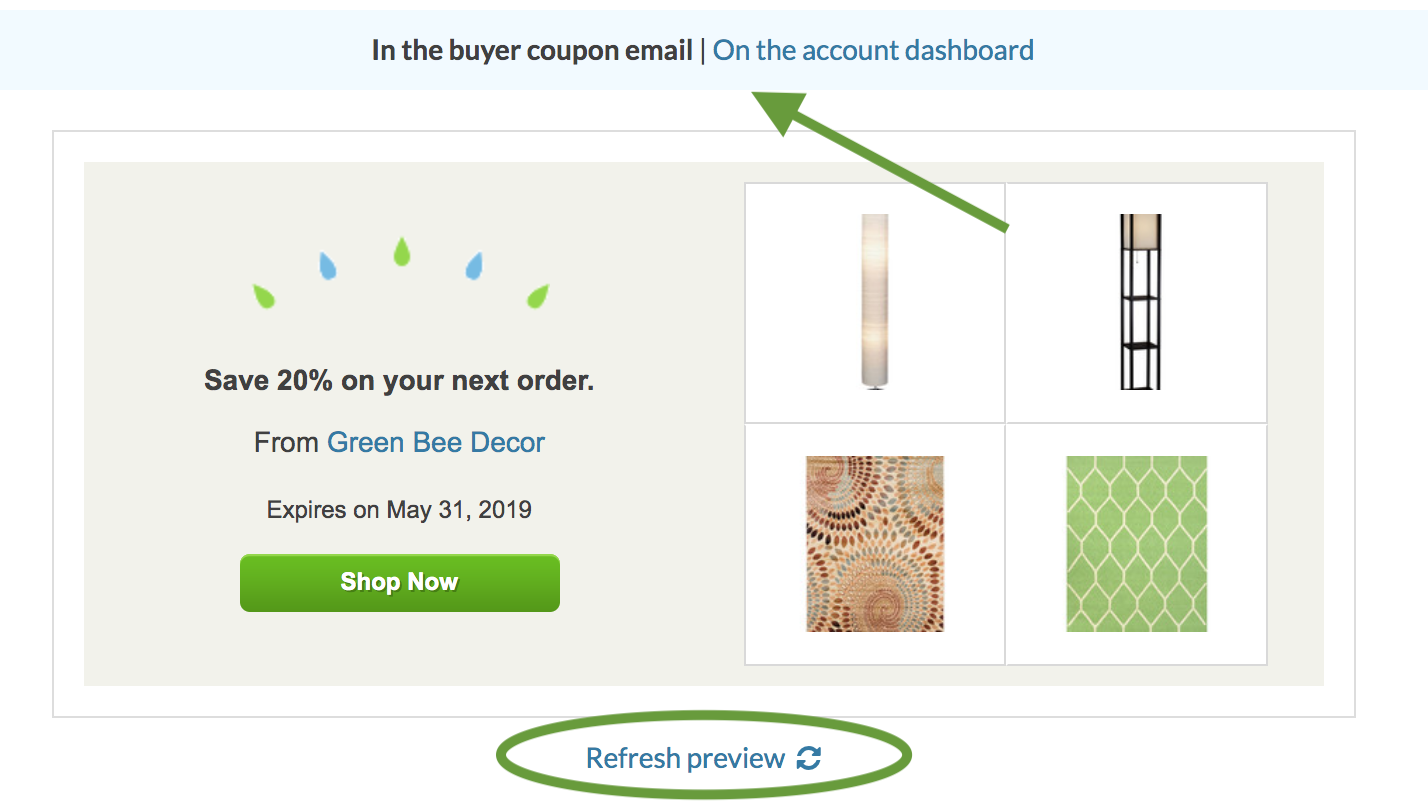 If you like the way it looks, publish away! Otherwise, continue editing until the coupon is ready to be published.
Once you publish a Customer Marketing Coupon, it will be available to the entire audience you selected during the creation process. Buyers will see your couponn on their account dashboard and on the new My Seller Coupons page. Customers who are subscribers will receive coupons in emails, as well.*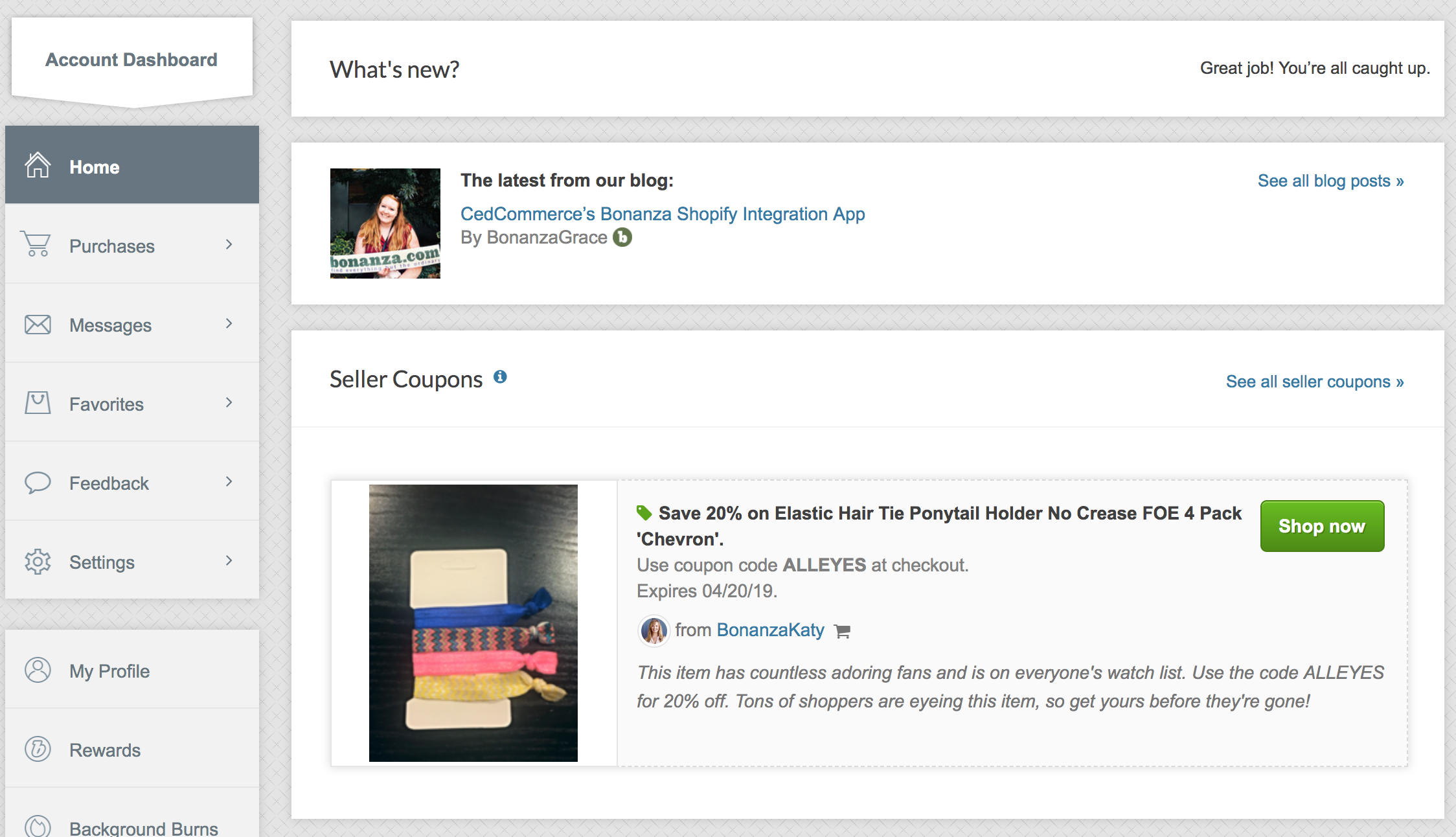 *Please note that buyers can opt-out of coupon notification emails at any time by changing their notifications preferences in the Notifications tab of their Account Settings. We want to ensure that this marketing tool is permission-based and transparent to all users.
Editing and Deleting a Customer Marketing Coupon
Sellers are able to edit and delete their Customer Marketing Coupons after publishing. Go to your "Selling dashboard > Customers > Marketing coupons" page. Here, you will see a list of your published Customer Marketing Coupons.

Click into the Customer Marketing Coupon you wish to edit, then click the "Edit" or "Delete" button in the upper-right corner of the Customer Marketing Coupon. Don't forget to save (or cancel) your changes!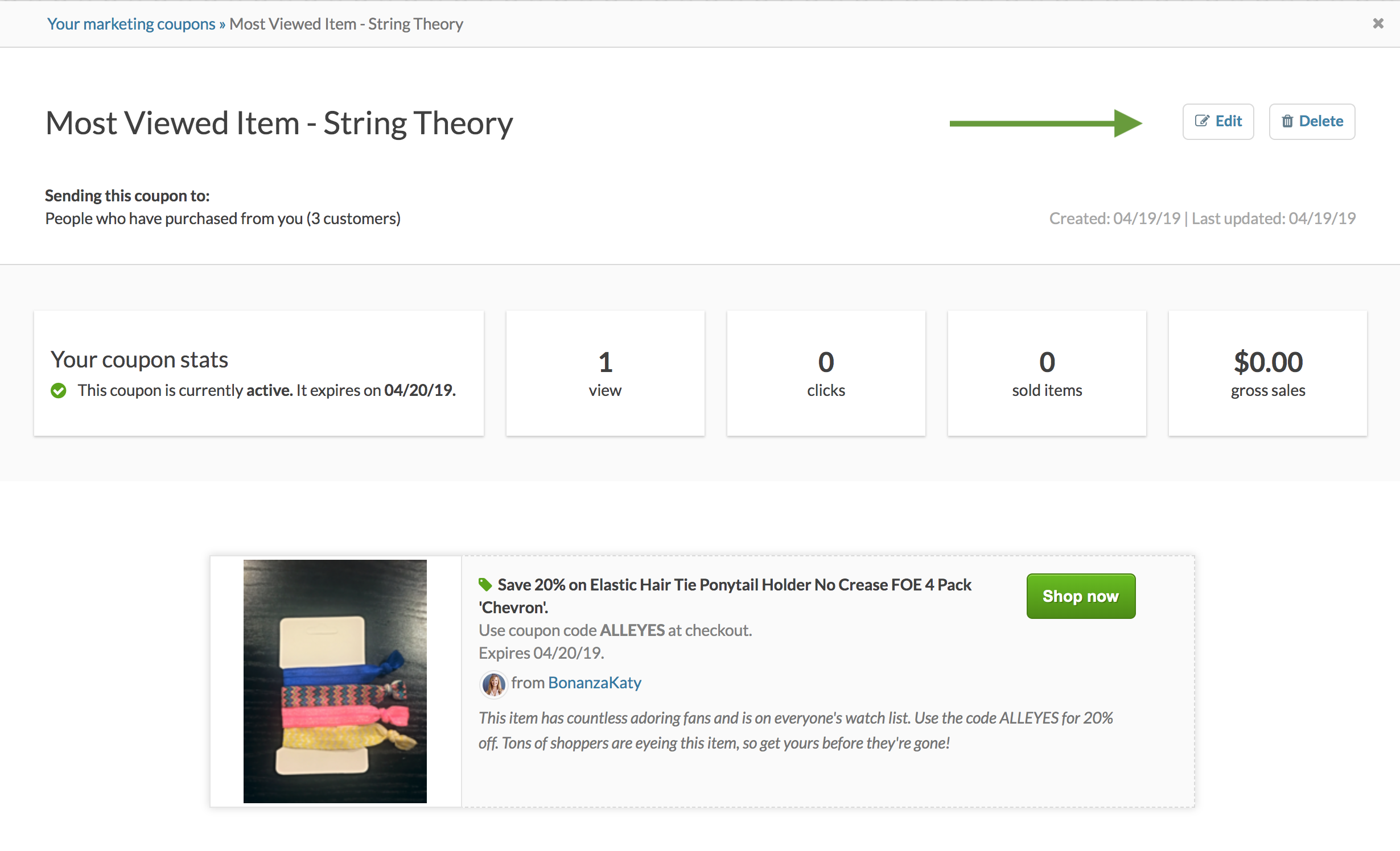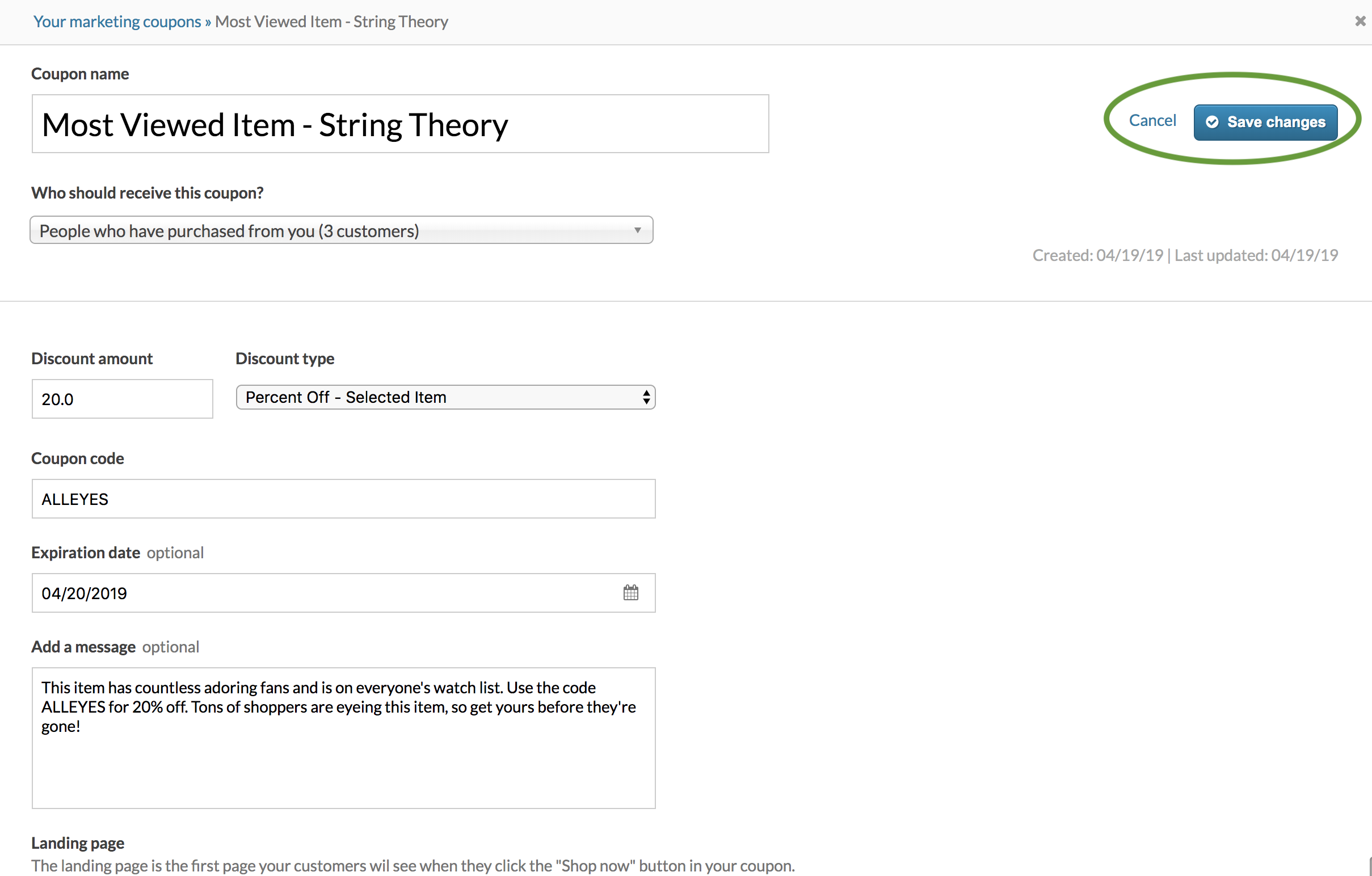 Watch a short video on how to create Customer Marketing Coupons on Bonanza.