With the launch of our new Customer Marketing Tool comes Saved Customer Lists. Saved Customer Lists allow sellers to track and market to a specific group of customers. This page will provide you with everything you need to know about creating and editing Saved Customer Lists, the auto-update feature, and why Saved Customer Lists are a useful tool for managing and promoting your growing business.
Accessing Saved Customer Lists
Saved Customer Lists can be created from the Customer Marketing Tool. To get there, click on the "Selling" link in the upper left-hand corner of any page. On the left side of your "Selling" page is a navigation dashboard. Click on the "Customers" tab to access your Customer Marketing Tool. You can review the Customer Marketing Tool for your Bonanza.com customers as well as your Webstore customers (if you have an active Webstore).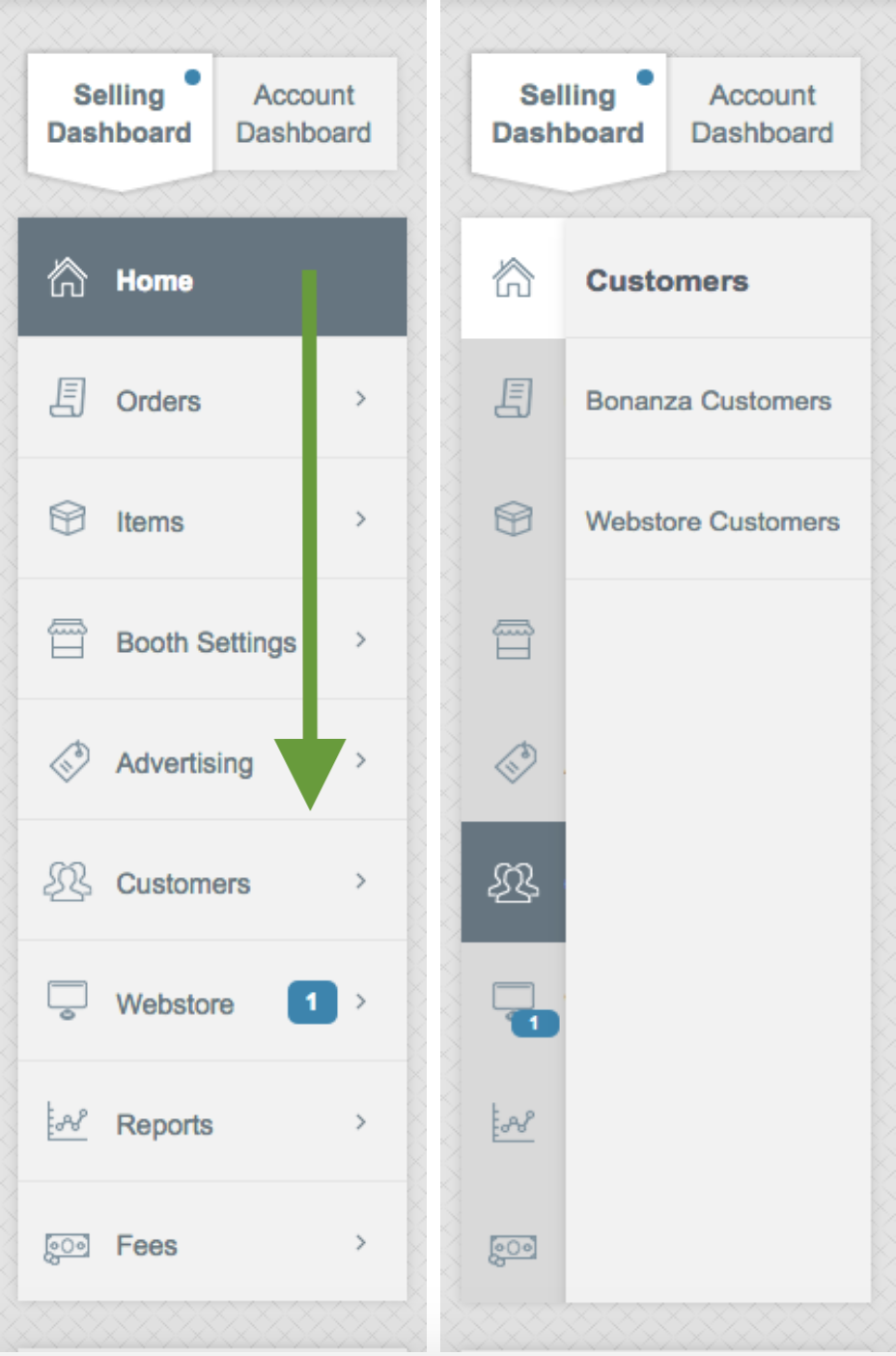 Creating Saved Customer Lists
The process for creating a Saved Customer List is the same for both the Bonanza marketplace and the standalone Webstore. To create a new Saved Customer List, click on the "Saved Lists" tab on your Customer Marketing tool and click the green "Create a new list" button.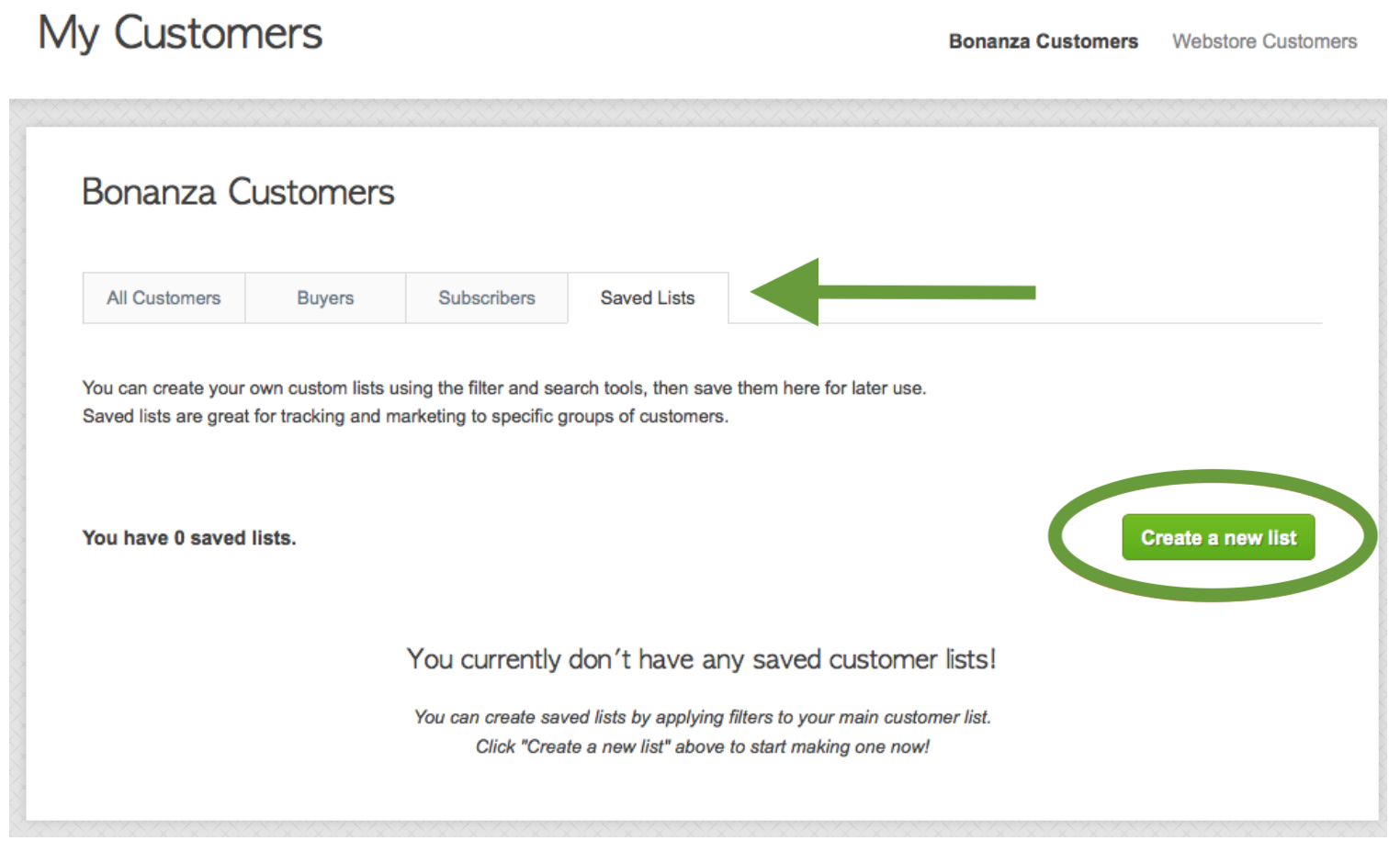 Selecting Customers and Using Filters
You have the option to select specific customers from your full customer list (buyers + subscribers), only buyers, and only subscribers. You can also set filters to create targeted Saved Customer Lists. Are you planning to discount your watches by 25% on Black Friday? You may want to create a Saved List for buyers who previously purchased items from the Jewelry category in your booth to send targeted promotions and newsletters about upcoming sales. Looking for an incentive to bring back past buyers who left negative feedback? Create a Saved List to send those customers special coupon codes to bring them back to your booth and turn their frown upside down. You can also search for specific customers by username within your full or filtered customer list. The possibilities are virtually endless!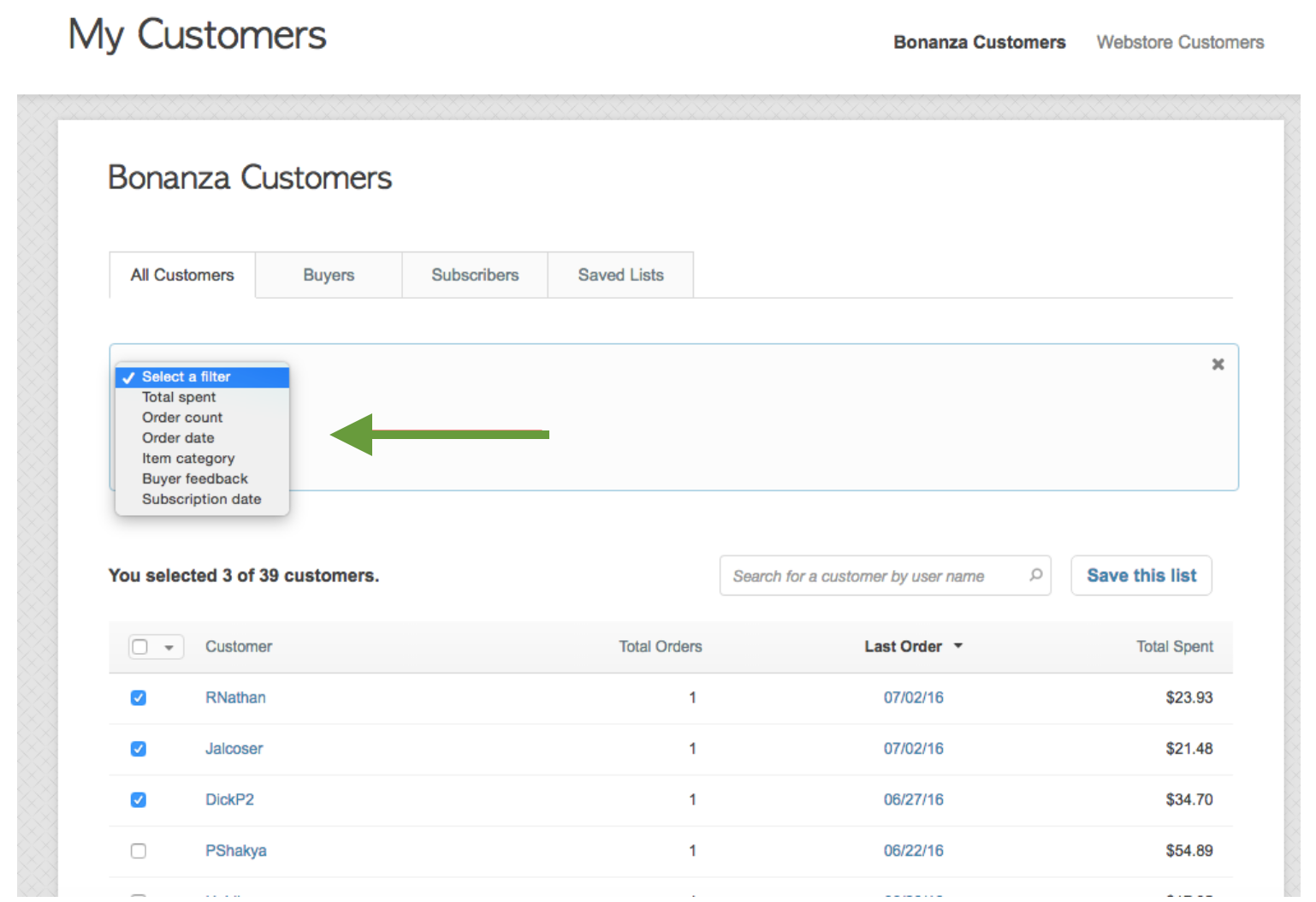 Saving a Customer List
After you've set your desired filters and selected the customers you wish to include in your Saved List, click the "Save this list" button at the top-right of the customer list. Be sure to give your Saved List a memorable name so that you can quickly identify the types of customers that are targeted in that Saved List. You can even indicate that we should automatically update your Saved List with any new customers that fit the criteria you've selected when creating the Saved List!* Click the green "Save my list" button to make it official.
*Automatic updates are only available when selecting all customers in the filter. If you select individual customers from the filtered list, you will not be able to use the auotmatic update feature. Automatic updates occur once per day. If you receive a new customer after the update time on any given day, the customer will be added to the Saved List during the next update on the following day.
Editing and Managing Saved Customer Lists
Any Saved Lists that you have created will be visible in your "Saved Lists" tab on the Customer Marketing tool. Click into the Saved List to edit and manage your customers and settings.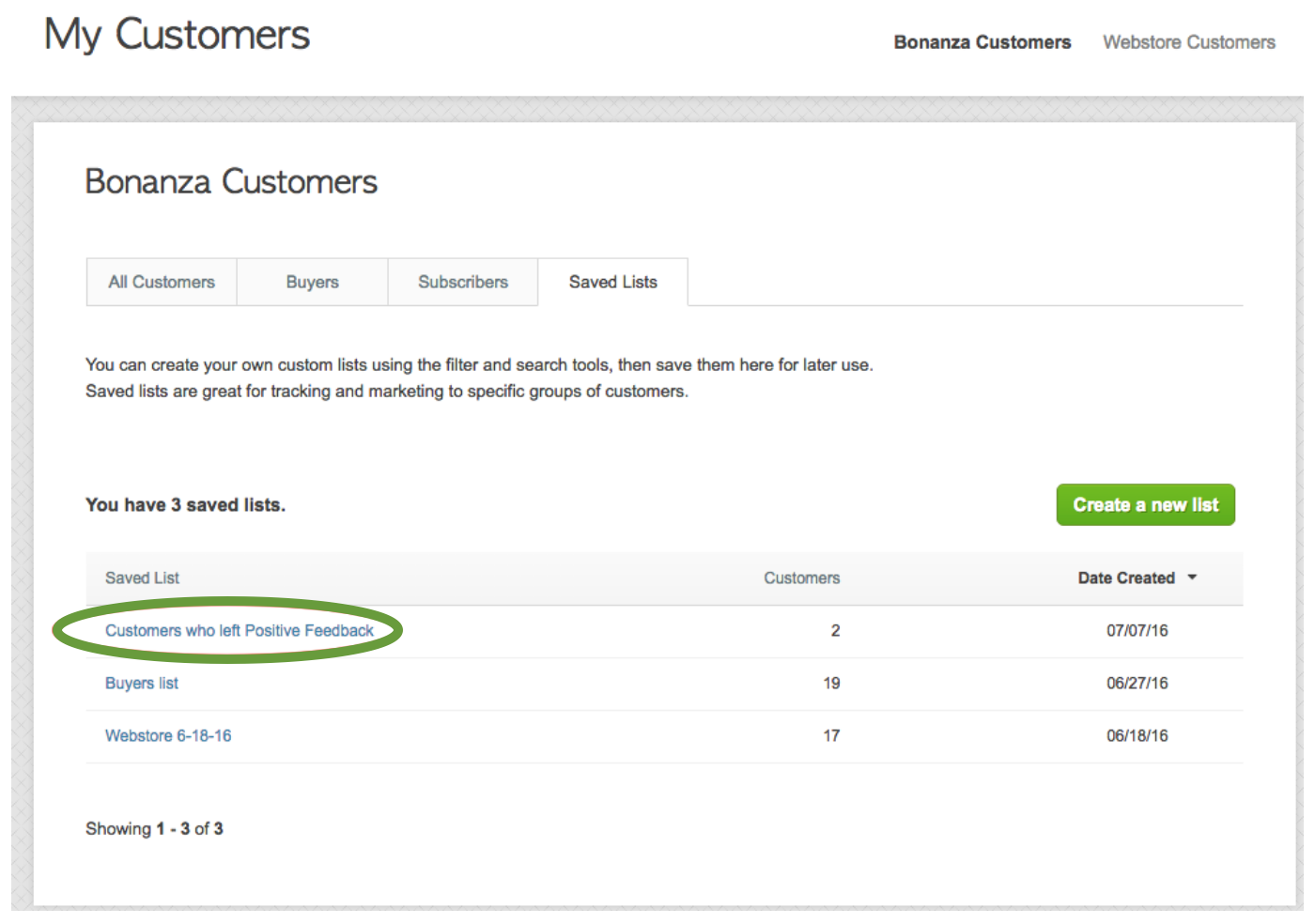 When viewing the Saved List, you have the option to perform bulk actions to customers within that Saved List, such as unsubscribe (stop email notifications) or delete (remove customer data completely), remove selected customers from that Saved List, edit your Saved List name and auto-update settings, or delete the Saved List entirely. You can also add or remove filters from that Saved List.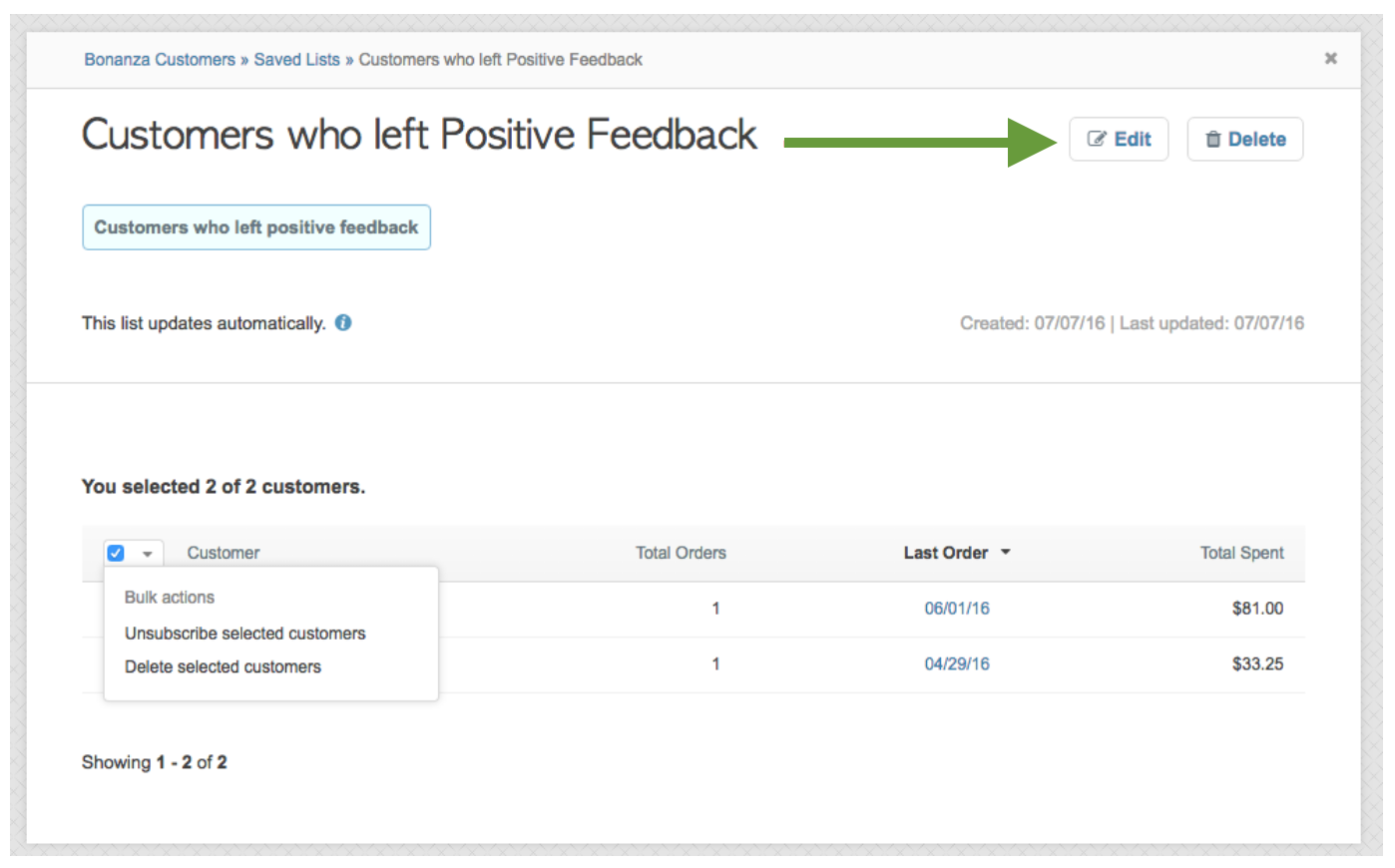 Now that you've learned all about what a Saved Customer List is and how it can be beneficial to your business, start creating Saved Lists to your heart's content.. the only limits are the ones you make.