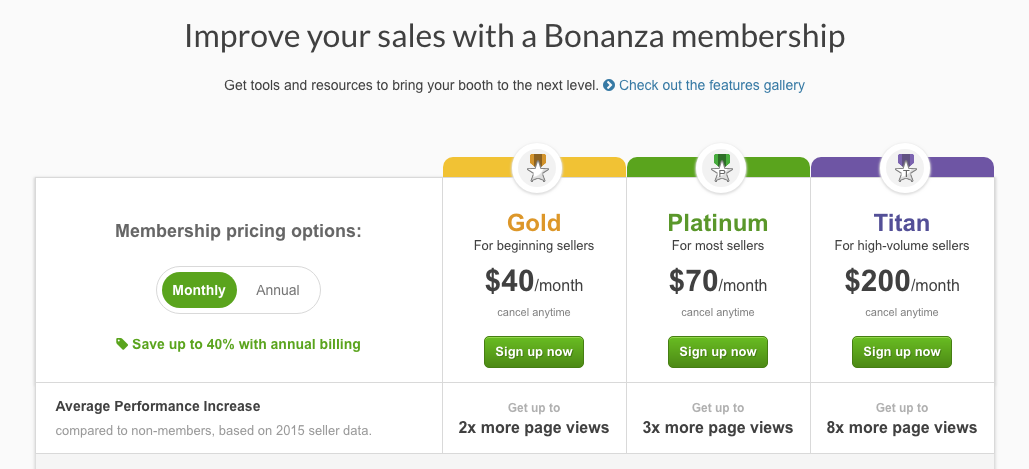 In our efforts to ensure that every customer is satisfied with their membership experience, we've set up payment and cancellation of Bonanza memberships to be as straightforward as possible. You can find the details for each below.
Membership Billing
Memberships can be paid for via credit/debit card or PayPal (note that sales tax may apply). We recommend paying by credit card, both because it's simpler (no need to login to other sites), and because you can, in one fell swoop, set up automatic payments of your bills and memberships. However, if you'd rather pay with PayPal, that option is available when you sign up.
*Note about signing up for a membership with PayPal: If you attempt to sign up for a membership via PayPal or Bonanza attempts to bill you for your monthly/annual membership payment and you have insufficient funds, the payment will go into a "pending" status and will not immediately process. It's important to add funds to your PayPal account when you are notified that your membership payment failed. Bonanza will reattempt to bill you for the amount a few days after the initial billing date. If payment fails, your membership will eventually be canceled off of your Bonanza account.
Pausing Your Membership
Sometimes you just need a break but don't want to cancel your membership and lose out on all the added perks that go along with it. Bonanza allows sellers to pause their membership and still retain the following benefits:
Customer support live chat
Sponsored search result items
Discount and coupon creation
Custom booth sorting
The cost to maintain a paused membership is $6.95 (+ tax) per month. Paused memberships are renewed every month until you unpause or cancel your membership. Selecting the pause option will pause your membership at the start of the next billing cycle. Unpausing the membership will automatically restore the membership level you were previously subscribed to at the beginning of the billing cycle after you unpause the membership. Please note that neither annual nor trial memberships can be paused.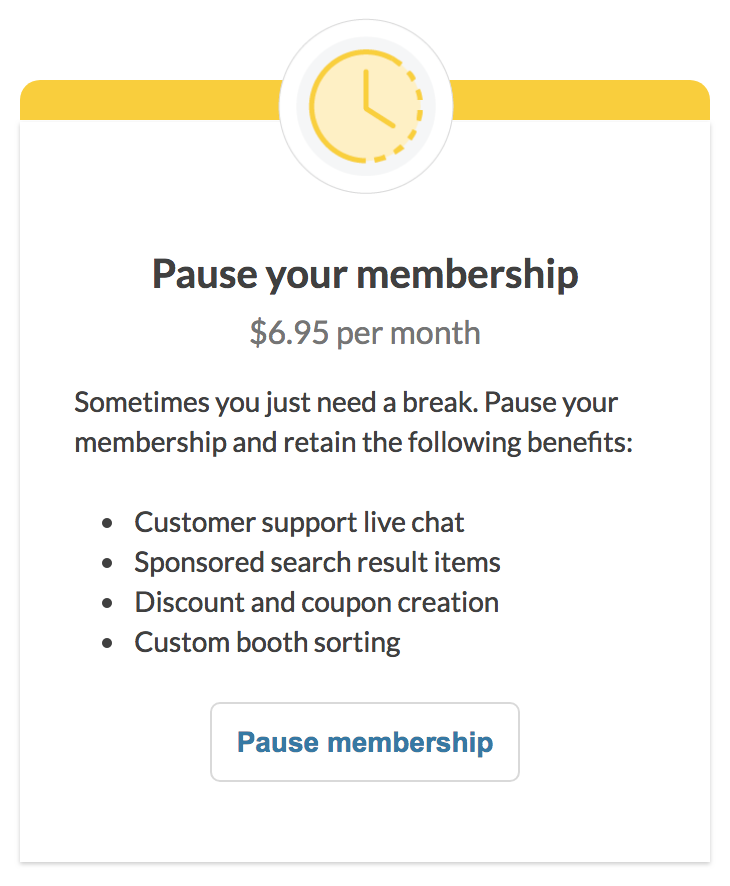 Canceling Your Membership
You're welcome to cancel your membership at any time -- just click the "View benefits" link in the upper right-hand corner of your "Account" page to take you to your membership benefits. On the left side of the page, in the "Payment details" box, is a link to begin the cancellation process for your membership. Be sure to complete all steps to fully submit your cancelation request. After your membership is canceled, your card or PayPal account will no longer be charged for the membership. You will still retain the membership through the end of its term. We aren't able to offer refunds for memberships, so if you're unsure about the benefits of subscribing, we recommend you start with the monthly membership plan to be sure that it's the right fit for your needs as a seller.

Canceling Your Recurring PayPal Membership Subscription
If you've set up your membership via PayPal, you must cancel the recurring payments to Bonanza in your personal PayPal account. We are unable to log into your PayPal account to cancel recurring payments on your behalf. You will need to contact PayPal immediately after following the aforementioned cancelation instructions to ensure that any recurring subscription payments to Bonanza.com have been canceled from their end. If you have set up a recurring payment, a subscription, or automatic billing with a merchant, you can cancel your pending payments by following these steps:
Log in to your PayPal account.
Click the Business Profile icon next to "Log Out" and select Profile and settings.
Click "My money".
Click Update in the "My preapproved payments" section.
Click "Cancel", "Cancel automatic billing" or "Cancel subscription" and review these instructions to confirm everything was done correctly.
If you experience issues when attempting to cancel your payment, please contact PayPal directly.
Free Membership Trials
Some Monthly memberships (Silver and Gold) are eligible for a free trial- we start your membership right away but don't start billing until the next month. Note that the free trial is eligible for first-time subscribers who register using a credit or debit card only; you won't be eligible for a free trial if you've already enjoyed a free trial or subscribed to a membership in the past, or if you sign up via PayPal. Annual memberships aren't eligible for deferred billing since we're offering a lower monthly fee in exchange for an annual commitment.
Trial memberships cannot be paused.
Upgrading Your Membership
The Membership Summary page has an option to upgrade your membership at any time.
Downgrading Your Membership
To downgrade your membership, please contact support@bonanza.com.