For Wonder Woman, it was her Lasso of Truth. For King Arthur, his sword Excalibur. For baseball great Babe Ruth, a 54-ounce hickory bat named the "War Club."
All great legends have some amazing tools that helped them achieve success. So, what tools do you have up your sleeve?
If your palms are starting to sweat and your mind is drawing a blank, fear not: Bonanza has some pretty awesome tools to help every seller live their best lives. Each tool we have to offer is distinctly unique and can benefit your online store in a number of ways. Let's get started!
If you already know which tool you'd like to read up on, here are some quick links to the tool sections:
1. Advertising Platforms
What is it?
Bonanza's advertising platform publishes your items on shopping sites all across the internet to get maximum traffic to your booth. It's the main reason our sellers reach more shoppers than most any other selling platform. You tell us how much you can afford when your item sells, and our computers go to work making bids on your behalf to get your item in front of every possible buyer.
Why should I use it?
Taking advantage of Bonanza's advertising program is a no-brainer because, unlike other selling platforms, Bonanza has no listing fees or upfront advertising costs. You won't be charged an advertising fee until your item sells - and since you get to choose the percentage you pay for your items to sell, you can easily build that cost into the listing price of your item. You usually won't be charged the full percentage -simply set the maximum percentage selected- and we charge less whenever possible.
How do I use it?
To sign up for our advertising program, point your mouse over the "Selling" link in the upper left hand corner of any page. From there, select "Advertise items" from the drop down.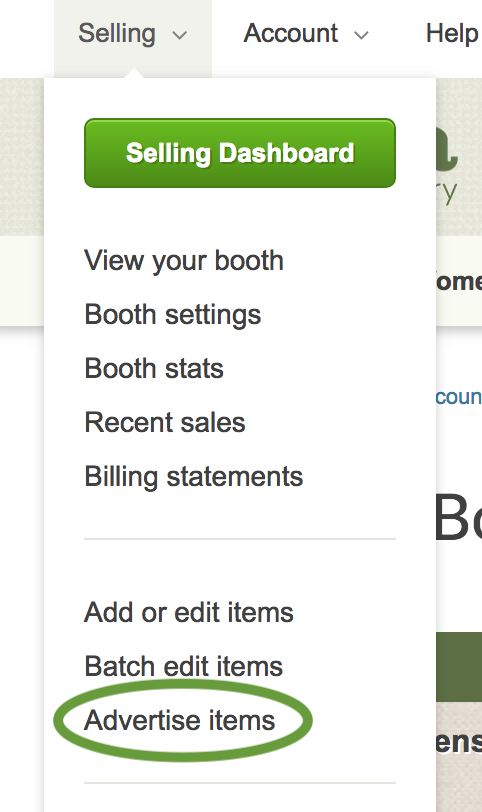 You can choose what maximum commission percentage (the Final Value Fee you pay for advertising) and see which websites will show your items for that price.
2. TurboTraffic
What is it?
TurboTraffic is a specialized service that drives maximum buyer traffic to sellers who are enrolled as Platinum or Titan members, or for sellers who purchase a TurboTraffic Pack. TurboTraffic works together with Bonanza's advertising program, using the ad platforms you've selected to get maximum exposure for your store.
Why should I use it?
We typically see a 300% increase in daily pageviews for merchants receiving TurboTraffic. The impact of TurboTraffic will vary from seller to seller, depending on their price point and the type of merchandise sold.
How do I use it?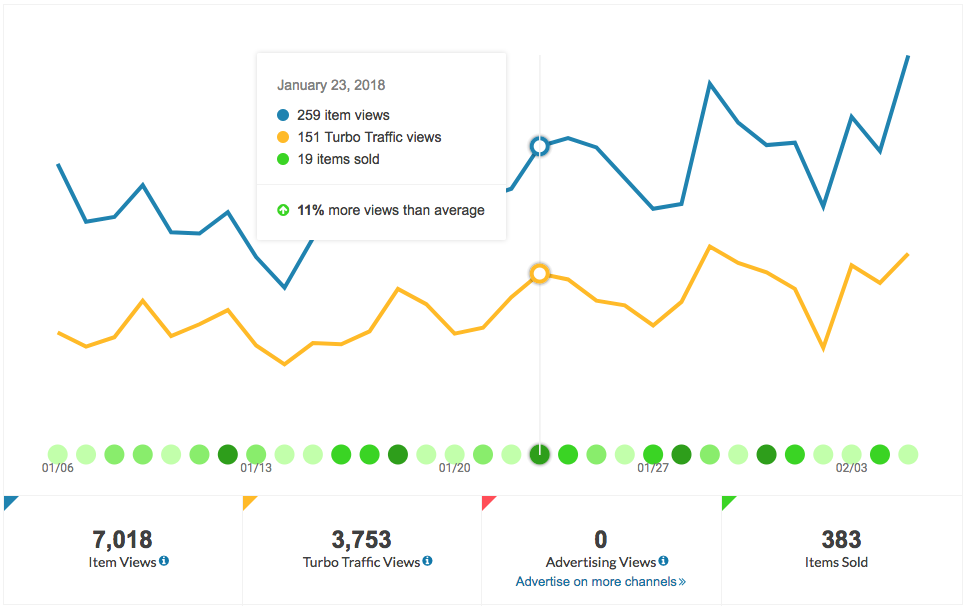 Once you sign up or upgrade to a Platinum or Titan membership, or purchase a TurboTraffic Pack, TurboTraffic automatically kicks in. The frequency and length of TurboTraffic depends on a few factors:
Membership level. Platinum members can get up to 7 days per month of TurboTraffic, whereas Titan members can get up to 25 days/month.
Advertising commission level. The higher the advertising commission level, the longer we can send TurboTraffic to your booth.
Conversion rate. Stores with conversion rates above 1% will enjoy longer TurboTraffic runs.
Overall traffic volume. The more clicks you get, the more it costs us to acquire the traffic for you. So if your store is getting thousands of clicks per day, the TurboTraffic duration will often be shorter than a smaller store.
3. Webstores
What is it?
Opening a Webstore gives you the control to build your own, branded online ecommerce store, separate from the Bonanza marketplace. With Webstores, you get a beautiful, professional-looking online store, complete with your own custom domain name, a secure shopping cart, and a variety of customizable themes to choose from.
Why should I use it?
Having a Webstore gives you double the opportunities to spread the word about your products. Other Webstore options use difficult customization tools or require coding knowledge. With Bonanza Webstores, you can customize the look of your store without learning to code. Just point and click to choose your theme, layout, and pages. We offer multiple pre-built templates to match the look of your products so you can change templates instantly and flawlessly at any time.
How do I use it?
Activating your Webstore couldn't be easier. When you log into Bonanza, go to the "Selling Dashboard" under the "Selling" drop-down menu in the upper-left corner. Selecting "Webstore" will allow you to choose between a monthly or a yearly subscription. Bonus: new subscribers are eligible to receive a free custom domain name for up to 1 year!
Once you activate your Webstore, you can make edits from the Selling dashboard or preview your Webstore and make edits directly on the page. For more tips on customization, check out this article about Webstore customization.
4. Batch Editor
What is it?
The booth Batch Editor lets you edit groups of items in bunches, rather than having to manually edit items one at a time. It is the best tool for managing your listings when you have more than a few items. For example, if you want to offer free shipping, apply a discount percentage, or reserve items for a buyer, you can apply these changes to your items in bulk using the Batch Editor.
Why should I use it?
Three words: It saves time. A lot of time. Whether you have 5, 50, or 500 items in your booth, editing your items one-at-a-time is tedious. Batch Editor can change basically any item trait you need to edit, which makes organizing your items infinitely easier.
How do I use it?
There are a few ways you can access the Batch Editor. The first is to go to the "Selling" drop-down menu in the upper-left corner and select "Batch edit items" (in the middle of the menu). You can also click on "Items" under your "Selling" Dashboard and select "Batch edit items."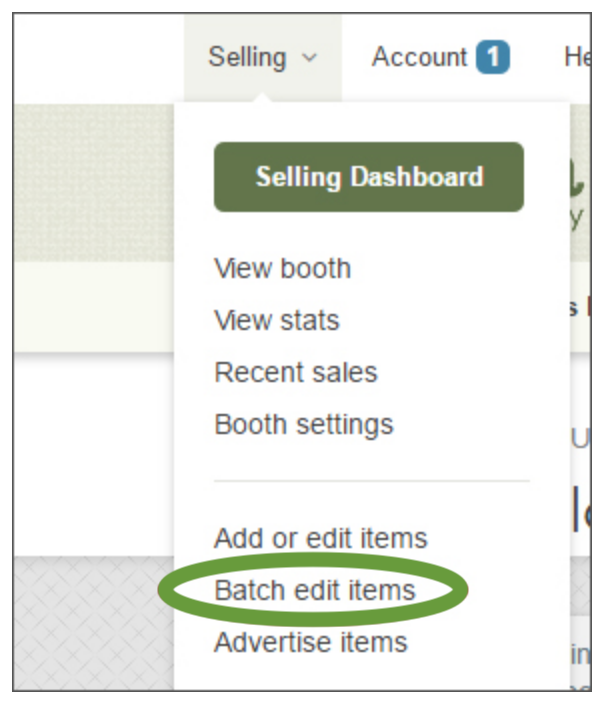 There are categories on the left side of the editor that allow you to make several different types of changes. For more specific details, check out this help article.

5. Inventory Sync
What is it?
The Inventory Sync will grab all of your active listings from eBay, Amazon or Shopify and copy them into your Bonanza booth, with as much detail as it can gather (title, description, price, shipping information, pictures, and category are all usually grabbed, with some exceptions). It also runs an automatic sync that imports new listings that have been posted on eBay or Amazon and removes any items sold on eBay or Amazon.
Why should I use it?
We understand that many sellers choose to sell on multiple websites, including eBay and Amazon. That's why we developed the Inventory Sync: to help you maintain consistency across the sites you use to sell your items. Running a successful online business means you don't have time for busywork like adding and removing listings on each individual site.
How do I use it?
To use the Inventory Sync, hover your mouse cursor over the "Selling" drop-down menu link on the upper-left side of each page, just above the Bonanza logo. From there, select the platform you wish to import from in the drop-down menu.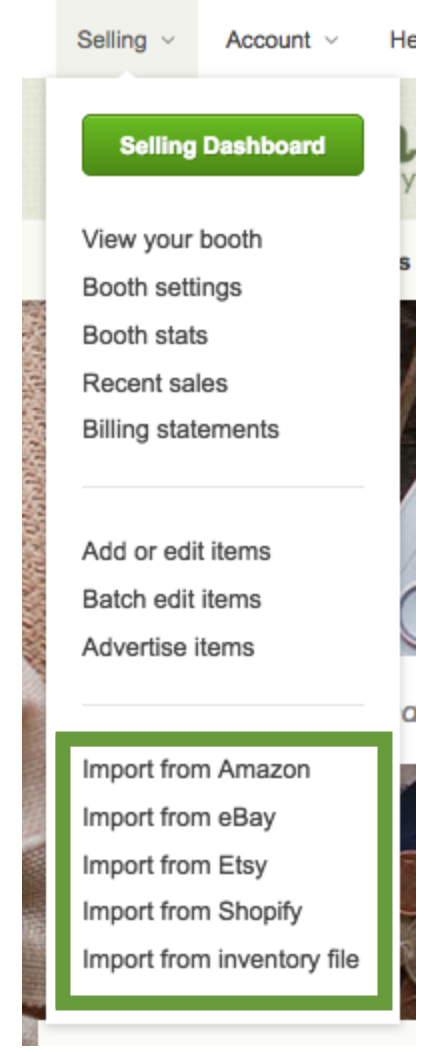 You can select from Import Options (and Advanced Import Options) and choose the settings that are right for you. Once you select "Import Items," your inventory will automatically sync.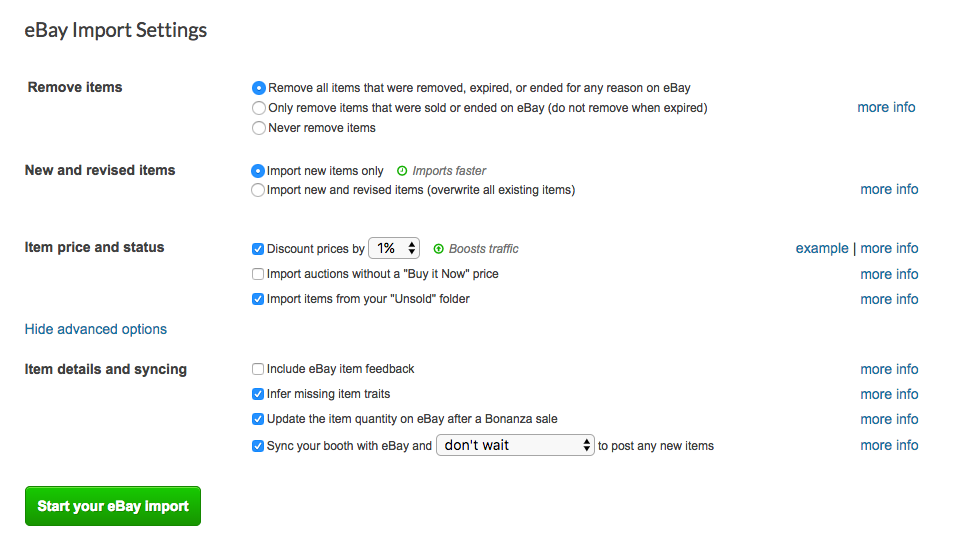 6. Stats Dashboard
What is it?
The stats dashboard is designed to encourage Bonanza sellers to use beautifully-presented data to gain deep insights into the habits of your shoppers, as well as better understand traffic and revenue trends for your booth or Webstore.
Why should I use it?
Savvy sellers should use the stats dashboard as a not-so-secret weapon to maximize the impact of their Bonanza listings. Visit your stats page frequently and identify opportunities to take full advantage of your advertising spend, optimize your listings for search, and track your most popular items - or see which items aren't getting much love from shoppers.
How do I use it?
You can access your stats dashboard a few different ways. Once you're logged into Bonanza, the quickest way is to select "View stats" under the "Selling" drop-down menu in the upper-left corner of the page. You can also find your stats from your "Selling Dashboard" by clicking the "Reports" tab and then selecting "Booth Stats."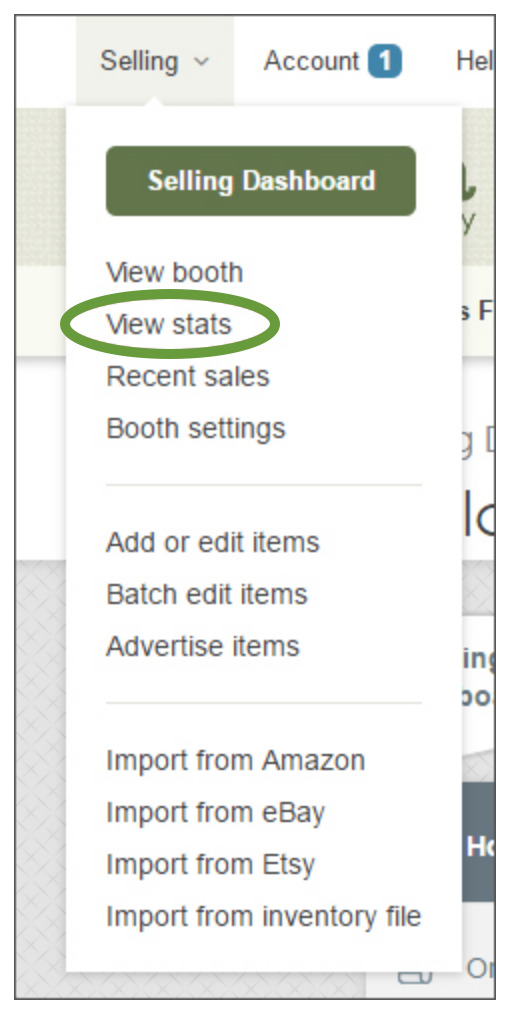 There's so much to say about the multitude of uses for your stats page that we've written a whole article to make sure you take advantage of everything this tool has to offer.
7. Customer Marketing Tool
The Customer Marketing Tool puts customer data directly into your hands. You can use the Customer Marketing Tool to access the usernames, purchasing history, and messaging history of your past customers. You can also view your history with each individual customer, including transactions and messages, and save notes about customers. This tool also gives booth sellers access to information about individuals who checked the "subscribe" box in their booth. This means that you have access not just to your past buyers, but to people who have shown interest in your booth - your potential future buyers.
Accessing the Customer Marketing Tool
To get to the Customer Marketing Tool, click on the "Selling" link in the upper left-hand corner of any page. On the left side of your "Selling" page is a navigation dashboard. Click on the "Customers" tab to access your Customer Marketing Tool. You can review the Customer Marketing Tool for your Bonanza.com customers as well as your Webstore customers (if you have an active Webstore).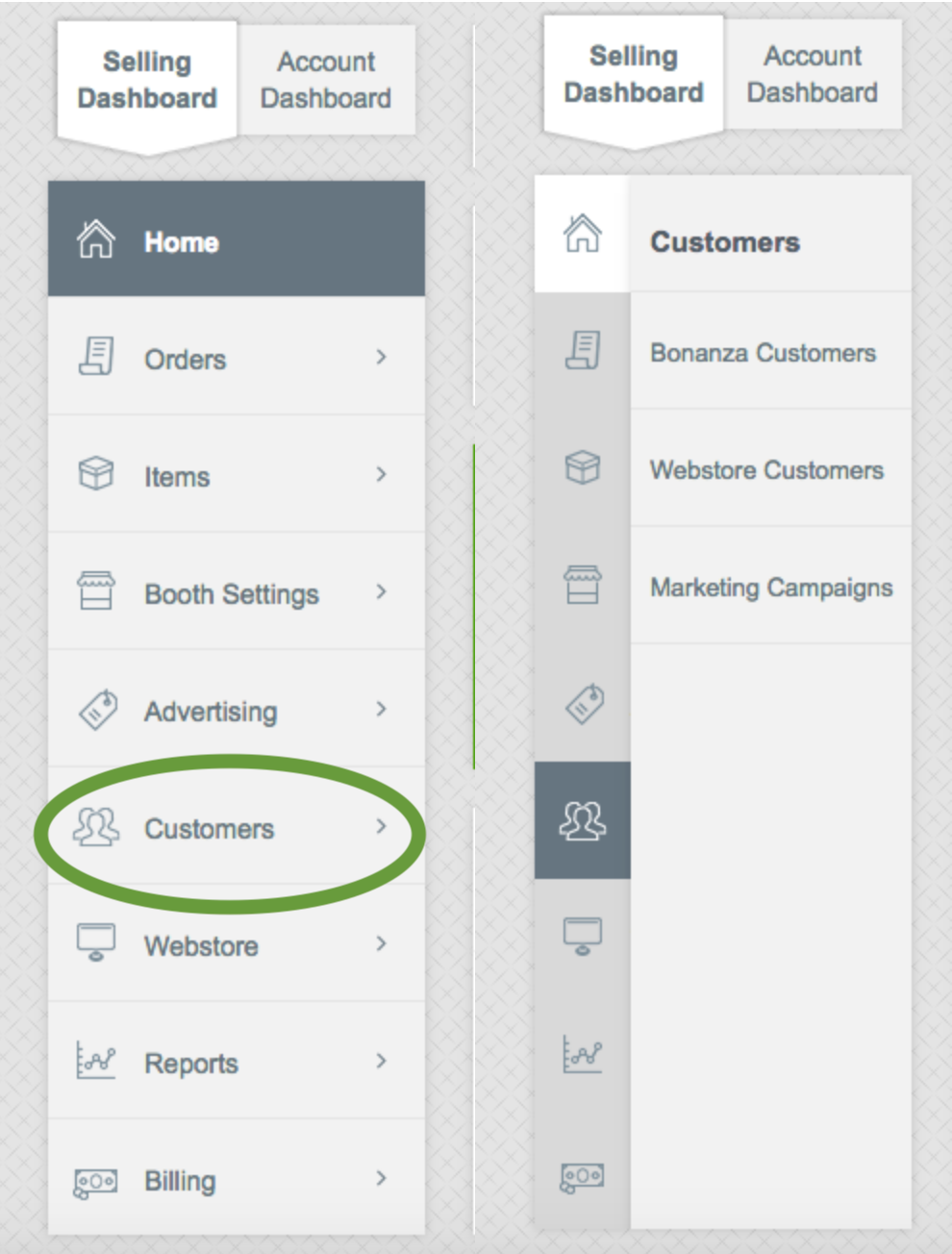 The tool then allows sellers to create custom lists based on just about anything: when a customer made a purchase, how much they spent, and what categories they made purchases from, to name a few. These lists can be set to automatically update and add new customers who fit the criteria of the list and are helpful in creating Customer Marketing Campaigns. (Please note: buyers always have the option of removing themselves from your list.) No other marketplace provides sellers with detailed information about past buyers that can be used in future campaigns.
Now What?
Now that you know about these great Bonanza tools, you've got a utility belt that could rival Batman's. It's packed to the brim with secret weapons that can make you an unstoppable force in the ecommerce world.
So, what's next? Take your store to the next level with these social media tools. Also, for more in-depth information about these tools, check out these articles written with you in mind:
Advertising Platforms | TurboTraffic | Webstore | Batch Editor | Inventory Sync