Bonanza is like an online shopping mall that connects buyers and sellers from all over the world to transact directly. Bonanza does not produce, house or ship any inventory; instead, each seller lists their items for sale, and buyers purchase goods straight from the seller. The following page is designed to guide you through the fun and exciting experience of shopping on Bonanza!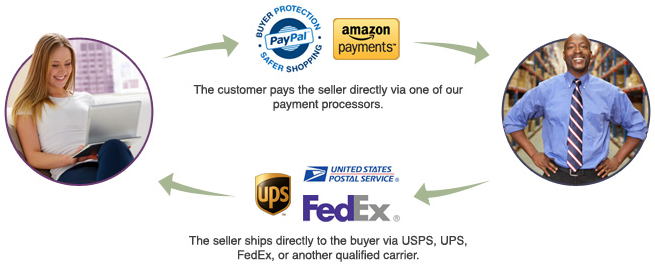 Finding the perfect item
Buying with confidence
Checking out
Bonanza Accounts
Resolving issues
---
Finding the perfect item
Bonanza hosts over 25 million items from nearly 40,000 active sellers across the world, so chances are good you've come to the right place to find that special something you've been scouring the internet for. But searching through 25+ million items can be daunting. That's why we offer a variety of features to help you narrow down your hunt.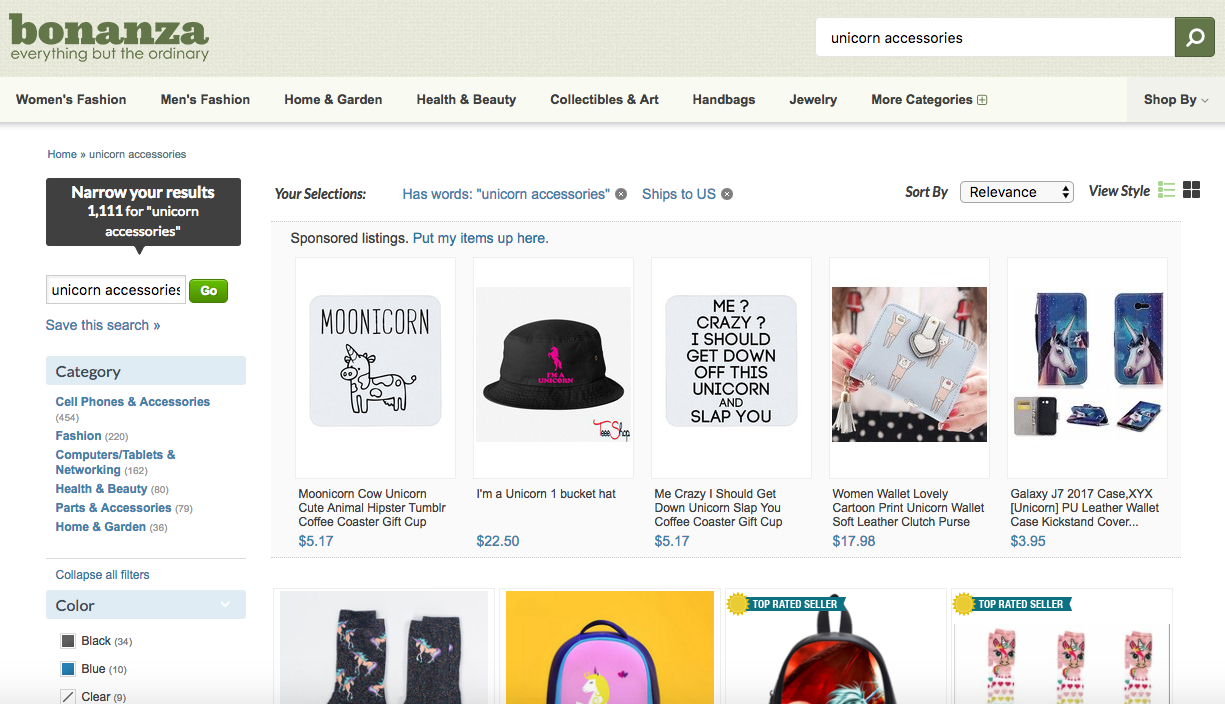 Search bar. The Bonanza Search bar follows you in the top-right corner of any page as you navigate through the Bonanza site. Enter a keyword or search term and click on the magnifying glass to look for specific items on our site. The broader your search term, the more search results you'll receive.
Filters. On the left side of the page live various filters to help you narrow down your search even further. You will see options such as category, color, condition and price.
Sort by. Sort your results by relevance to your search term, price, newly listed items, or seller rating to quickly find the item(s) that best suit(s) your needs.
Once you've located that special something, click on the image to view the item listing page, where you can read through the full listing details, then add the item to your cart. You're now well on your way to purchasing the item of your dreams!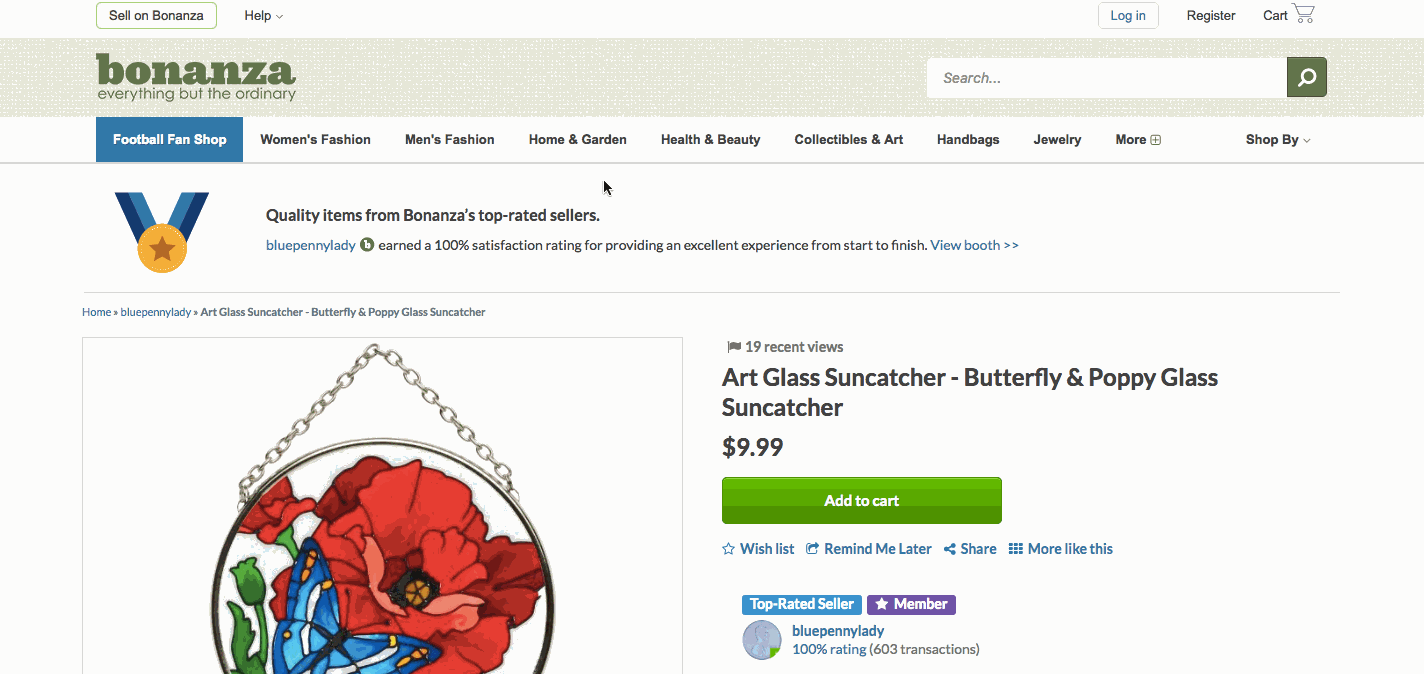 I have a question about an item I've located on Bonanza. How can I get the answers I need?
Most sellers will include the pertinent information about their items in the listing description. If you can't find the information you need to move forward with completing your purchase, use the "Contact the seller" button on the item listing page to contact the seller directly. Please note that you must have a Bonanza account in order to contact sellers on our site. Sellers in our community span a wide variety of locations and business hours. Typically, a seller will respond to buyer inquiries within 24-48 hours.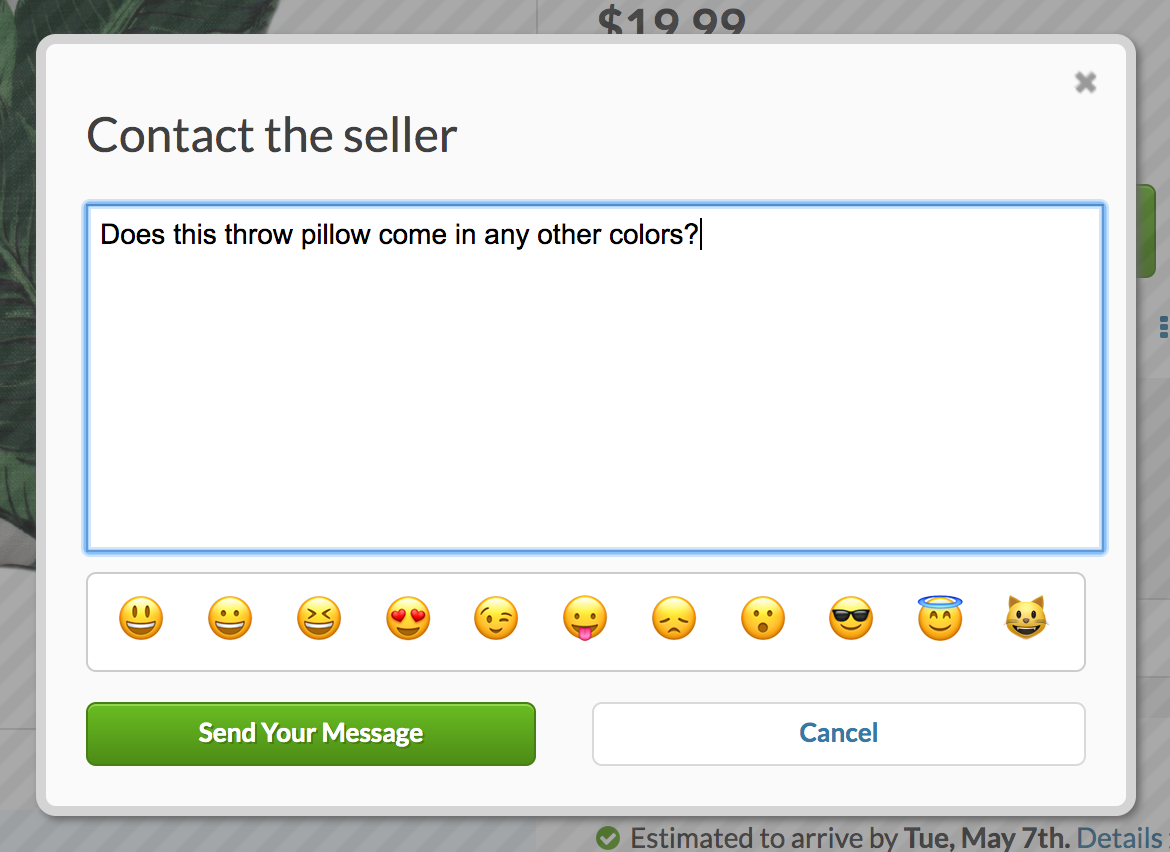 Buying with confidence
As an online marketplace, the most important thing Bonanza can do is provide a safe environment for both buyers and sellers. Bonanza takes a variety of steps to ensure that reputable sellers are posting items on our marketplace. We also arm you with the tools and resources to help you evaluate sellers so you can buy with confidence.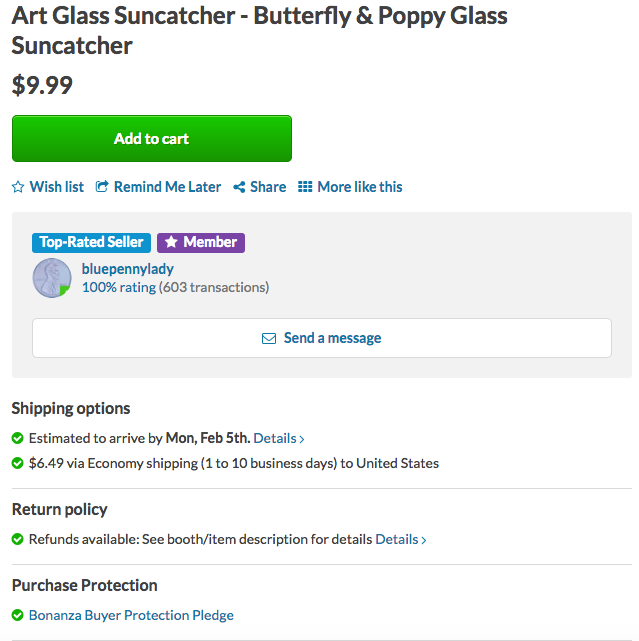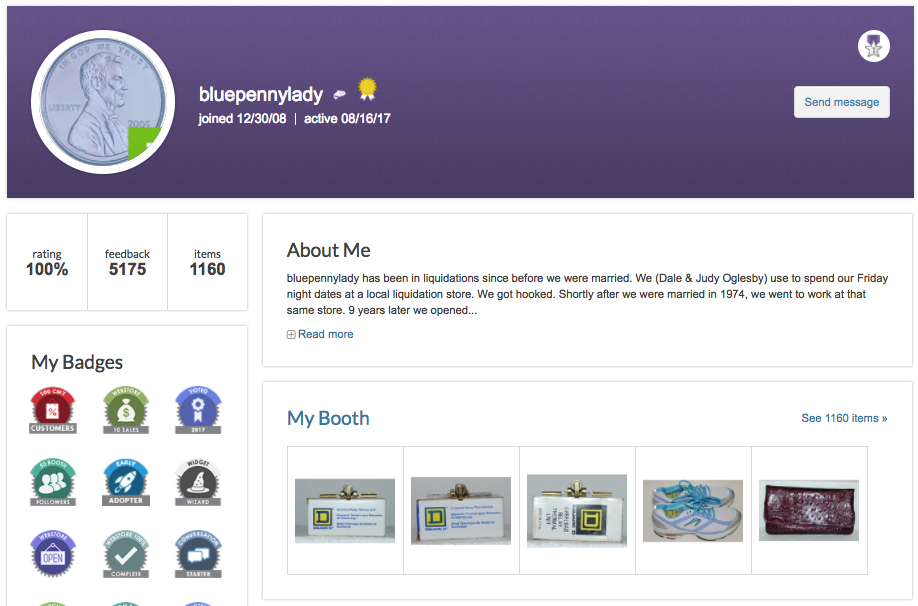 Feedback score. Does the seller have a lot of positive feedback? The feedback score is a combination of feedback imported from other platforms (such as eBay or Amazon) and feedback from Bonanza transactions. The seller's feedback score will gives you insight into other buyers' experiences with the seller. Click the rating score to review more details.
Top rated seller status. Top Rated Sellers must meet certain requirements and performance standards. Sellers who have earned this status consistently provide excellent service and buying experiences.
Bonanza member. Bonanza members regularly pay fees to access additional selling features and benefits. Fraudulent sellers are less likely to invest their own money or have a valid credit card.
Profile. Click on the seller's username to view their profile. Have they taken time to fill in the "About me" section? This can provide a glimpse into the seller's objectives and/or personality. Have the received any endorsements from other users on Bonanza? If this user has been vouched for by other respected community members, that's a good sign.
Activity. Has the seller logged into their Bonanza account in the last month? Sellers who log in frequently are more likely to respond to customer inquiries and fulfill orders in a timely manner. Have they earned Bonanza badges for being involved on the site? If they're investing time in their business, they're likely to ensure that hard work doesn't go to waste.
Buying something online can be scary. If you've vetted the seller and still aren't sure if you're comfortable completing the purchase, try reaching out to them via our internal messaging system. Ask for links to other places they sell online and get a sense for their style of communication before you checkout.
Checking out
You've found some sweet, new goods and have added them to your cart. Congrats! You're that much closer to owning the item(s) of your dreams.
Completing a "Buy it Now" purchase
"Buy it Now" means you're purchasing items at the seller's listed price (less any coupons or discounts). Visit your cart by clicking the icon in the upper right-hand corner of any page. You can review the items and total costs on the cart page before submitting payment to the seller.
Buyers can submit payment using PayPal, Amazon Pay, or by entering a credit/debit card directly through Stripe (depending on the seller's settings). Click on the payment method icon under your order summary to visit the payment provider and submit your payment details.
Amazon Pay requires buyers to have an existing Amazon account with a valid credit or debit card linked to it in order to use their checkout.
Buyers can enter their credit or debit card directly on PayPal using guest checkout, or log into an existing PayPal account to submit their payment.
#protip: Sellers will ship items to the address entered on the payment processor's site (PayPal or Amazon Pay). Make sure your address is up-to-date prior to completing your purchase.
Once you've submitted payment via PayPal or Amazon Pay, you'll be directed back to your cart to complete checkout.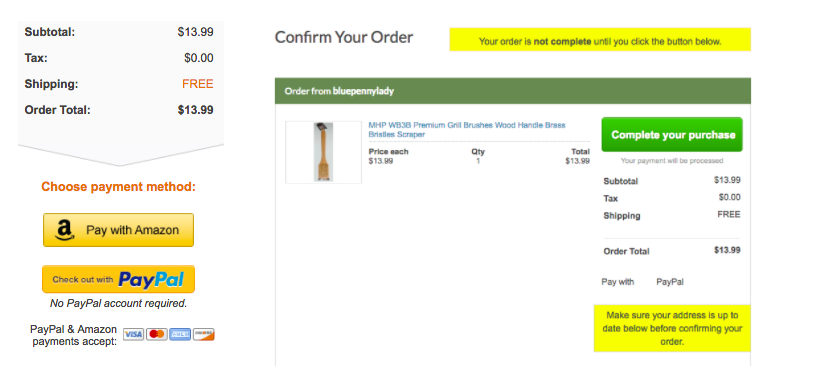 Submitting an offer
Some sellers will allow price negotiations, or "Best offers." This is denoted with an "OBO" next to the item price on the listing page. Use the "Make an offer" link in the lower right corner of the order summary on your cart page to name your own price. Offer prices include the item(s), shipping and taxes. Be sure to submit a reasonable offer price; otherwise, the seller is likely to deny your offer!
Your offer will be sent to the seller for review. If the seller approves your offer, you can then complete checkout the same way you would with "Buy it Now" purchases.

I bought an item, now what?
Here's what to expect now that you've completed your purchase.
Can I cancel my order after it's complete?
Only sellers can cancel orders once payment is complete. Contact the seller directly to inquire about their cancellation policies and procedures.
Bonanza Accounts
You're not required to have a Bonanza account in order to purchase items, but there are a few good reasons why you should.
Communicating with the seller
The seller has all the pertinent information regarding the items you ordered, shipping & handling timelines, and payments & refunds. Should you have questions or issues with your purchase, you'll want to contact the seller directly using our internal messaging system. Buyers are required to have an account in order to send messages to users on our site; this way, we can deliver your message without providing any of your private contact information (like your personal email address) to the seller.
Reviewing your order information
Creating an account will allow you to log into Bonanza and review your order details, including the item(s), price, order date, payment details, seller name and shipping/tracking information. Hover your mouse over the "Account" link in the upper left-hand corner of any page, then select "Recent purchases" from the drop down to review your order summaries.
From your order summary, you can leave feedback for the seller, contact the seller with any questions you have about your order, or report a problem with your order to Bonanza and the seller.
Staying in the know
With an account, you can:
Subscribe to a seller's booth to receive email notifications when the seller creates coupons or adds new items you might be interested in purchasing
Create saved searches to quickly check for new listings as they become available
Add items to your wish list to purchase at a later time (don't wait too long, or someone else might snag it)!
I purchased an item without making an account, what do I do now?
You're not required to have an account in order to purchase an item. Your purchase will be linked to the email address you submitted when completing checkout. Bonanza will send pertinent notifications regarding your order, such as your order confirmation and any shipping details provided by the seller, to the email address submitted in the checkout process.
If you wish to create an account at a later time in order to review your existing purchase history, simply use the "Forgot password" link on our login page and enter the email address associated with your order. If you need further assistance, contact our support team and we'll get you squared away.
Resolving Issues
If your transaction didn't work out as expected or you have an issue with your order, fear not! Your issue can be resolved in a few easy steps.
Contact the seller using the link in your order summary. 99.99999% of the time, Bonanza sellers will work with you to resolve the issue. Contacting the seller is the fastest way to reach a resolution.
Report the seller to Bonanza using the "Report a problem" link under the order summary. The "Report a problem" link appears under your transaction summary 14 days after the order date. Bonanza will continue to monitor the seller.
File a dispute with your payment processor. The reason Bonanza requires sellers to accept payment options such as PayPal and Amazon Pay is that these providers offer a level of buyer protection in the unlikely event something goes wrong with your order.
Leave feedback regarding your purchasing experience. If you're unable to reach a resolution with the seller, leave feedback regarding your experience so that other buyers are aware of this seller's shortcomings. Bonanza monitors seller feedback metrics.
Contact Bonanza Support. If all else fails, our award-winning team is standing by to assist you!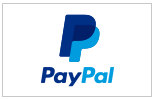 Read more about buyer protection on Bonanza.
The full Buyer FAQ can be located in our knowledge base.
Now that you have the low-down on shopping at Bonanza, go forth and find that perfect something you've always been dreaming of!